Learning To Love My Body
In a courageous revelation, Women's Running Editor Jessie Sebor shares her journey from body loathing to body love!
Heading out the door? Read this article on the new Outside+ app available now on iOS devices for members! Download the app.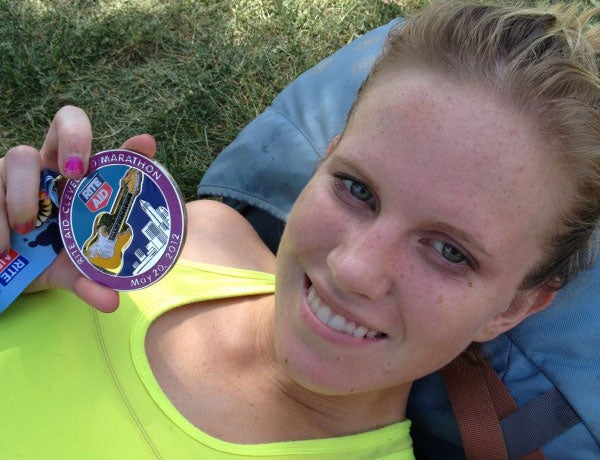 There was a time when I felt very bad about my body. I was young and would do crazy things, such as writing down every bite of foot I ate and trying to keep my fat intake under 2 grams a day.  Thankfully, with the assistance from a nutritionist, a therapist, and a few years of maturity, I grew out of this disordered behavior.
Today, my world is larger and I have better things to think about than the exact number of calories in my chai tea latte and bigger things to worry about that a few pounds here or there. But I can't completely quiet the negative voices that once controlled my brain. In dressing rooms, I turn away from my reflection while changing; the anticipation of a beach day sends me into a preemptive state of anxiety for days.
It's difficult to admit all of this. In a perfect world, the editor of a running magazine would be the pinnacle of self-acceptance. I wish I could be one of those women who radiate an aura of confidence so bright that others feel more beautiful when basking in her glow. You can probably think of one or two ladies who fit this bill – and if you can't, jump over to our recent feature, "Marathon Momma," to see a shining example.
I had the pleasure of meeting Alison Sweeney (Marathon Momma) at our September 2013 cover shoot. Aside from being warm, friendly and completely down to earth, what struck me was the comfort she felt in her own skin. The Biggest Loser host happily wore any wardrobe pieces we pulled and ran toward the camera with a carefree stride.
Later, I was surprise to learn that the actress struggled with yo-yo dieting in her 20s. Interestingly, what helped her get off this roller coaster was starting to run. Sweeney says, "Running a marathon gave me confidence about what my body is capable of. It helps me feel better about the body images, because I know my body is in shape."
Inspired by Sweeney, I'm making a pledge to feel better about myself. The first step: buy gear that helps celebrate my form instead of hide it. I'll start with a few pieces from our recent story, "Embrace Your Shape." The second: make a point to thank myself after every run – my lungs for carrying me up the hills and my legs for powering me through the last few miles. I hope that soon I'll have bottled just a bit of Sweeney's shine – and that you'll join me in my journey!
-Jessie Sebor
Women's Running
Editor in Chief