5 Steps Of Properly Recovering From A Hard Run Or Workout
Recovery is just as important as training. Make sure you're recovering properly by following these 5 rules after a tough run.
Heading out the door? Read this article on the new Outside+ app available now on iOS devices for members! Download the app.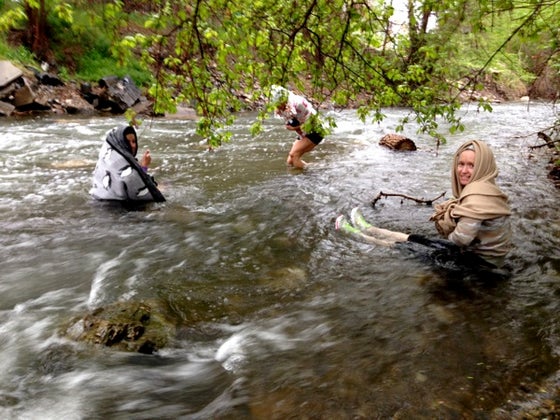 So, you want to recover from a hard run properly…
Recovery is just as important as training.  Hard runs break your body down. A good recovery program will help your body to start the healing process, bounce back quickly, and adapt to the stress of these hard workouts! In order to become a better runner, we have to recover from one hard workout in order to do the next one.
It is easy to finish our workout, jump in the shower, and then rush off to our next activity for the day, forgetting about the recovery portion of training. But if you really want to take your running to the next level and keep your body happy, then it is important that you take some time to recover!
1. Within 30-60 minutes after finishing your workout, it is so important to refuel. As a teacher I used to finish my workout and then rush to school, finally eating 2 hours after I had finished my workout. My body did not like that and it rebelled. I felt like it would take me forever to feel good again after a speed workout or long run. I switched over to eating a 4 to 1 carb to protein snack as soon as I got to work, followed by a more balanced meal an hour later. This helped me to feel so much better, so much faster. Eating carbs and protein right after your workout will really help you to maximize recovery! You can try food like chocolate milk, a bagel with peanut butter or fruit and yogurt. Make sure that you are also drinking about 16-20 ounces of liquid (something with electrolytes like gatorade) within 10-15 minutes of finishing your hard run.
2. Stretch while your muscles are still warm. And use that foam roller! I like to spend a good 10-20 minutes stretching out my major muscle groups (quads, hip flexors, hamstrings, glutes and calves) after a hard workout. I use my foam roller every day to roll out any knots and tight areas on my body. I know that taking time to do stretch and roll helps my body to bounce back faster after tough runs.
3. Take an ice bath or if you can, jump into a freezing cold river with your best gal pals. This is an excellent way to reduce inflammation and soreness. Just fill your tub with some ice and water, and submerse your lower body, up to your hips, in the water for about to 10-15 minutes. You can also put an ice pack on your joints and any of your muscles that are feeling achy.
4. Follow the hard/easy rule. Follow up a hard run by a day or two of easy running. As runners we sometimes fall into the trap of thinking more is MORE. However after we put our bodies through a lot of stress during a workout, it is essential that we rest and do some easy running before pushing ourselves hard again. You can also try to cross-train the day after a long run or hard workout to give your legs a break from running. This will help prevent them from stiffening up from sitting around.
5. Get into bed early! Try to get 7-9 hours of sleep to allow your body plenty of time to rebuild and repair itself after your hard workout.
Now get out there and run hard but don't forget to recover like a champ!