7 Tips To Help You Love Running Through Pregnancy
Hungry Runner Girl logged over 1,000 miles before her daughter was born. Read her tips for expectant moms to love running and pregnancy.
Heading out the door? Read this article on the new Outside+ app available now on iOS devices for members! Download the app.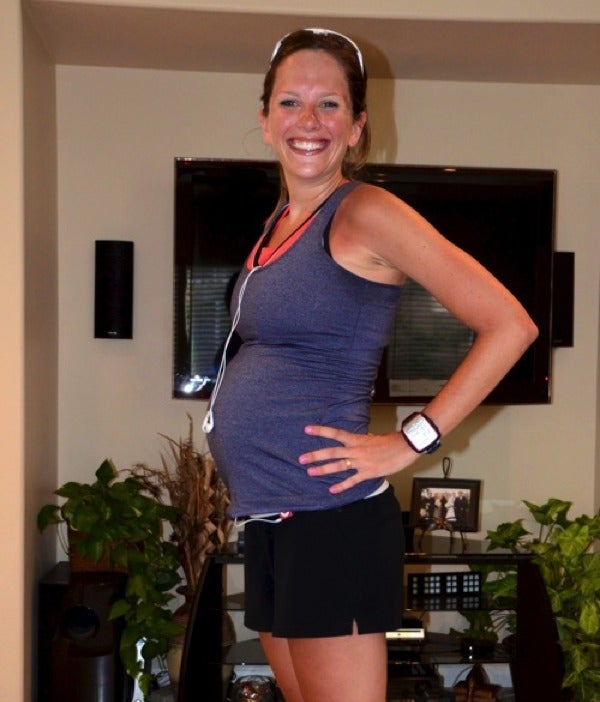 The other day I came across this picture of me after an 8 mile run when I was pregnant with my little girl. It got me thinking about how much I absolutely loved running while I was pregnant.
I loved running while I was pregnant because there wasn't any pressure. I didn't care about my pace or distance. I wasn't worried about a training plan. I was running to have a healthy pregnancy, to spend time outdoors, to relieve stress and because I truly love it. I ran whatever my body told me to run that day. I felt more in tune with my body during this time than ever before.
While I was pregnant, I ran about 1,200 miles with my little girl. I spent those miles thinking of her, imagining her, deciding what type of mom I wanted to be and praying for her. There were many times that I would just start crying as I was running (those pregnancy hormones really got me) because I was so excited to meet her.
Running also gave me confidence during my pregnancy. It allowed me to feel like myself again as I was experiencing my body changing in so many different ways.
It helped me with my morning sickness and energy levels. When I went in to my doctor and told him about how much better I felt after a good run, he told me that running flushes out the hormones that contribute to morning sickness. Like every woman, I was exhausted when I was pregnant. For some reason working out and running contributed to more energy.
Running while pregnant was definitely not easy but here are some things that I did that helped me:
Work closely with your doctor. Let them know your exercise regimen and follow their guidelines!
Get a belly band. This was life-changing for me. At about 24 weeks, the ligaments in my lower abdomen started to hurt because of carrying around the extra weight while running. The belly band was like a bra for my belly. It lifted it up and made running so much more comfortable.
Just know that we all slow down. My paces slowed down dramatically, even within the first few weeks of being pregnant. Every single one of my friends that ran throughout their pregnancies slowed down a ton too. Making it out the door to run while pregnant is awesome. Don't worry about your speed! Go easy on yourself.
Utilize the treadmill. For the last few weeks of my pregnancy, I especially relied on the treadmill. It allowed me to escape the heat and have my water easily accessible. It was so nice to have a restroom a few feet away and to finish my run whenever my body told me it was time to be done.
When you are running outside, map out routes that have plenty of water fountains and restrooms along the way.
Focus on making sure that you are getting plenty of water and calories to support your pregnancy and your running!
If you do have to stop running at some point during your pregnancy, remember that running will always be there for you when you are ready to come back to it!