Hungry Runner Girl: Fueling During A Race
Finding a fueling plan that works for your during races is crucial!
Heading out the door? Read this article on the new Outside+ app available now on iOS devices for members! Download the app.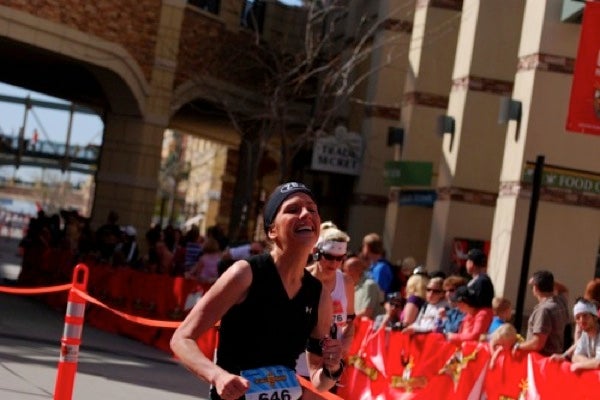 During my very first marathon a few years ago, I was so confused as to why everyone around me was downing gels and chews throughout the race. I obviously hadn't done my research on marathon fueling beforehand. I grabbed some water and gatorade along the way but didn't end up eating anything throughout the entire race. I would describe miles 22-26.2 as hitting a wall that had daggers and spikes all over it. The reason for this feeling was because I ran out of glycogen/energy. And it hurt (as you can tell from the above picture).
I never wanted to feel that way again so I have spent a lot of time over the years figuring out the best fueling plan for myself.
Two main things that I have learned about fueling before and during a race:
Stay ahead of your fueling because once you are depleted, it is really hard to catch back up. The same goes with hydration. If you get to the point where you are feeling depleted and/or thirsty, it is too late. I now start taking in fuel, water and gatorade early in the race and keep taking in calories even when I don't feel like eating anything. I know how many calories it takes for me to keep my energy throughout a race. I make sure to get them  from the very beginning.
Finding the right way to fuel for your races takes a lot of trial and error. What works for me may not work for you. What works for one year, may not work the next. Try out a lot of different approaches to find what feels best for you. I used to think that shot bloks were the best for me until I finally tried the Salted Caramel (my absolute favorite) Gu and realized that chewing took too much energy. I have a much easier time eating and digesting Gus.
When do I fuel and with what?
For the 1/2 marathon, I usually start taking in some sort of fuel at about mile 4.5. That is usually about 30 minutes into the race for me. I don't take in nearly as much fuel during the half as the full because our bodies can store enough glycogen to last for the shorter distance. I do need a gu or two if I really want to feel energized. The second time I fuel during a half marathon is at about an hour into the race.
For the full marathon, I usually end up eating 2 plain bagels the morning of the race, one 2.5 hours before the gun goes off and one about an hour before the race. Sometimes I throw in a Stingers waffle 20 minutes before the race. Before the race I have found that I have to stick to extremely simple foods to avoid bathroom breaks along the way. Some people can handle all sorts of food before a race, like peanut butter, but I just can't.  For the marathon, I usually take my first gel at mile 7 (about 50ish minutes into the race). I then take another gel at mile 15, another at 22 and sometimes if I am really feeling like I need more energy, a 4th one is thrown in there at some point. I take some water or gatorade at EVERY aid station along the course too. I usually switch off from water to gatorade and I make sure to walk for a few seconds during the aid stations so that I can actually take in the liquid rather than trying to run and drink at the same time.
That is what works for me but I am dying to know what works for you!
What are your favorite types of fuel and when do you take them during the race? Tweet @hungryrunnergrl and @womensrunning to let us know!