Hot Weather Tips For Mama-To-Be Runners
If you're carrying a little one in your belly this summer, follow these tips to safely exercise under the sun.
Heading out the door? Read this article on the new Outside+ app available now on iOS devices for members! Download the app.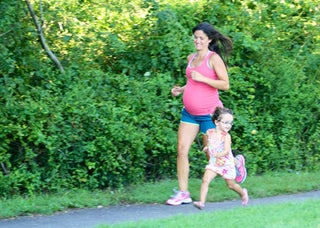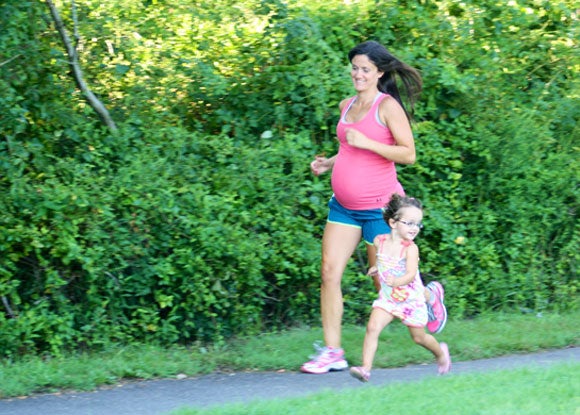 Now that summer is officially upon us, Rebekah Mayer, Life Time's National Running Manager (who is also 7 months pregnant!), provided some easy tips get the most out of your summer run without overheating or burning that pretty face.
1. Run early in the morning if possible, preferably around dawn when it is light but the sun is not intense. Non-pregnant runners may prefer running before dawn on hot days, but running in the darkness increases the risk of falling, so it is not advised during the second and third trimesters.
2. Fill your running hat with cool water or ice cubes before & during your run, and put it back on your head. (Our editors love this one!) Also, add ice to your water bottle to keep your water cool during your run.
3. Choose a shady route if possible. A smooth dirt, gravel or grass trail will also feel cooler than pavement.
Related: What Happens In The First 7 Minutes Of Every Run?
4. Hydrate well before you run and carry water, or run in an area with frequent water fountains so you can maintain hydration. If you're well-hydrated, you might need to plan a route with bathroom access as well, especially during the third trimester when there is increased pressure on your bladder.
5. Take more frequent walk breaks to reduce your exertion and heat production.
6. Wear lightweight & breathable clothing. Although pregnancy may not be the time you want to show off a lot of skin, it's better to wear shorts & a tank top on a hot day than capris and a T-shirt. The additional exposed skin will allow for more evaporative cooling.
Related: The Scoop On Running Through Pregnancy
7. Find alternatives; running in a pool or lake offers a great way to stay outdoors while getting in a cooler, low-impact workout. Stay in shallow water if you're not comfortable with deep-water running.
8. Watch for warning signs of over-heating. These signs include feeling drenched in sweat (or a sudden lack of sweat after exertion) or feeling flushed, dizzy or light-headed. Take any of these as a cue to rest, find shade or move indoors. Overheating is risky for the baby, which is why pregnant women are advised to avoid things like hot tubs. For this reason, it's best to avoid outdoor runs on days with high heat and humidity unless you're able to run early.
Rebekah Mayer has been a competitive runner for 20 years, focusing on endurance events. She competed on one best collegiate teams in the country at Adams State College, while learning to coach from a 24-time NCAA Coach of the Year. Currently she is working for Life Time Fitness-St. Louis Park as a Personal Trainer and Metabolic Technician, while coordinating the Run Club and CardiO2 programs.