9 Pieces Of Advice To Follow For Breast Health And Cancer Awareness
Shelby Terstriep, M.D., shares her smartest tips for a healthy self underneath that sports bra.
Heading out the door? Read this article on the new Outside+ app available now on iOS devices for members! Download the app.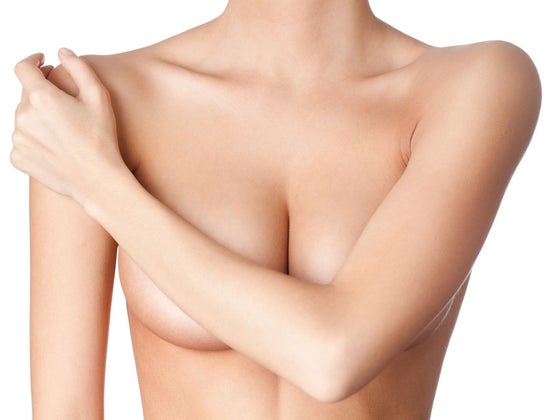 Since October is National Breast Cancer Awareness Month, oncologist Shelby Terstriep, Medical advisor for the Edith Sanford Breast Cancer Foundation and an expert in cancer survivorship, gives us the scoop on keeping those lovely lady bumps in tip-top shape.
What You Need To Know About Breast Health
Women's Running: When should women start receiving annual mammograms?
Shelby Terstriep: Age 40 if you do not have a history of breast cancer in your family. If you do, we recommend getting your first screening 10 years earlier than the age of your family member at the time of his or her diagnosis.
WR: Why age 40?
ST: There are a lot of false positives and false negatives in younger women. It's harder to determine if there is something abnormal because the breasts are more dense. But this doesn't mean younger women shouldn't think about breast cancer! Breast cancer is not 100 percent preventable, and it can appear at any age.
WR: Mammograms can be painful for some people. How often do you recommend women get them?
ST: Talk to your doctor about how often you would like a screening, but generally it's every year or every other year. Taking ibuprofen or Tylenol beforehand definitely helps with the discomfort.
WR: In addition to mammograms, what should women look for during breast self-exams, and how often should these be performed?
ST: The frequency is less important than just having an awareness for your breasts so you can feel or see a change at any time. Look for lumps, thicker density, nipple or  skin changes—skin may look or feel like an orange peel—and lumps in the armpit (which is breast tissue as well). A lot of women find their own tumor, so self-exams are important.
WR: Does being active affect your chances of getting breast cancer?
ST: On average, there's about a 25 percent risk reduction in those who are active. Moderate to vigorous activity performed regularly has the most positive impact. The American College of Sports Medicine recommends at least 150 minutes of aerobic activity, such as running, per week and at least two days of strength training. Breastfeeding and reducing alcohol consumption can also help prevent breast cancer.
WR: How does nutrition play into prevention?
ST: Eating five to seven servings of fruits and vegetables per day is very important in prevention of any cancer. Getting produce in every color of the rainbow helps to reap the full benefits, because different colors mean different vitamins. And ginger is actually shown to reduce nausea when going through treatment for breast cancer.
WR: For those women going through treatment, are there any dietary restrictions?
ST: Follow the same guidelines—eat a lot of fruits and veggies. It's okay if you lose a little weight during treatment. If you have friends and family who are helping you and supporting you, encourage them to bring you healthy foods instead of comfort foods.
WR: What recommendations do you have to help minimize the risk of relapse?
ST: You may not have energy during certain stages of treatment, but  getting out and walking when you feel okay is perfect. Listen to your body when it is tired, but don't hold back if you feel like exercising. In fact, people who walk or run at a good pace for at least three hours per week during treatment have a 50 percent risk reduction in relapse. I consider exercise part of their prescription.
WR: Cancer is scary for every woman. Is there any way to make it seem less so?
ST: Don't isolate yourself. Surround yourself with others who share in your struggles and triumph. It is empowering and makes you stronger!
The Edith Sanford Breast Cancer Foundation is a national nonprofit dedicated to unlocking the potential of genomics to end breast cancer. Shelby Terstriep, M.D., is a medical advisor and lead contributor to its blog, DeCoded. Dr. Terstriep is also an oncologist and cancer survivorship specialist at Sanford Health in Fargo, N.D. She attended medical school at the University of Missouri– Kansas City and completed an internal medicine residency and medical oncology/hematology fellowship at the Mayo Clinic in Minnesota.