Every Runner Should Know About The Female Athlete Triad
You may have never heard of Female Athlete Triad, but should know what it is along with the warning signs to look out for.
Heading out the door? Read this article on the new Outside+ app available now on iOS devices for members! Download the app.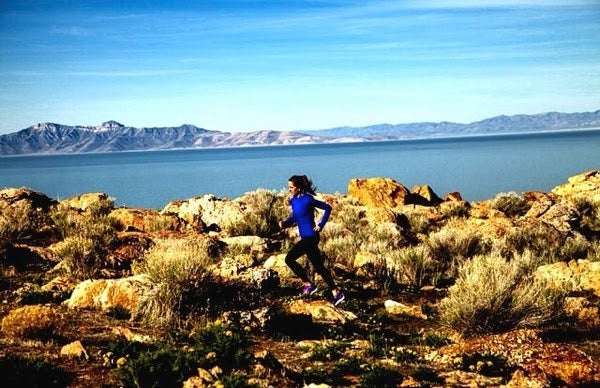 Female Athlete Triad is when an athlete experiences loss of menstrual cycle, disordered eating and osteoporosis. This is something we don't talk about enough as female runners.
Struggling With Female Athlete Triad
I struggled with this triad for 2.5 years. I thought thinner meant I would be faster. I was also running high mileage to deal with the stress of my marriage and not eating enough to sustain how much I was running. Because of those factors, I lost my period and dealt with the side effects that went along with it. I didn't understand at the time how missing my period due to being underweight was a way that my body was communicating to me that something wasn't right. It was a huge red flag that I was not training properly.
I ran three marathons within a few months and each one was a little faster than the previous one. I attributed my personal records to me losing weight—a weight that was below the healthy range. I thought that if I lost even a little bit more weight, then I would be even faster. Wrong.
I may have been fast for a few months at that unhealthy weight, but it caught up with me. It weakened my bones and broke down my body.
During this time of struggling with the Female Athlete Triad, I qualified for the Boston Marathon with a time of 3:04. I trained, trained and trained even more for Boston. I had my plane tickets booked, my hotel all ready to go and boom… I was diagnosed with two femoral stress fractures just a week before the race. I was devastated and in a tremendous amount of pain.
My doctor sat down with me and recommended that I get a bone scan and some nutrition help. The bone scan came back stating I had Osteopenia. And I was bordering the line of Osteoporosis. I was 26 years old at the time, and my bones were weak and brittle.
Recovering from Female Athlete Triad
This was my wake-up call. I could not believe that I had allowed myself to get to such an unhealthy place. I instantly was worried about my bones, fertility, and the type of example I was setting for other runners. At that moment, I decided to do what it took to get my body back to a healthy place.
For me personally, I had to do three main things to get my period back and make my bones strong again:
I worked with my doctor and a nutritionist to figure out the correct calories, nutrients and exercise regimens.
I gained weight. For me, that meant I had to run less (I couldn't run at all because of my injury) and eat more.
I increased my body fat percentage. This goes along with gaining weight. My doctor stressed to me that I didn't need to gain weight through gaining muscle weight but that I needed to gain fat until I was in a healthier range.
It took time. I even had two more stress fractures after I returned to running again, as I was working on getting to a healthy place. Once I was at a healthy weight, I was able to get pregnant and have a beautiful baby girl. I have yet to experience a stress fracture since I gained the necessary weight and body fat. (I'm not saying that the female athlete triad causes all stress fractures but for me and my weakened bones at the time, it did.) My bone scans now show that my bones are healthy, strong and in the normal range.
Take care of yourself. Pay attention to the red flags that your body is giving you. Fuel yourself properly. Rest and recover. Most of all, help young female athletes that you know who are struggling with the Female Athlete Triad.