These Easy Salads Are Made With Only 3 Ingredients Each
See what easy-to-make salads you will find Team WR eating throughout the year.
Heading out the door? Read this article on the new Outside+ app available now on iOS devices for members! Download the app.
We are firm believers that eating healthy shouldn't break the bank or take a lot of time out of your day. To help make that a reality, we have rounded up five salads—each made with only 3 ingredients!—so you can have a new, healthy combo every weekday! See what Team WR is loving right now when it comes to greens.
ARUGULA + DRIED CRANS + GOAT CHEESE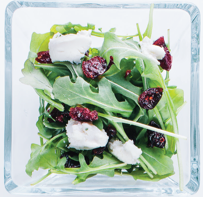 I love the peppery taste arugula adds to my salads. Not only does this green provide many of the same benefits as kale, broccoli and Brussels sprouts, it helps lower blood pressure and reduce inflammation in the body. Paired with sweet, tart cranberries and yummy goat cheese, I could eat this salad by the gallon. I don't add any dressing. I know, everyone thinks I'm weird, but try it. You might taste something that you wouldn't necessarily if you had smothered it.
—Erin Douglas, art director
PEPPERS + AVOCADO + TOMATO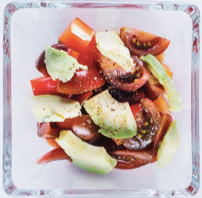 Top with: balsamic vinegar + freshly ground pepper
Lettuce and I have a love-hate relationship. The runner in me loves it, but the colitis sufferer in me hates it. I generally opt out of the green stuff and go for red and/or orange peppers, avocado and tomato. The peppers go down easy, the avocado seems to soothe my gut (placebo effect?) and the tomato—well, the tomato just reminds me of hamburgers.
—Caitlyn Pilkington, web editor
KALE + ALMONDS + DRIED TART CHERRIES
Prep with: olive oil + citrus juice + salt and freshly ground pepper
To make a kale salad, I recommend massaging the hearty greens— ripped into bite-sized pieces—with olive oil and salt, to tenderize them. Almonds add a great crunch and provide some healthy fat. Tart cherries deliver a zing and they've been proven to help athletes recover better (thank you, anti-inflammatories). A fresh-squeezed lime, orange or lemon gives a little extra vitamin C and a fresh taste.
—Nicki Miller, managing editor
BABY SPINACH + HARD-BOILED EGG + BACON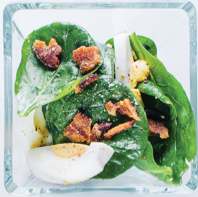 Toss with: extra-virgin olive oil + apple cider vinegar + salt and freshly ground pepper
My take on Green Eggs and Ham (kind of), this salad packs a powerful punch for runners: protein and healthy fats from the egg; and lots of good-for-you vitamins and nutrients—vitamin K, vitamin A, magnesium and iron—in the spinach. The bacon simply tastes yummy!
—Allison Pattillo, contributing gear editor
BUTTON MUSHROOMS + PARSLEY + PARMESAN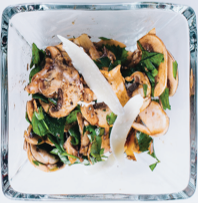 Dress with: 1-to-1 ratio of balsamic vinegar and olive oil + salt and freshly ground pepper
I was never a huge fan of raw mushrooms until I tried this salad. The trick is to slice the fungi super thin (use a very sharp knife or mandolin) to avoid that rubbery mouth feel. Mushrooms are excellent for your immune system; bright-tasting, roughly chopped parsley adds vitamin C; and the Parm (shaved with a vegetable peeler) ups the protein, calcium and tastiness.
—Jessie Sebor, editor in chief
Read More:
Three Super Spring Salad Recipes
This Healthy Salad Is The Perfect Way To Use Leftovers