The Best Supplements For Female Runners
Top off your nutrient intake to aid your performance, lengthen your running career and improve your overall health with supplements.
Heading out the door? Read this article on the new Outside+ app available now on iOS devices for members! Download the app.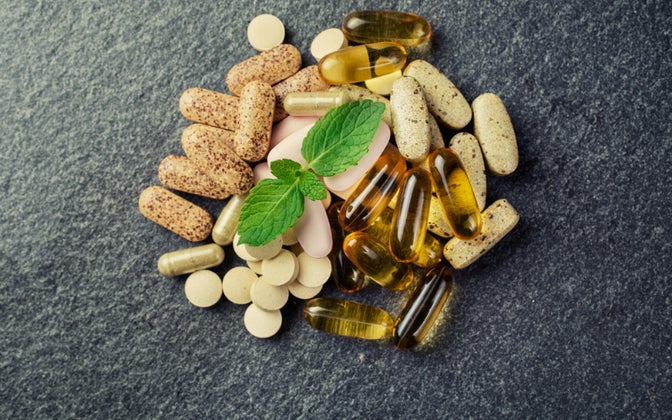 In a world where doping is all too prevalent in the sports industry, the term "supplements" can have negative connotations. But there are plenty of supplements that can (legally) aid a runner's performance. "Runners should use supplements wisely for any number of reasons, including boosting performance, aiding recovery, supporting joint health and staying healthy," says Chris Newport, R.D.N., a certified sports nutritionist and triathlete. "High-quality supplements in the proper amounts can improve a runner's performance and support their health and longevity as an athlete."
Key supplements that can help women runners specifically, Newport says, are things such as caffeine, fish oil, tart cherry juice, citrulline and leucine (amino acids), probiotics and more, depending on your specific needs as an athlete. Omega-3 supplements are praised for their anti-inflammatory properties as well as their ability to improve blood vessel function, and glucosamine is widely used to support joint health. And vitamin C and immunity-boosting supplements are important for keeping your health on track.
Newport advises that athletes do their research before taking a supplement: "Some supplements can be harmful for people with certain medical conditions, in combination with other supplements or medications, or at the improper doses," she says. And also be sure that any supplements you take are high quality: "Low-quality, non-third-party supplements may not contain what is on the label and may even contain prescription drugs or unlawful stimulants."
Add It In
Augment your daily healthy nutrition with these supplements.
Coromega Max, $40 For 60 Squeeze Shots
If the phrase "fish oil" makes your stomach turn, then try these fruity-flavored "shots" of omega-3s. Sourced from wild-caught fish, these supplements can be taken straight (the fruitiness actually completely masks any fishy flavor) or easily mixed into a smoothie. Each two-shot serving contains 2,400 milligrams of omega-3 fatty acids, 250 percent of the daily recommended value of vitamin D3 and—as compared to standard soft gels—is more easily absorbed by the body, Coromega claims.
Nuun Immunity, $6.99 For 10 Tablets
While other immunity-boosting supplements seemed to be packed with as much vitamin C as possible, this new effervescent tablet from Nuun contains 200 milligrams of vitamin C in addition to other superfoods such as elderberry, turmeric, Echinacea, ginger, zinc plus other vitamins and minerals. Available in two zesty, tasty flavors (orange citrus and blueberry tangerine), the non-GMO supplement is just added to 16 ounces of water for a perfect on-the-go supplement, ideal for travel (testers believe it saved them from sickness after some very long international flights!).
NDX Joint DX Vitamin Capsules, $50 For 30-Serving Bottle
These tablets were designed specifically to aid an athlete's joint health with nutrients such as glucosamine and chondroitin (natural substances found in and around cartilage cells), MSM (short for methylsulfonylmethane) and the company's own mineral complex. The company touts that the supplement promotes joint health, strengthens connective tissue, supports the body's antioxidant defense and enhances joint flexibility in addition to possibly reducing joint aches. It also contains vitamin C, ginger root powder and iron.
Related:
Ask The Coach: Should I Start Taking A Supplement?
The Rise Of Ginger In Sports Nutrition