9 Pieces Of Advice That New Runners Should Follow
New runners, you are in luck—you get to learn from the mistakes of veteran runner Hungry Runner Girl! Here's what you need to know.
Heading out the door? Read this article on the new Outside+ app available now on iOS devices for members! Download the app.
a href="https://cdn.womensrunning.com/wp-content/uploads/2014/09/IMG_2684.jpg">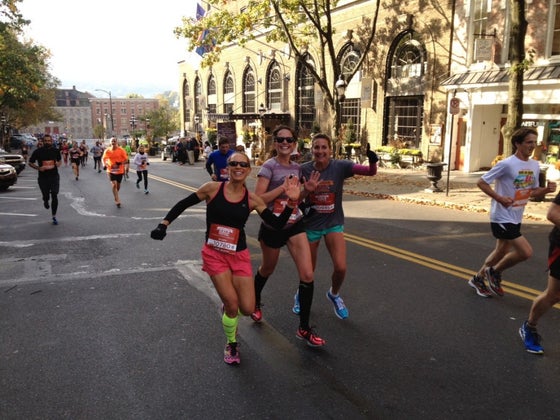 While running my first marathon I had no idea what I was doing. I was confused about why people were eating during the race. I wore a pair of brand new, never-been-worn racing flats (that hurt). I didn't know a thing about pacing. Over the years, I have learned some lessons that have helped me with my running and racing, and thought I would share them with any new runners reading this article.
Fuel your long runs.
It took me a little while to learn this but once I began to fuel, my long runs and races felt a million times better! Everyone is different, but for me, I prefer to start fueling about an hour into my long run and every 30-40 minutes after that. Hitting the wall happens when your glycogen stores are depleted, so do what you can to prevent that by taking in calories along the way. I love the salted caramel Gu for my fuel during long runs and races.
You have to do more than run to keep running.
Strength training, core work, foam rolling and stretching are all so important to keep injury free and running your best. I am the injury queen and I have noticed a common theme. When I don't strength train and stretch, I get injured. When I do spend time each week to do the extras, I am stronger, faster and injury free.
Run on the trails when you can!
Running on the dirt is so much easier on your body and joints than running on the roads. Trails will help you fight boredom. They also build your stabilizer muscles and help with your coordination. Not to mention they are also an incredible way get some great hill training in!
Every race isn't going to be a Personal Record.
For the first year of my racing I kept getting PR after PR after PR. After that first year, I did not do so hot in a race for a while. I have realized over time that it is completely normal to have some not-so-great races. And that is okay. There are so many different factors that go into how we perform on race day and that means there are going to be some bad races too. I have learned that some races are going to be PR's, some aren't, and some races I am just going to do for fun and enjoy myself.
Don't be afraid to run with people.
It took me years to work up the courage to run with other people and now I am hooked. Runners make the best friends.
f something really hurts, take some time off.
I used to push through pain all of the time. I worried that taking time off would mess up my training. This just made injuries worse. I learned over time that taking a day or two off if something is bugging me is way better than being forced to take weeks or months off because I pushed through an injury and in turn really hurt myself by continuing to run.
Give your body plenty of time to recover.
I had the idea that the more I ran, the faster I would get. This is true to a point, but you also have to give your body plenty of time to recover. About 5 years ago, I would run 7 days a week. Many of those days I would really push myself and go fast on those runs. I ended up getting a femoral stress fracture, which was not very fun. After a lot of experimenting, I figured out that my body prefers to run 4-5 days a week with a day of cross-training and at least one full rest day where I hang out on the couch for 90% of the time. Give your body time to rebuild itself and get stronger.
Save your racing legs for race day.
Speed workouts should be really tough but not all out. Save your 100 percent effort for race day. Our bodies can only handle an all out effort so many times a year. So rather than getting a killer time on your track workout, save that for your race.
Running takes time—don't give up on it.
Training for a race takes months, getting faster can take years and building your endurance takes a lot of hours out on the roads. Reaching your running goals will take dedication and consistency. All of my long hours of training and work are completely worth it because running continues to provide great benefits for my life!