The Best Women's Racing Shoes Available This Year
We review ten carbon-plated super shoes for runners who have fast goals in 2022.
Heading out the door? Read this article on the new Outside+ app available now on iOS devices for members! Download the app.
If you're training for a marathon with serious racing goals this year, you'll want to make sure you're lacing up a pair of carbon-fiber-enhanced super shoes. While there are plenty of traditional light and fast shoes at more moderate prices, these high-end and notably more expensive modern marvels are proven commodities when it comes to chasing down new personal best times. Yes, they have lofty price tags compared to your typical trainers, but it's an investment that will optimize your efforts. 
Here's an overview of the 10 best models available in early 2022 with insights about what makes each one unique. Several new models and updated versions of the shoes highlighted here will become available later this year, so check back for reviews of the latest and greatest racing shoes.
Adidas Adizero Adios Pro 2 | $220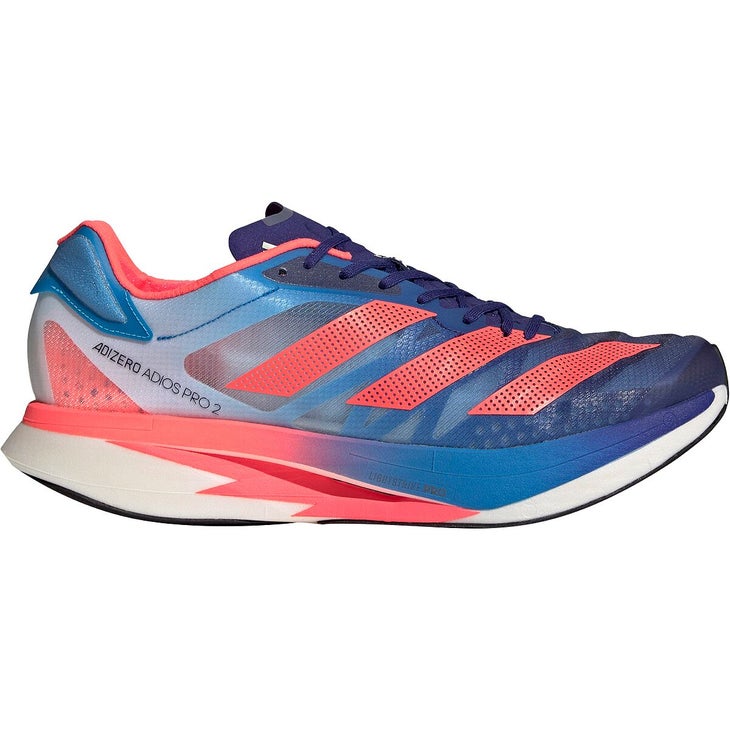 6.5 oz., 8.5mm heel-toe drop
Unlike most super shoes, the Adizero Pro 2 doesn't have a full-length carbon-fiber plate embedded in its midsole, but it instead it features a smaller carbon-fiber layer in the rear of the shoe and tuned carbon-fiber rods embedded in the forefoot of the midsole foam that mimic your metatarsals (toe bones).
This is one of the firmer and most stable models of all of the super shoes available, but also one of fastest. The thick, featherweight Lightstrike Pro midsole foam platform serves up contoured support under the heel and arch before your foot rolls into the dramatic toe spring rocker shape under the forefoot when the foam finally gives way and compresses slightly. The result is a lively, balanced and propulsive sensation just before toe-off and a stride that helps promote a high-cadence gait.
RELATED: New and Reviewed: Adidas Ultraboost 22
Asics Metaspeed Sky | $250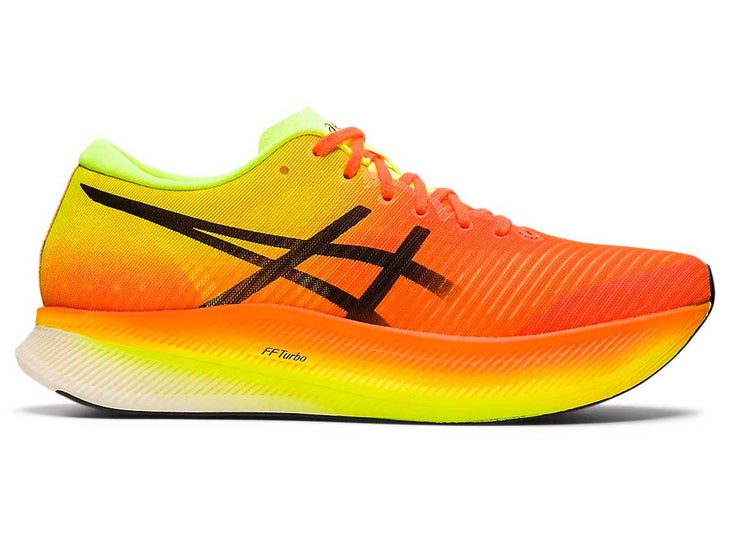 5.9 oz., 5mm heel-toe drop
Asics developed the Metaspeed Sky to increase a runner's speed and efficiency at race pace by extending stride length without increasing cadence. In other words, if your gait evolves into a long, loping stride pattern at faster paces, this would be a good shoe for you to consider.
With a full-length carbon-fiber plate embedded in a thick, resilient Flytefoam midsole and a long, gradual rocker shape, the Metaspeed Sky is an extremely light, moderately soft, and exceptionally responsive shoe that serves up a bouncy but well-balanced ride. It's a high-off-the-ground shoe, but you'll feel lower to the ground relative to most other super shoes with similar stack heights. Asics has also developed the similar but slightly lighter Metaspeed Edge ($250) with a marginally higher heel-toe offset (8mm) for runners who tend to rhythmically increase their cadence without upping their stride length at race pace.
Brooks Hyperion Elite 2 | $250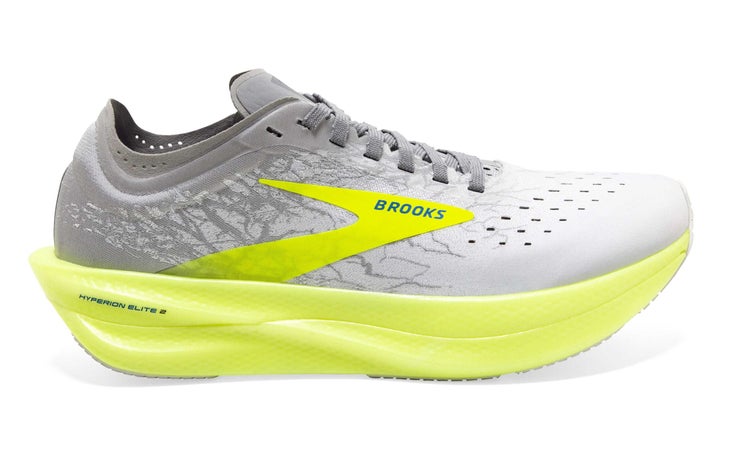 6.2 oz., 8mm heel-toe drop
The Hyperion Elite 2 doesn't feel like most of the other shoes in this roundup. It's a super shoe built on a wide, well-balanced foam platform that provides an energy-returning ride without a bouncy vibe. With an ideal balance between softness and rebound, the nitrogen-infused DNA Flash midsole and full-length carbon-fiber plate feels supportive, lively, and responsive without a hyper-springy sensation of many other modern marathon racers. The rocker profile is among the most subtle of all the super shoe models and it results in a consistent, straightforward roll through the gait cycle. For that reason, the Hyperion Elite 2 is great for racing but also exceptional for everyday training, long runs, and up-tempo workouts.
Hoka Rocket X | $200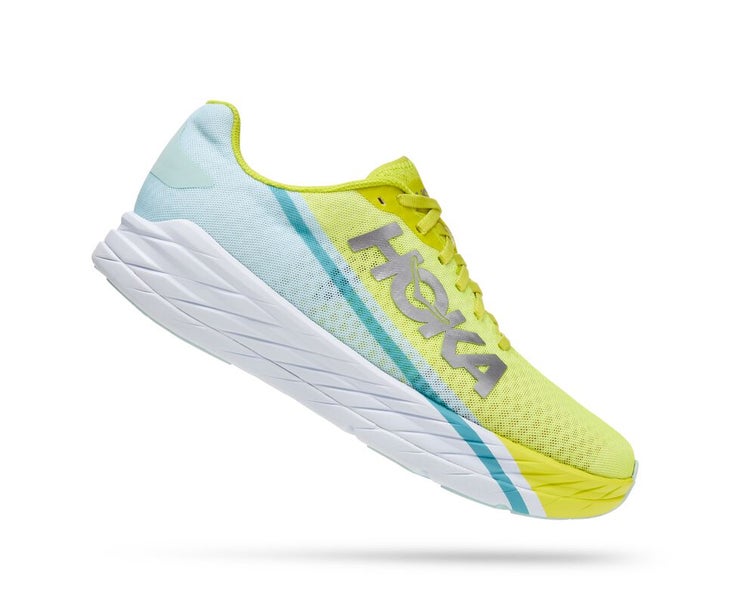 6.2 oz., 5mm heel-toe drop
With a narrow, low-volume interior, the Rocket X feels more like an old-school racing flat of a previous era than most of the modern super shoes with a carbon-fiber plate and a bouncy ride. It has slightly lower stack heights than most other super shoes and feels light, lively, and low to the ground. The compression-molded EVA midsole foam feels semi-firm and somewhat springy, but not bouncy like many of its high-stack cousins. The carbon-fiber plate seems to guide your feet from foot strike through the mid-foot, with a distinct pop of energy just before toeing off into a new stride.
Hoka Carbon X 2 | $180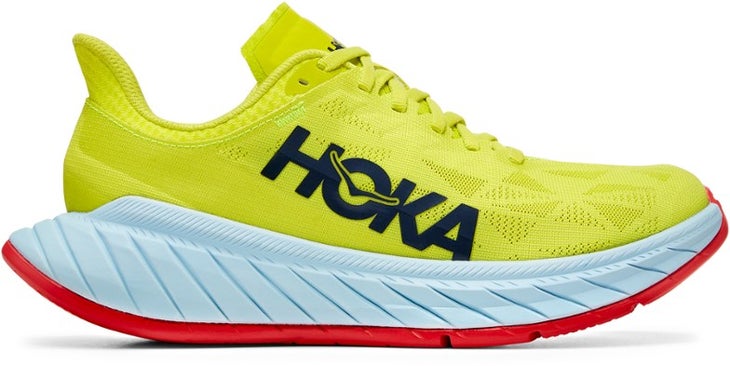 7.8 oz., 5mm heel-toe drop
The Carbon X 2 offers a more democratic approach to marathon racing shoes, as its fit, feel, and ride caters to a wide range of paces from moderate to very fast. Just about any level of runner can benefit from this shoe, but the key is running within the rhythm that the firm rocker shape dictates. The two-level midsole consists of a resilient compression-molded EVA foam above the carbon-fiber plate and an injected rubberized EVA material below the plate that creates a balance of stability and responsiveness. This shoe's robust rocker geometry and wide footprint serve up a decidedly rolling (and inflexible) ride, allowing for quick, smooth, and extremely stable transitions between strides. The Carbon X 2 isn't as light as most of the other modern marathon racers, but it definitely doesn't feel heavy at faster speeds because of the rolling sensation and propulsive toe-off in every stride.
RELATED: Best Running Shoes for Women with Flat Feet
New Balance FuelCell RC Elite V2 | $230

6.5 oz., 8mm heel-toe drop
The FuelCell RC Elite feels like a comfy cruiser when you lace it up and start running at slower paces, but it quickly morphs to a top-end racer as you roll into race pace. New Balance revamped this shoe quite a bit after the initial version, making it a bit lighter and a lot more lively. Although there is more high-rebound FuelCell foam in this version, it still has a slightly lower stack height than some of the super shoes available in 2022. However, it's one of the smoothest and softest models and it feels both exceptionally absorbent and very resilient. Although it feels a bit too squishy and sluggish at slower to moderate speeds, it excels at faster paces and optimizes a considerable amount of energy return while extending each stride. 
Nike ZoomX Vaporfly Next% 2 | $250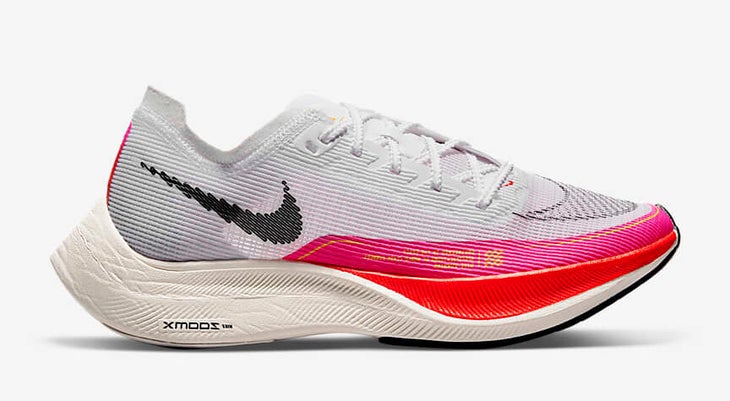 5.8 oz., 8mm heel-toe drop
The Nike Next% 2 is extremely bouncy and very fast. It's one of the lightest shoes in this category, but also one of the springiest. It's also one the most predominant of all super shoe models among recreational runners and elite runners at big-city marathons. The secret sauce of this model's success is the responsive combination of the thick ZoomX midsole foam and curvy carbon-fiber propulsion plate. The ride is energetic and very bouncy, contributing to a consistently quick cadence and very lively toe-off sensation. The bounciness—and the unique sound the compression of the foam makes—takes some getting used to before you can run consistently at a specific pace but once you find a rhythm, you'll find it to be very sustainable.
Nike Air Zoom Alphafly Next% Flyknit | $275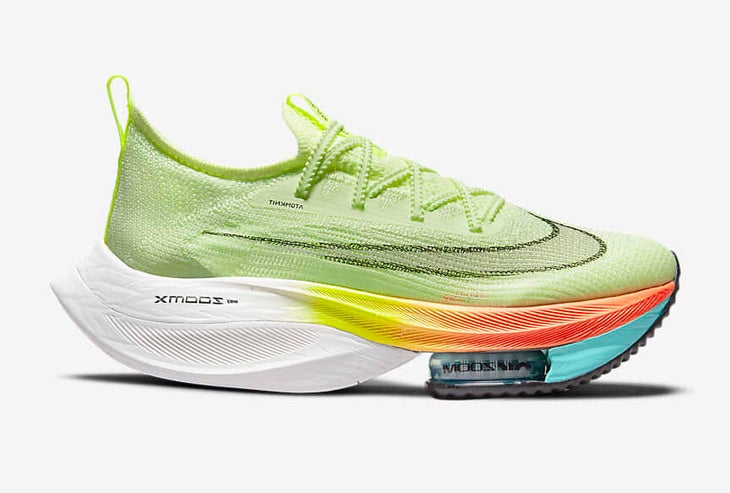 6.5 oz., 4mm heel-toe drop
The Air Zoom Alphafly Next% has a considerably different design, feel and ride than its Vaporfly Next% 2 cousin, but it is also very responsive and fast. The 40mm stack height in the heel is the same as the Next% 2, but because it has a lower (4mm) offset and a higher height in the forefoot, the Alphafly Next% feels much taller and robust overall. But it's also less bouncy, much wider and therefore much more stable, too. Unlike the dramatic rocker sensation in the Next% 2, it's hard to feel the curvy geometry in the Alphafly Next%. That's because this shoe has a more flexible carbon-fiber plate and two Zoom Air units on the forefoot that store and return energy while also contributing to a longer stride with a slower cadence than most super shoes.
On Cloudboom Echo | $270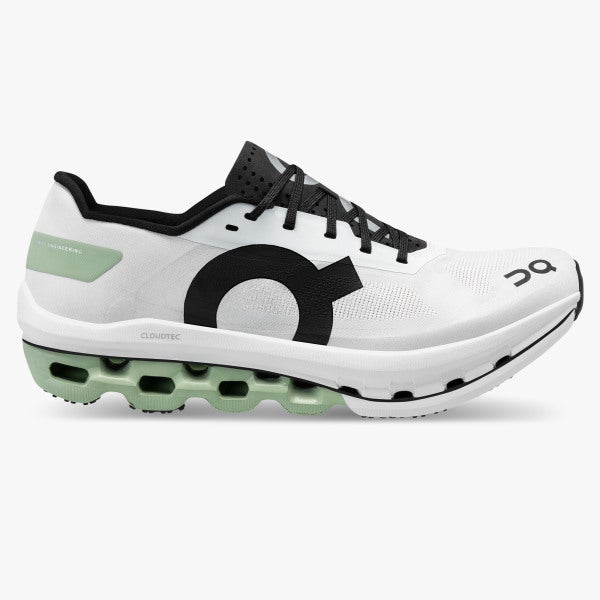 6.7 oz., 8mm heel-toe drop
The Swiss brand On was a late-bloomer in the super shoe category and its twice-revised Cloudboom Echo features one of the most unique designs among this speedy bunch. Built on a new version of On's proprietary Cloudtech midsole system, it generates propulsive energy by compressing layers of Helion superfoam sandwiched around a carbon-infused Speedboard. With lower stack heights than most of its contemporaries, it feels more compact like a traditional racing flat with a definitively firm and snappy ride, but it is also more flexible in the forefoot than most of the other super shoes.
Saucony Endorphin Pro 2 | $200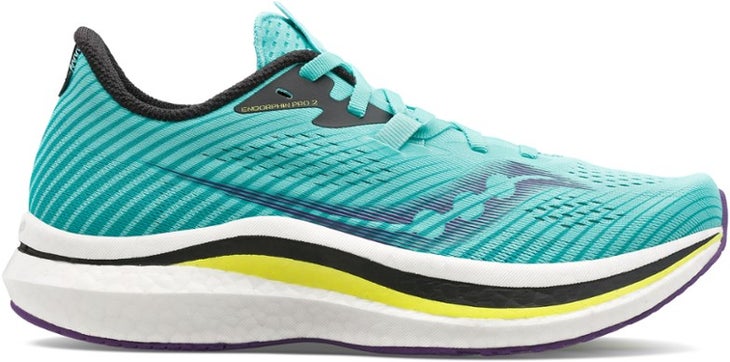 6.3 oz., 8mm heel-toe drop
The moment you lace up the Endorphin Pro 2, you feel like you're wearing a specialized race-day speed machine. With a narrow, low-volume profile, it feels extremely efficient, quick, and precise. Built with a stiff carbon-fiber nylon plate in the middle of a hyper-responsive PWRRUN PB midsole, the Endorphin Pro 2 dishes up a zippy, stride-lengthening ride. The rocker shape is moderate and engages under the arch, creating a smooth, brief floating feeling between soft touch-down sensations and robust toe-offs.
RELATED: What You Need to Know About Buying Running Shoes in 2022