First Run: Saucony Kinvara Pro, Reviewed
Like its 14-year old Kinvara the carbon-plated, Saucony's max-cushioned Kinvara Pro performance trainer is breaking new ground
Heading out the door? Read this article on the new Outside+ app available now on iOS devices for members! Download the app.
The History of the Kinvara
I remember when Saucony launched the initial Kinvara shoe in the summer of 2010 because it was the most exciting (and wearable) shoe to come out of the minimalist revolution that was underway. Compared to some of the shoes being released at the time, it was refreshingly soft and comfortable for an everyday training shoe, while still relatively light, and energetic enough to put a spring in my step. It offered the best of both worlds, stradling cushioning and minimalism. After wear-testing the newly released Kinvara Pro ($180) for a few weeks this summer, I feel a similar affinity. But, besides sharing a name, and a category-disrupting role, the two are decidedly different shoes.
Back in 2010, shoe brands were scrambling to outdo one another within what might be best known as the "barely there" design paradigm. After Christopher McDougal's 2009 book Born to Run became a New York Times bestseller and a 2010 report in the scientific journal "Nature" extolled the virtues of barefoot running, Vibram FiveFingers "toe shoes" boomed in popularity and a growing portion of the running public suddenly wanted—or thought they wanted—low-to-the-ground running shoes with very little cushioning. 
The proprioceptive feel for the ground of those types of shoes did help cue more efficient running form, created greater agility, reduced injuries, and improved stability—for some. But runners logging high mileage and those accustomed to wearing more underfoot protection mostly balked at the lack of cushioning and protection of those minimalist shoes because they tended to run your feet ragged. 
The Kinvara Evolution
When Saucony unveiled the original Kinvara, it included several of minimalism's key traits—namely lightweight materials, a thin, uncontrolling upper, a low heel-toe drop, and low-to-the-ground stack heights that helped ensure exceptional feel for the ground and kept the sole flexible and neutral. But the shoe ever-so-slightly bucked the minimalist trend with a moderate layer of soft, responsive foam in the midsole. What was important about the first Kinvara—and the 13 versions that have followed—was that it re-centered shoe design around the comfort and performance of foam midsoles. (It also set the table for Hoka and other brands to push the envelope on high-stack, maximally cushioned shoes at a time when next-generation foam materials were becoming lighter, cushier and more responsive.)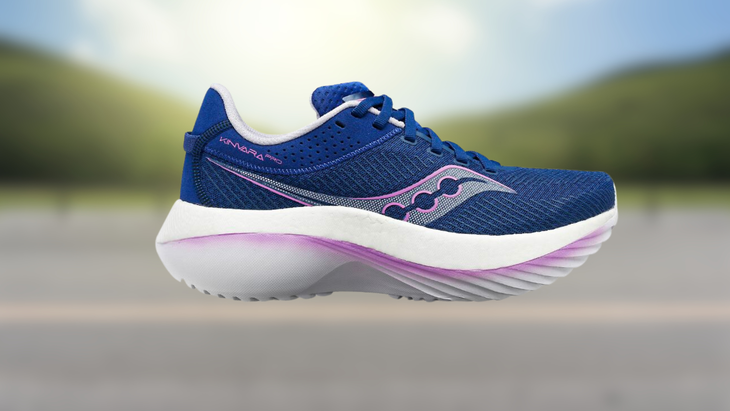 Flash forward to this summer, and I've just run 10 miles in the new Kinvara Pro, a maximally cushioned training shoe with a carbon-fiber plate embedded in a very thick and juicy midsole, and feeling a similar disruption in the status quo. Even as I laced them up, I could tell this Kinvara was probably only a distant cousin of its speedy minimalist namesake kinfolk, mostly because the Pro isn't at all minimalist and it's not exceptionally speedy, either. 
But what I have discovered, after doing long runs, recovery runs, tempo runs and even an interval workout on the track in the Kinvara Pros, is that it's a souped-up everyday trainer that's as lively as it is cushy. Once again, the Kinvara name is offering a bit of best-of-both-worlds vibe, though now it's straddling a middle ground between high-performance responsiveness and super-cushy shock absorption.
RELATED: 8 Great New Running Shoes for Summer
Saucony Kinvara Pro Design Specs
Weights: 8.5 ounces (women), 9.5 ounces (men)
Heel-Toe Offset: 8mm (42mm under the heel; 34mm under the forefoot)
Price: $180
The Kinvara Pro is a high-stack shoe with copious amounts of Saucony's resilient PWRRUN PB Pebax superfoam material over a more stable and firmer EVA-blend layer of PWRRUN foam that doubles as the outsole. A three-quarter length teardrop-shaped (tapered at the heel) carbon-fiber plate is embedded in the midsole package. Together, the foams and plate combine to provide soft landings and extra snap in every stride, while a responsive, TPU-based insole rounds out the cushy and energetic ride. 
The Kinvara Pro fits true to size with a medium-volume interior and a toe box wide enough for a little bit of wiggle room. The step-in feel is soft and plush, thanks to the booty construction created by the wrap-around sensation of the soft and stretchy gusseted tongue and pliable, engineered mesh upper. All of that combines for a compact and comfortable fit, one in which my feet felt intimately connected to—and in control of—the shoe as I rolled through the gait cycle from heel strike to toe-off. 
The foam, plate and slight rocker geometry create a distinct sensation of forward propulsion—as if the shoe is doing some of the work for you. But let me be clear, as much as there is noticeable mid-stride zippiness felt while running at slow to moderate training paces, it's not remotely close to the energetic oomph felt in any of Saucony's high-end Endorphin shoes. That's by design: the Kinvara Pro is not a racing shoe, nor is it meant to be a high-performance speed workout shoe. Instead, it's an everyday trainer that puts a little bit of spring in every step and helps offset the fatigue or mundane monotony of long training runs or midweek recovery runs. Like the original Kinvara (and the current Kinvara 14), it's a fun and somewhat versatile shoe to lace up and click off miles in without the harshness of feeling the ground or the squishy wobble of marathon racing shoes. It's not speedy enough to be a do-everything shoe like the Saucony Endorphin Speed 3, but it offers a lot more cushion, rebound and comfort than most high-mileage workhorse shoes.
RELATED: First Run: Adidas Adizero Boston 12