ASICS is Crushing the Shoe Game Right Now 
The legacy shoe brand has been around for 74 years. This season they are delivering nothing but PBs.
Heading out the door? Read this article on the new Outside+ app available now on iOS devices for members! Download the app.
If the title sounds like this is going to be a love letter to ASICS, that's because it is. Throughout the years, I've liked a lot of their shoes. But I just couldn't seem to find one that I absolutely loved. Wow, how the tide has changed, because this season ASICS is on fire and I can't seem to get enough.
This isn't some newfound fondness for the brand itself. I've always respected what they're about. Their founder, Kihachiro Onitsuka, believed physical activity was an essential part of overall wellbeing and started ASICS in Japan in 1949 to help inspire and encourage people post-WWII to live a more active life. From their first marathon shoe in 1953 to today, the brand has always been focused on making technically solid and thoughtfully designed footwear.
And they've delivered for the past 74 years. (Trust me, the brand was not in any way suffering because I didn't obsess over the Kayano. ASICS are one of the most worn shoe brands at any given major marathon, and beloved by runners from the front to the back of the pack.)
They're an easy brand to root for, not just because their product is great but because of how they come to life in the running community. I've long admired and been inspired by their longtime athlete Deena Kastor–not just because of her racing dominance and what she means to the history of women's running, but also for her infectious optimism and genuine kindness toward beginner runners like myself.
In fact, I give ASICS credit for helping me begin to see myself as a "real runner" in the first place. They convinced me to train for my first half marathon (the LA Marathon relay) when I was a young fitness editor in New York City. Then, with the support of then-ASICS coach Andrew Kastor, they helped me train for my first marathon: the 2015 NYC Marathon.
Today they sponsor two of the fiercest and most inspiring female marathon runners in the game: Sara Hall and Emma Bates. Watching these two women push the boundaries of top performance over the past few years–including going stride for stride at the 2022 World Championships–has lit a fire amongst everyday runners like myself. We all want to run more like them.
Which, stands to reason, runners like me would be interested in the shoes these ladies are wearing. So, while training for the Berlin Marathon, I spent a week breaking in four new pairs of ASICS shoes. It was week 10 (of 16) in my training block, and I was feeling pretty exhausted. I went into pretty much every run feeling like I didn't have it in me that day. And each run, I'd get blown away by the positive impact of the shoes.
I've continued using these four models in my weekly rotation. No matter what you're looking for, there's something here that you'll be sure to love.
Our Favorite ASICS Shoes That Crush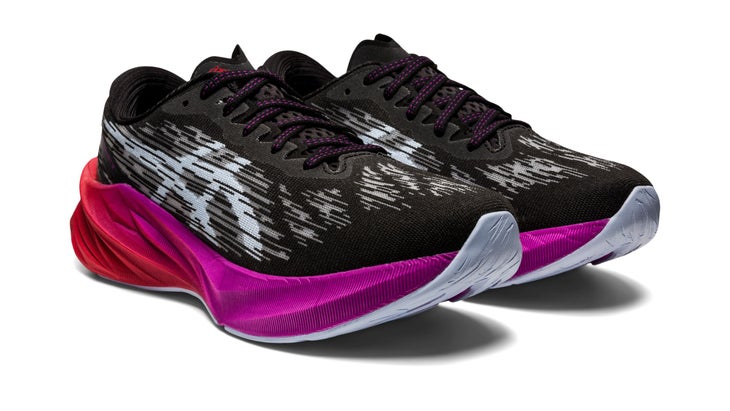 If I had to pick one single shoe that has made the biggest difference in my training, it's this one. (And I'm in good company: they're Sara Hall's favorite, too.) I've been running in this model since the first iteration and this most recent update just might be my favorite. I first tested these on a seven-mile easy run, but they quickly became my go-to long run shoe as they feel just as good at mile 20 as at mile 1. Thanks to the bouncy, lightweight foam–Flytefoam Blast+–running just feels easier, and my body simply doesn't seem as beat up as I remember it feeling in some marathon builds in the past.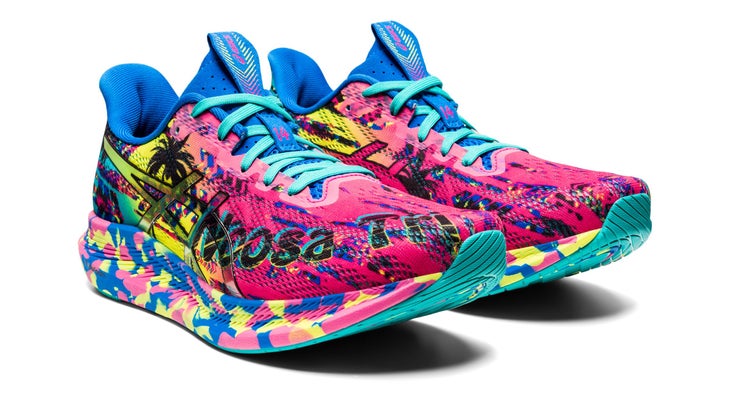 Don't be deceived by the name, these shoes are not just for triathletes. I haven't run in a version of these for years, so I wasn't sure what to expect. I certainly did not think they would test the NovaBlast 3's as potential top favorites, but they did. The engineered mesh upper felt wonderful–breathable and flexible, maybe the most comfortable upper in the bunch. The combination of the FlyteFoam cushioning and Guidesole midsole technology—which combines multiple foam densities with a rocker shape—gave these an effortlessly smooth ride. My first run in these was five easy miles with strides, and I loved how smoothly these shoes transitioned from slower speeds to quicker pickups. These have become one of my midweek staples for everything from recovery runs to tempo workouts.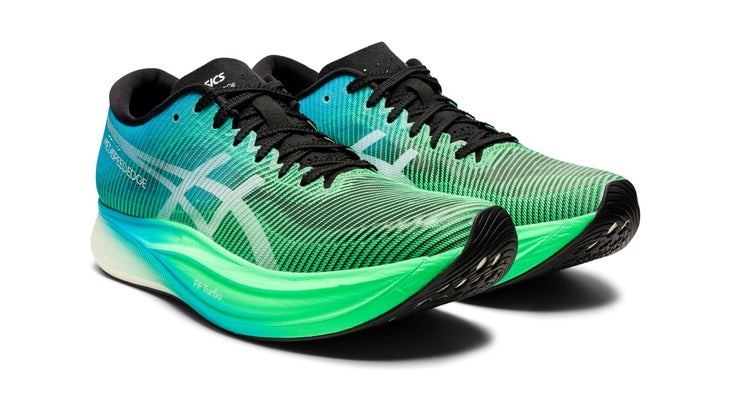 Welcome to the super shoe era. Every brand has one, and every runner seems to need one. Compared to its carbon-plated partner MetaSpeed Sky+, the Edge+ is designed for cadence runners–or runners who increase their speed by taking more steps versus making each step longer. That felt accurate for my running style, so I was excited to see how they felt in action. The first run I did in these was seven tempo miles on a treadmill. Slipping into them straight out of the box, I immediately noticed their amazing lightness and the curved sole design, which, combined with the ultra-responsive foam,  helps runners conserve more energy in each step. I didn't notice anything special about them during my warm up mile, but once I hit my tempo paces, wow did they start to work. Snappy yet smooth, not overly "springy" yet noticeably easier to maintain my faster efforts–these are fast, light shoes that make me want to race.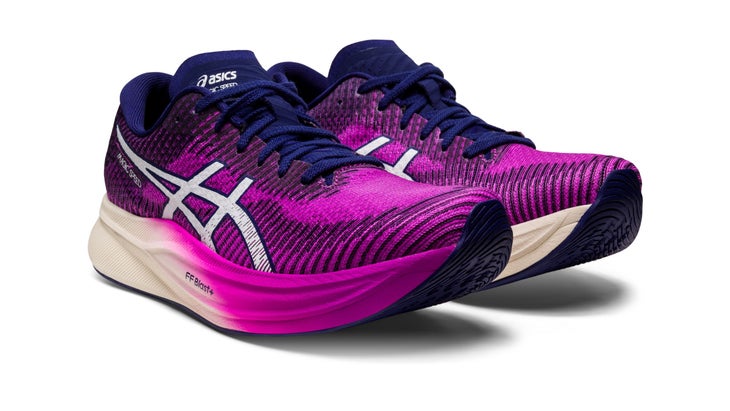 The first iteration of this shoe received somewhat mixed reactions. I personally loved it as a fast and firm shoe for speedwork. But some runner friends and colleagues felt it was too firm and a little flat. I think ASICS did a nice job on this update. The former partial-length carbon/TPU plate now extends all the way to the heel to enhance stability and make the roll from heel to toe even smoother and quicker. ASICS also added a layer of FlyteFoam Blast+ cushioning to the midsole. While it doesn't feel as spongy and light as it does in the NovaBlast, the cushioning was definitely noticeable, and made the Magic Speed 2 a little softer and more comfortable than its predecessor. I first wore these for a speed workout and while they felt a little stiff during my warmup, I loved how easily and smoothly they kicked into gear. When I have a track workout or short speed intervals on the treadmill, these are an easy pair to reach for.