8 Running Brands that Actually Give a Damn About the Planet
When it's time for new gear, consider some of these more-sustainable options.
Heading out the door? Read this article on the new Outside+ app available now on iOS devices for members! Download the app.
Running shoes and athletic apparel have not traditionally been the most earth-friendly products. Due to petrochemicals used in manufacturing and the carbon footprint they leave, running shoes and apparel present a specific challenge. But the industry is changing, and many running brands are making conscious choices across their whole eco-system. Increasingly, more are using recycled materials to lessen the carbon load, adopting changes in packaging, and carefully selecting suppliers. While it does not solve all the sustainable questions, it is a step in the right direction.
Much like the era when the term "organic" hit common parlance, brands are using varying terminology. With such breadth of terms and little consistency in labeling across the industry, it can be confusing to know if what you're purchasing is actually better for the planet.
RELATED: Can Running Shoes Become Sustainable?
Sustainable Running Shoes
Running shoes are a complex collection of materials and present a huge challenge of moving parts and suppliers. New Balance has introduced the "green leaf" standard to help consumers understand which of their shoes and apparel are part of their sustainability initiatives, and what that means, with a simple green tag on the product. For footwear, that means 50 percent of the materials in the upper are sourced as environmentally preferred and at least one material in the midsole/outsole uses 3 percent bio-based or 5 percent recycled content. For New Balance, a material is deemed "environmentally preferred" based on its physical characteristics or based on more sustainable sourcing practices.
On Running, known for its Swiss precision of design and style, recently announced a supply chain coalition with LanzaTech and Borealis called CleanCloud. This scientific collaboration takes carbon emissions and uses them as a starting point for making EVA foam, the material used in the midsole of many running shoes. The midsole has long been a challenge in manufacturing more sustainable running shoes. 
RELATED: 9 Sustainable Fashion Picks to Keep You Moving
"It's a win-win situation: we are capturing emissions before they pollute our atmosphere and are at the same time moving away from fossil-based materials," Caspar Coppetti, cofounder and executive cochairman of On, said in a press release. 
This summer, On is launching a line of subscription running products under the banner Cyclon. Within the collection is the launch of the Cloudneo shoe, "the running shoe you will never own." Made from beans, the shoe is fully recyclable. Every six months, you request a new pair. Upon receipt, you pop the recyclable ones in a return bag and, in turn, they are used as raw materials for new products.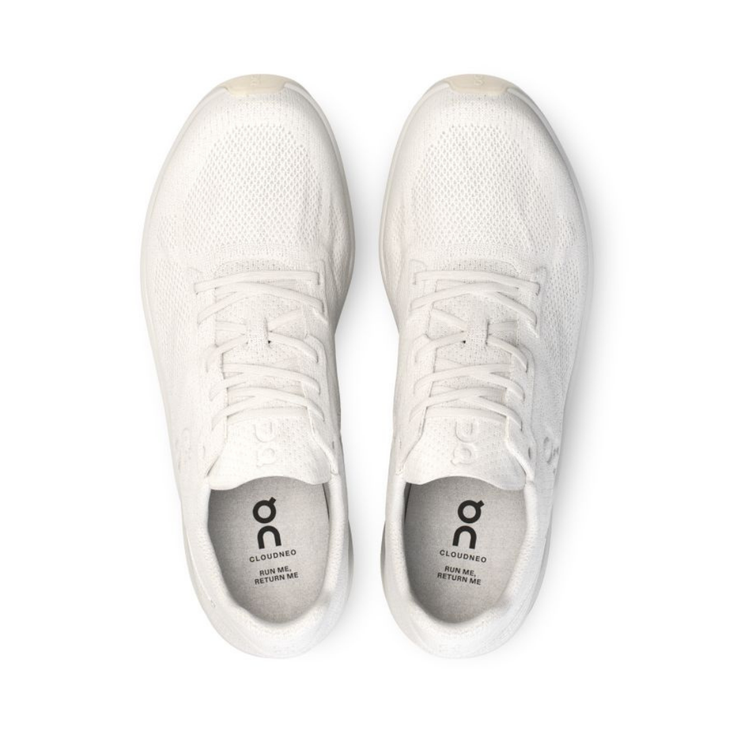 German brand Adidas was one of the pioneers of running brands to focus on sustainability. Their goal is to reduce their carbon footprint by 30% by 2030 and by 2050 to achieve carbon neutrality. By 2025 they also have the goal that nine of of ten adidas articles being sustainable.
As part of the journey to reach this goal, in 2015, they launched a collaboration with Parley, a company making yarn from ocean plastics that is knitted into running shoe uppers.  of their shoes will be made from Parley yarn. The upper on Adidas' best-selling (and recently updated with a significant female fit improvement) UltraBoost 22 style is made with 50 percent Parley ocean plastic and 50 percent recycled polyester.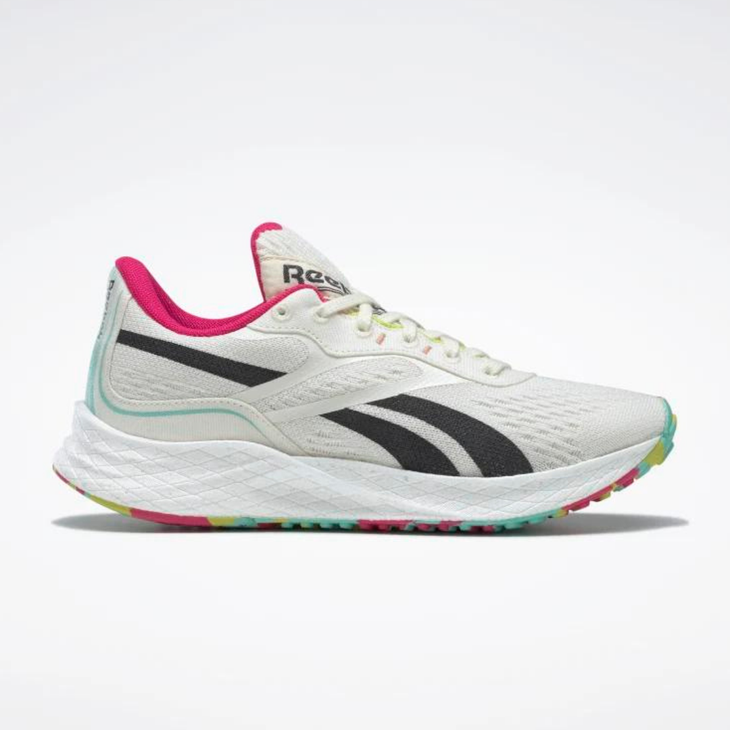 Putting a number on their sustainability goals, Reebok reports they want to have 100 percent of their products be sustainable by 2030. They're defining that sustainability quotient as using plant-based materials, recycling, and using better cotton and inks. 
The earth-forward Reebok Floatride Energy Grow features a midsole made from castor bean oil, an upper from eucalyptus wood pulp knit, and a natural rubber outsole.
Sustainable Running Apparel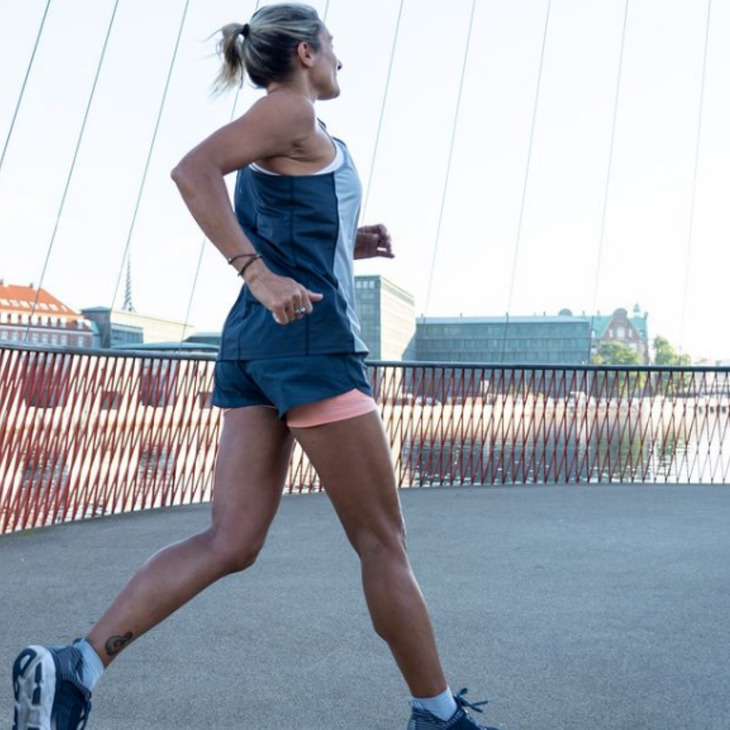 Looking past running shoes, the ultimate choice in sustainable apparel is to opt for wool when the climate conditions are ripe. It's the ultimate performance fabric thanks to its sweat-wicking properties, and living, breathing sheep equate to a bio-degradable, sustainable product that can be spun into athletic wear. Gone are the days when wool meant thermal heat to the everyday runner: While it does have thermal properties, today's micro wool running tops can be an option in warm weather as they are in cold. 
Many running shoe brands are also extending their sustainable practices to their apparel using recycled polyesters. Danish performance wear company Rockay has sustainability at the heart of its mission with 100 percent of their products made from recycled materials.
Sustainable Running Socks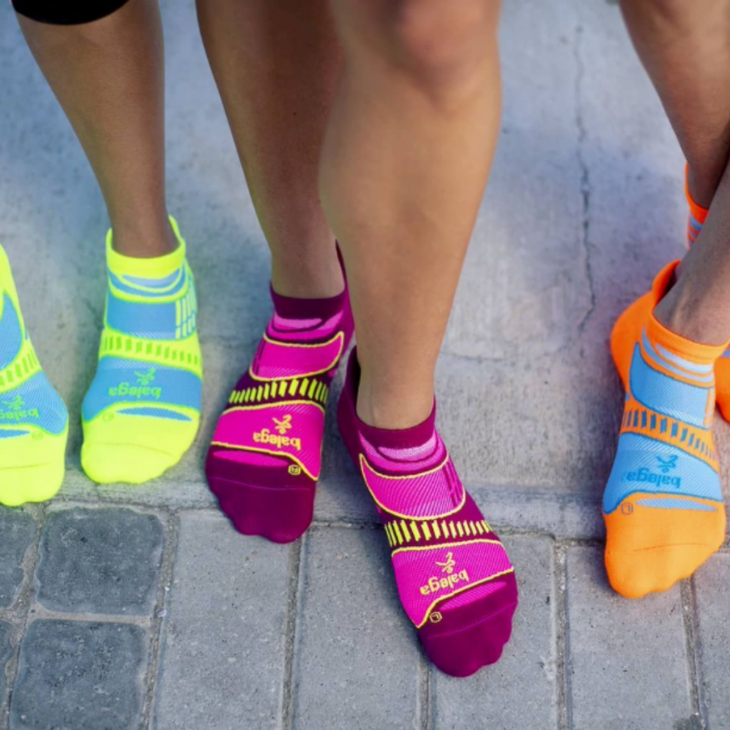 Runners can be a little fussy about their socks. After all, it's the one piece that comes between you and a potential blister meltdown. Wool for the win again: Take a look at Icebreaker and Balega, both of which have myriad socks of varying thicknesses, shapes, and styles to meet the needs of the most particular of runners. (Balega also uses manufacturing facilities with a water recycling purification system that recovers up to 50 percent of wastewater.)
A carbon-neutral option for socks comes from Definite Articles. Each sock is made from the equivalent of one plastic bottle actively removed from waste and spun into a performance yarn that acts like natural fibers. These socks shed less plastic when washed and degrade more quickly when discarded. Definite Articles are committed to keeping their supply chain as close to North America as possible and using renewable sources of energy to be 100 percent completely carbon neutral. Currently that means using carbon offsets, but the goal is to move to a totally carbon neutral supply chain over time.
RELATED: Should You Wash Your Running Clothes Less, For the Sake of the Planet?
Sustainable Runners
With running brands doing the work, it begs the question of what we can do as runners ourselves. Have you ever considered a run commute? Could you take a bicycle over a car for short journeys? Can we reduce the amount of automobile journeys by planning smarter? While much of climate change needs to be tackled through systemic change, we can all make small choices every day to reduce our own carbon footprint—and that includes the gear we buy when our current apparel bites the dust.