These "Streakers" Are The NYC Marathon's Most Dedicated Runners
Each of these race "streakers" has run at least 27 consecutive NYC Marathons.
Heading out the door? Read this article on the new Outside+ app available now on iOS devices for members! Download the app.
The TCS New York City Marathon has attracted many repeat participants over the years, but only a special few can say they've completed the NYC Marathon every single year for decades—and have no plans to stop.
Let us introduce you to Connie Brown, Jillian Lazaridis and Rozanna Radakovich, who aren't as fast as they used to be but remain as determined as ever to continue crossing the finish line every November.
The stellar women, now all in their 70s, are among the most accomplished in a group known as "marathon streakers," a distinction New York Road Runners gives to runners who have completed 15 or more consecutive NYC Marathons. (Records don't include 2012, when the race was canceled in the aftermath of Superstorm Sandy.)
Of the 200 runners with active streaks of 15 or more marathons, just 33 of them are women, making Brown, Lazaridis and Radakovich truly exceptional. To recognize the race's most resilient and devoted participants, NYRR hosts an annual "marathon streaker" gathering a couple days before the marathon. Women's Running recently caught up with Brown, Lazaridis and Radakovich to chat about their amazing feats and the challenges they've faced to maintain their streaks.
Connie Brown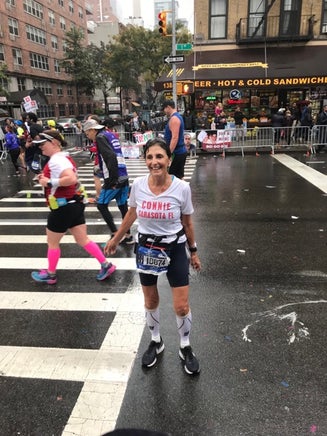 Age: 74
Residence: Sarasota, Fla.
Streak began: 1978
Consecutive marathons completed: 39
2018 will be her 40th NYC Marathon in a row
When Connie Brown ran her first New York City Marathon in 1978, Jimmy Carter was in the White House and men easily outnumbered women in marathons.
Brown, then a physical education teacher in Putnam County, N.Y., ran the NYC marathon with another female physical education teacher, joking along the way about the imaginary "little man with a hammer" they could feel hitting their different body parts. As Brown crossed the finish line, she was filled with joy and sadness as she thought of her mother, who had died the year before.
"My mother was ahead of her time and was always encouraging me to do whatever I set my mind to," she recalls. "When I crossed the line, I was crying. The reason I was crying was because I was talking to my mother. I said, 'You are right. I can do this, and now I know I can do anything I set my mind to.'"
In the early 1980s, Brown moved from New York to Florida but returned every November to run the marathon and visit her father. Her father died in 2002, but by that point, Brown had racked up the most consecutive marathons for women. She kept going. Not even a lymphoma diagnosis in September 2009 could prevent Brown from running the race. Before she started cancer treatment and with support from her doctor, Brown finished the marathon again that November.
For a few years, Brown sported a race-day shirt that proudly displayed her streak number, and every year, she would cross out the old number and replace it with the new figure. Years ticked by. In 2012, for the first time in its history, the NYC Marathon was canceled after Superstorm Sandy ravaged the region, but Brown was ready to run that year, too.
If all goes well on Nov. 4, Brown will have completed 40 consecutive NYC Marathons, becoming the only woman in the race's history to hit that mark.
Brown starts training for New York every July, and to avoid Florida's oppressive heat, she runs in the middle of the night. Sometimes her husband, 84, rides his bicycle to keep her company. In her prime, Brown completed the marathon in the 3:30s. This year, she plans to run with a group of friends and hopes to finish around 5:20.
"My goal is to finish and feel good—that's it," says Brown, who also works full-time as a real estate agent in Florida. She used to run four or five marathons a year, but now only focuses on New York.
As long as she is healthy, Brown says she has no plans to end her streak. "It's part of who I am at this point," she says. In fact, she is already looking to the marathon in 2023, when the race will fall on her 80th birthday. "I'll be the youngest in my age group," she says. "God willing I'll be running when I'm 80."
Jillian Lazaridis
Residence: New York, N.Y.
Age: 73
Streak began: 1983
Consecutive marathons completed: 34
2018 will be her 35th NYC Marathon in a row
Eager to attempt a marathon but not sure how to train for one, Jillian Lazaridis signed up for running classes with New York Road Runners in the early 1980s. Led by legendary author and running coach Bob Glover, the classes not only helped Lazaridis finish her first NYC Marathon—they provided her with the friendships and motivation to keep running.
Year after year, there was no doubt what Lazaridis had planned for the first Sunday in November. It wasn't until 2004, two decades after she completed her first NYC Marathon, that she realized she had something extraordinary going. "I had no idea until I got a note from New York Road Runners," she recalls. "I said, 'Oh I've got a streak?' They had an awards ceremony, and that was the first time I heard the word 'streaker' applied to marathons."
In addition to NYC, Lazaridis has run marathons all over the world, including in Paris, London and Boston. As the retired teacher approaches her 35th consecutive NYC Marathon, she reflects on the times that maintaining her streak was especially challenging. One year, while riding her bicycle just days before the race, she collided with other cyclists and broke her wrist. She had surgery on her wrist on a Friday and ran the marathon two days later with her hand in a cast. Another year, she ran the marathon with two broken toes after a student dropped a church pew on her foot. "That was agony because my shoes were rubbing on the top of my foot," she recalls.
When she was younger, Lazaridis would "go to the disco" after the marathon to celebrate her finish, but these days her post-race festivities are much more low key. Instead of tearing up the dance floor after running 26.2 miles, she takes a bubble bath, sips champagne and eats a big hamburger with her husband at home.
Like Connie Brown, Lazaridis wants to maintain her streak as long as she can. "What has kept me going is A, I put in the training," she says. "B, my time does not matter to me and C, I go out to have a good time and to enjoy the crowds." Also like Brown, Lazaridis is already looking ahead to when she's 80. "My goal is to run until I'm 80. I'm 73 now. When I get to 80, then I will re-assess the situation," she says.
Rozanna Radakovich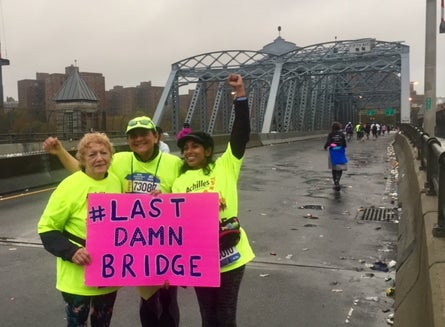 Age: 71
Residence: New York, N.Y.
Streak began: 1990
Consecutive marathons completed: 27
2018 will be her 28th consecutive NYC marathon and 33rd overall 
Rozanna Radakovich ran her first few NYC Marathons in the 1980s but was forced to take a break when she injured her knee.
A doctor at the time told her she could forget about running another marathon. As things turned out, he was very wrong. Not only did Radakovich return to running and finish the NYC Marathon in 1990, but she has also completed it every year since, even if she's had to walk the 26.2-mile course.
"It makes me feel good about me," she says. "I don't care about my time."
Over the years, Radakovich has also finished an impressive number of consecutive NYRR Mini 10Ks, a women's race first held in 1972 and originally called the Crazylegs Mini Marathon. From 1984 to 2016, Radakovich ran an extraordinary 33 in a row, according to NYRR.
For the past few years, Radakovich has participated in the NYC Marathon with two guides from Achilles International who help her navigate the crowds and protect her from getting bumped by other runners. Even after decades of running through the five boroughs, Radakovich is still thrilled by all the cheering spectators along the way.
"I love New York, and it makes me proud to be a New Yorker," she says.
Indeed, her running heart belongs to New York—it is the only place she has run a marathon.