Faith Kipyegon Leaves No Room for Doubt, Wins Third Straight 1,500 Title at World Championships
Ireland's Ciara Mageean set an Irish national record with a bittersweet fourth-place finish and Team USA's sole representative Cory McGee finished 10th.
Photo: AFP via Getty Images
Heading out the door? Read this article on the new Outside+ app available now on iOS devices for members! Download the app.
If an athlete runs in a final and there's nobody around to challenge them, is it truly a race? Or is it just a time trial dressed up as one? Last night's 1,500-meter final raised this question as Faith Kipyegon, the reigning Olympic and world champion from Kenya, bolted to the front like she was rabbiting and maintained her lead to the finish. With a job to do–a title to defend–Kipyegon earned her third world championship gold medal in 3:54.87.
Diribe Welteji, the 21-year-old from Ethiopia, hung on for silver in 3:55.69 while the Ethiopian-born Dutch runner Sifan Hassan (who returned with plenty of vigor and even more bandages after falling in her valiant attempt to win the 10,000 on Saturday) clinched bronze with a time of 3:56.00. Ireland's Ciara Mageean missed the podium in fourth place but set a national record of 3:56.61.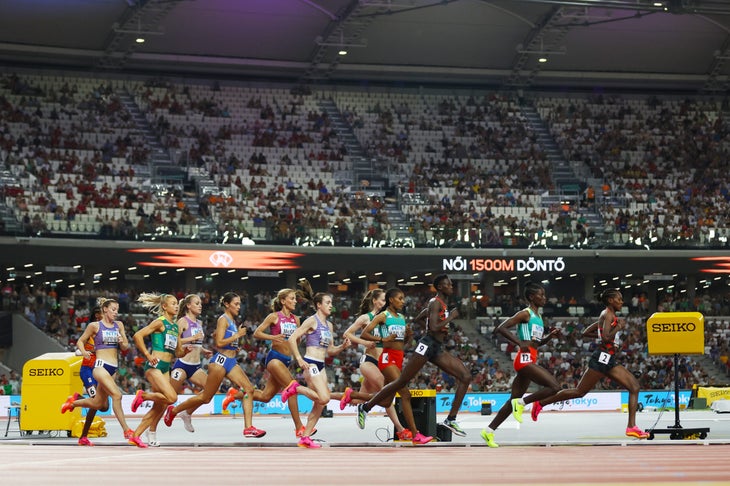 "I got myself fighting. Being in first place position on the inside can be a burden because if you don't get out hard enough you can get swamped," Mageean said of the strategic start of the race. "I was very lucky with the girl I had beside me. Once [Kipyegon] got out, everyone would be looking at Faith. There was no better place to be."
Kipyegon ran composed in the lead while everyone else tried to get to where they wanted to be. With the grace of a matriarch, she brought the cagey pack through 800 meters in 2:11–a near-perfect pace that all the runners were capable of matching. When there were 500 meters to go, the first and last runners were only separated by a 1.52-second gap. So the final lap promised one thing: uncertainty.
In the 1,500 at the world championships, round one and the semi final are usually the most nerve-wracking. Reaching the final is the hard part. And once an athlete makes it, there's nothing left to lose. Welteji, the young talent who placed fourth at last year's world championships in the 800 meters, made a bold push to the front. This burst of speed burned some of the field, but others used this move to vie for a medal.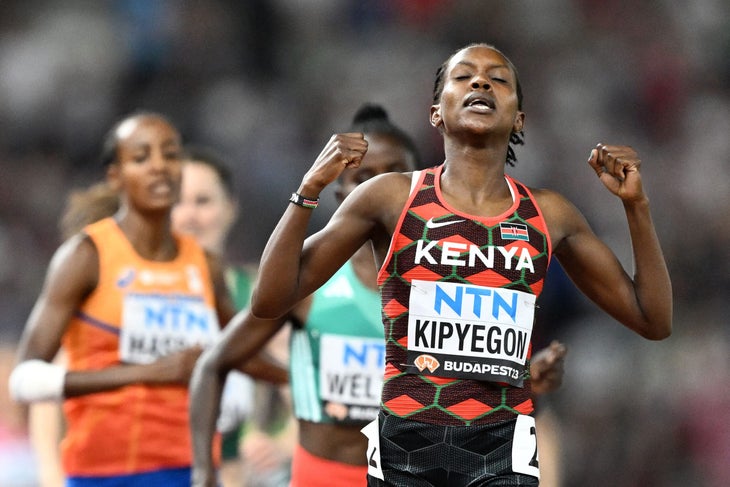 "Defending my title in the 1,500 was my big fish and main goal," said Kipyegon, 29, who responded to the pace surge, earning her third gold medal at the world championships and her seventh 1,500 global medal overall. "But I'm excited to run the 5,000." She became the first woman to achieve a hat-trick of world 1,500 titles, having won in London in 2017 and Eugene in 2022.
But another possibility looms. Could she be the first woman to secure the 1,500-5,000 double?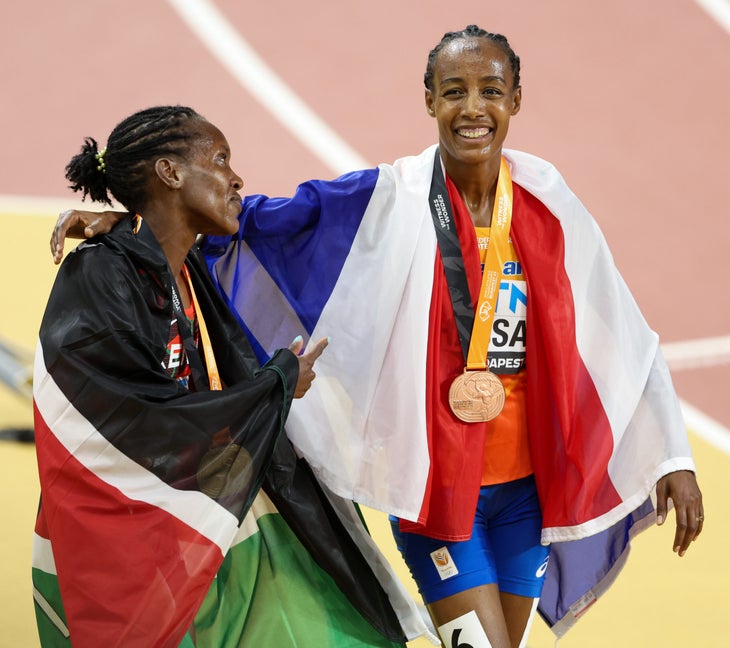 The story doesn't end here for Kipyegon and her competitor Hassan though. Their rivalry will resume as they face head-to-head in the 5,000 meters on Sunday. Kipyegon's last defeat in the 1,500 was at the hands of Hassan in a Diamond League race in Florence in 2021. Hassan gave her all in the final 200 meters of last night's final in an attempt to recreate history, but it proved insufficient to rattle Kipyegon.
You can't help but wonder what Hassan could achieve if she didn't race an accumulated 14,500 meters already at worlds.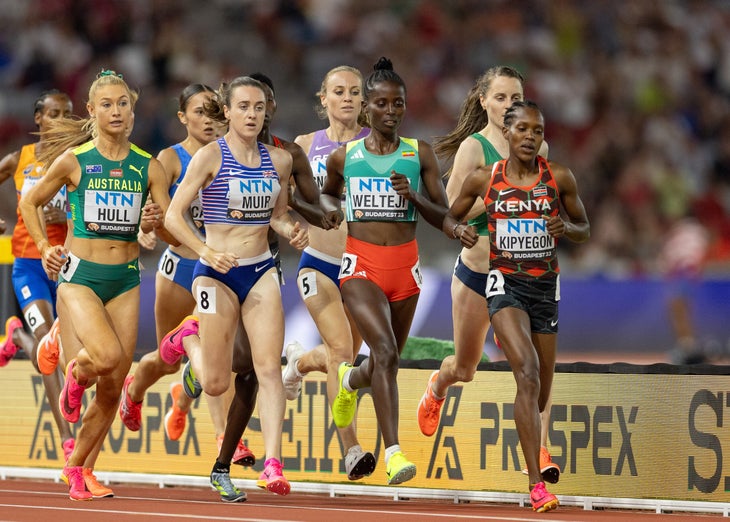 The 1,500-meter final also included Great Britain's Laura Muir, who earned bronze in Eugene last year. This year she finished sixth in 3:58.58. Muir candidly reflected that her performance last year doesn't guarantee a medal this year. "I gave it my all tonight, positioned myself well, and responded to moves effectively," she said. Muir looked like she covered more ground than her competitors due to her positioning on the outside lanes and lamented the absence of an extra gear on the final lap.
The top American, Cory McGee, fell short of expectations as she finished tenth in 4:01.60. "Tenth isn't good enough. I kinda got back to my old ways. I wasn't where I wanted to be so I made a hasty move and gave a little too much with over 600 meters to go," she said, acknowledging her panic on the last lap.
"You can't make mistakes in a race like this. I should have been ok with being further back in the pack and had a stronger last lap." This was McGee's third straight world championship final. And the veteran was quick to detect patterns in her racing reactions against the world's best.
"I'm disappointed but I gave it everything I had," she said. "I think just tactical errors in hindsight. Obviously it sucks. I'm in way better shape than I was a year ago and have the same result so that's frustrating."
While McGee leaves Budapest with disappointment, she recognized the significance of representing the USA on the global stage. "I felt fully responsible to carry [Team USA] through to the final and do my best there," she said. As the only American finalist, McGee embraced the responsibility she bore for all middle-distance female athletes in the US, to elite competitors to aspiring middle schoolers.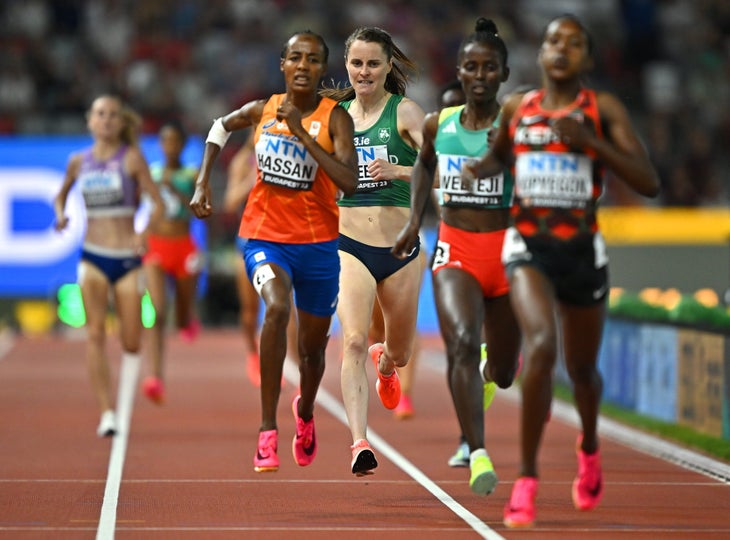 Mageean shared a similar virtue about her inspiration to do her best. "I'm just a little girl from a small town, Portaferry, with big dreams," she said. "I always knew I could be the best in the world and for every little kid in Ireland, the dreams you have: sporting, music, academics, follow them with your whole heart."
"I laid myself bare. To come short and come away in fourth place in the world, it's amazing to be disappointed with that. I'm happy to say I'm disappointed, but I'm going to come back stronger," said Mageean.
In a race that demands both mental tactics and pure fitness, McGee and Mageean might hold an advantage as they approach an Olympic year. Because both world finalists have a knack for turning disappointment into motivation to chase their dreams.