13 Things I Wish Someone Told Me As A High School Runner
...and what we need to tell our current young runners.
Heading out the door? Read this article on the new Outside+ app available now on iOS devices for members! Download the app.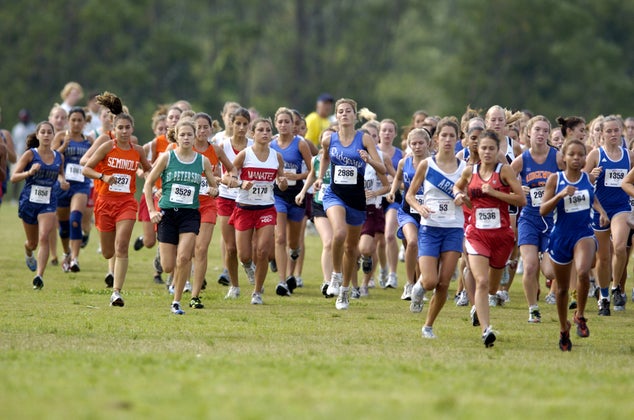 I ran in high school. I was a good runner in high school. For most of my time in high school, that was my identity to the outside world: a runner. At my small Division 5 school, my face in local newspapers warranted high-fives and congrats among athletes in the hallways. At my giant Division 1 school after moving to San Diego, I ran toward the front of both track and cross-country varsity teams. We were supposed to be the top of the San Diego Section for both years I ran on the team. Coaches were competitive, we were competitive and our parents were competitive. Competition was a key part of my high school experience. Coming from two competitive parents, it's really not surprising how hungry I was to make an impact wherever I ran.
It's been years—11, actually—since I've been fully immersed in that environment in any capacity, but every December, my dad and I go down to watch the national high school cross-country meet in downtown San Diego, and I can't help but wonder—has anyone shown these fastest competitors in the country that life, your identity and more importantly, your youth, isn't and doesn't have to be all about running? Or winning? That you will face much larger decisions, obstacles and choices in life, and one day, running will be an outlet, not the thing you need an outlet from?
I don't regret a moment of my time as a high-school athlete, but I do think some things need to be said to all high-school runners, especially young females:
You're dedicated just for joining the team. Don't let anyone ever tell you you're not dedicated if you're not fully investing every ounce of extra energy into the sport. Sure, it's important to make your contributions to the team, but by executing at practice, you're already way more dedicated that the kids skipping out on sports.
You're beautiful the way you are. Oh my god, can we please make a sign and hang this at every large high school meet? I've talked about this previously, but raise your hand if you ever snuck a peek at your teammates during dog days of training, when it was sports bras only, and thought, I need to look like that to be running with this squad. I did, for two years in high school. Girl, your body is running and firing on all cylinders just the way it is.
You need to eat. There's no sugar coating here. Running aside, high school is a place where we were highly vulnerable to manipulation and the "just try it" attitude, which includes developing bad relationships with food. You need to eat. I will never know if the girls who fainted on us and cost us a championship were victims of parents' pressure to cut corners with food, but there was always speculation.
Cross-country is a no-cut sport. There is a spot for everyone to compete, and I haven't experienced coaches taking the time to express this enough. Maybe it's changed, maybe it hasn't; all I know is I had blinders on during my workouts. I only thought of myself, not the runners who were just out there to participate. You belong there too, just as much as the ones leading the team around the track.
It's okay if running isn't your life. Really, it's okay.
If your coach makes you feel uncomfortable, speak up to someone. This is something that I fortunately never experienced, but I know people who did encounter this and said nothing. It is not okay for coaches to make you feel uncomfortable, at all, in any sense of the word. Speak up—you're not in the wrong for doing it, and chances are, you're not the only one.
If you're uncomfortable in the locker room, it's okay to change in the stall. Hi, this is me. And that's totally fine to be 15 years old and not want to flaunt everything you got in front of other girls. There's nothing wrong with you, but also, I invite you to re-read number two.
Throwing up is not the answer to nerves. There seemed to be this attitude that if your big race included throwing up before or after, you were so hardcore. I'm not talking about the uncontrollables that might happen after a hard race to the line (or am I?); I'm talking about the forcing yourself to vomit before a race. This does not make you faster, this does not make you better, this does not make you stronger. What it does do is create bad habits that follow you straight into a full-blown eating disorder.
If you need help, disclose to someone. Coach, parent, teammate, teacher, counselor—whomever—if you need professional help getting out of some bad habits that are surfacing, talk to someone. Not only does this help you, but it also helps bring potential issues to the adults that might be able to spot red flags among your team.
The decisions you make in high school are so small compared to ones later. That said, I appreciate fully that at the time, choices to ditch, cut practice or quit the team seem life-changing. They aren't. Do you, and do what you want to do.
Cross country and track are two of the toughest sports—don't let anyone lessen that for you. We're all runners here, we know how much mental and physical work goes into racing your heart out. Toss in a league championship on the line, or a first-place team finish, or whatever, and it suddenly becomes very tactful, very strategic. Yes, running is an individual sport on the outside, but if you've ever slid your feet into those racing flats and huddled with your coach to talk execution on the oval, you know that it's much bigger than just you. Don't let anyone ever make you feel like your sport isn't as important.
Your team is your family. My team wasn't without politics, as many teams are. If I could go back in time, I would urge my teammates, the parents and myself to rally together for the better of the team. I would want to squash internal quarrels between the top girls. High school is already such a personality-forming time, young women do not have room to be spiteful against other women who share their talents and wear the same singlet.
And lastly, make sure running—or really any sport—is what you want to do in your heart. I'm thankful every day for my upbringing in a runner household. It's brought me some of my best opportunities and stories and has afforded me the knowledge to execute a great race today. But I won't lie, there were moments where I questioned why I ran, and why I ran to be the best. Make sure you do it for you first, and if it's something you love, get after it.