Why Any Body Can Be A Runner's Body
A runner's body belongs to anyone who is running.
Heading out the door? Read this article on the new Outside+ app available now on iOS devices for members! Download the app.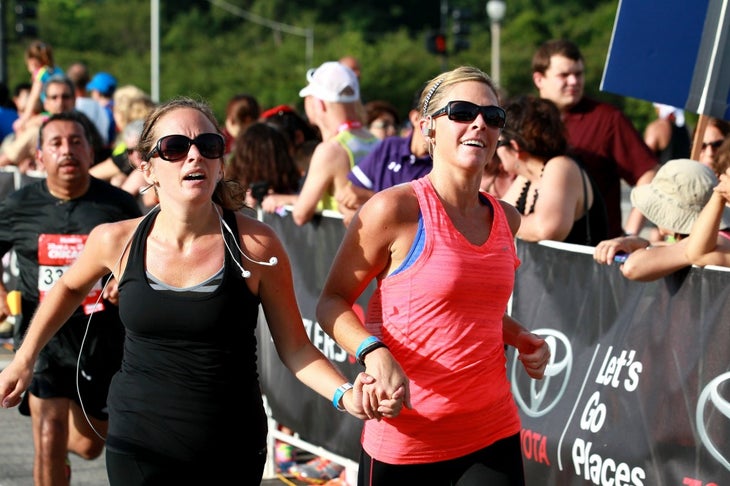 You've seen them on your way to work, at the gym and basically everywhere you look—those svelte gazelle-like women who make running look so easy and a "runner's body" so good. And every time, you tell yourself you'll start running and join the ranks of those graceful creatures once you finally get down to (enter goal weight here), but now another year has come and gone and you're still not at that ideal weight and you're still not a runner.
Enough is enough. Runners come in all different shapes and sizes, and if you've dreamed of becoming a runner, it's high time you realized you already are. Don't put it off one more day. You might feel running is more difficult or easier based on weight, but rather than losing weight to start running, why not use running as a way to lose weight, get healthy, have fun and do something you enjoy? Whether your goal is to shed some pounds, run your first race, raise money for your favorite charity or all of the above, your time has come to unleash your inner runner.
You may feel the need to go all-in when beginning a running program, but please thwart this urge. The extra weight you have hanging around increases the load your hips, knees and ankles must endure. Your main priority when starting out is injury prevention—after all, a walking boot makes running rather challenging.
Give yourself plenty of time to train if you have plans to participate in a specific event. It takes time for our bodies (heart, lungs, muscles, bones and joints) to adjust to training, especially when you're overweight or obese; think months instead of weeks. Just remember to be patient, give it time and enjoy what you're doing.
When strategizing your plan of attack, plan on doing a lot of walking initially. Brisk walking is a great prelude to jogging. Walk quickly with a shortened stride to increase caloric burn, cardiovascular intensity and reduce force on your joints. If brisk walking is too much for you, or you experience joint pain or discomfort, opt for low-speed incline walking on a treadmill instead—you'll still challenge your body but you'll do so in a much more joint-friendly manner.
Once you get to where you're able to comfortably walk briskly for at least 30 minutes, you're ready to introduce stints of jogging into your workouts. Begin with what feels comfortable to you—alternate 5 minutes of brisk walking with 2 to 4 minutes of jogging for a total of 30 minutes. As the jogging begins to feel more comfortable and your endurance improves, gradually reduce the amount of walking and increase the amount of jogging in each workout until you're jogging the entire time. Then, of course, you can consider gradually lengthening your workouts.
If you're healthy and free of any musculoskeletal issues, you can substitute higher-intensity running in place of the jogging. Because the higher intensity puts more stress on your body, be sure to start with smaller time increments (like 1 to 2 minutes) of running alternated with the 5 minutes of walking.
Whichever method you opt for, there are a few hard and fast rules you need to stick with about getting your "runner's body":
Invest in a solid and appropriate pair of new kicks. They may be pricey, but a good pair of running shoes is your first line of defense against injury.
Support your girls—uncontrolled bounce can make a short lap around the block seem like an eternity.
While the general running population follows the rule of 10 percent (not increasing your mileage or duration more than 10 percent each week), runners trying to lose a significant amount of weight should drop that number to five percent to minimize injury risk.
Never push through the pain—if pain develops during a run and worsens during your workout, stop. That's your body telling you something is wrong.
Avoid running on uneven surfaces; your joints are already stressed enough and your stabilizer muscles will fatigue easily when you're first starting out. The last thing you want is a preventable rolled ankle to sideline you.
Take a day off between each running session to give your body time to recover and adapt to this new stimulus. Feel free to cross-train with non-running exercise on these days.
Don't stress about form, you'll naturally come into a comfortable stride once you get accustomed to running. Just remember to take shorter strides, maintain a 90-degree flexion in your elbows, keep your hands relaxed, and run tall with your gaze focused forward, not down.
Don't be too proud to buy anti-chafing cream—it will make your debut into the world of running much more comfortable, especially where your thighs are concerned.
No matter what size you are now are what size you long to be, if you have the patience and determination to stick with a plan, this year can be the year you finally cross that finish line.