What Is It Really Like To Run In Iran?
Despite restrictions, sports offer some freedoms to Iranian women.
Heading out the door? Read this article on the new Outside+ app available now on iOS devices for members! Download the app.
Excitement around the announcement late last year of the first international marathon in Iran quickly turned to dismay for women runners as they learned that the event would be open to male athletes only. But as a recent visitor to the country discovered, Iranian women runners aren't just encountering obstacles—they're also finding freedom.
Coraline Chapatte didn't know what to expect when she booked a ticket for her first visit to Iran last May. Hoping to meet some kindred spirits, the Istanbul-based ultrarunner, sports trainer and blogger turned to social media.
"I found a bunch of Iranian runners, both men and women, through Instagram; they were all tagging each other, and I could see they were modern people having fun together," Chapatte says. "I messaged one of the men to ask whether it would be possible to run in Iran or not and he replied, 'You will have to wear a hijab in the city, but when you are in the mountains you will be free as a butterfly.'"
Running provided an immediate bond when Chapatte met her online contacts in person in the Iranian capital. "The people I met in Tehran treated me as if we'd known each other forever," she says. The morning after Chapatte's arrival, her new friends took her by taxi at 5 a.m. to the northern part of the city, where the Alborz Mountains begin. The women in the mixed group of runners started off in long tops, long tights and headscarves—but they didn't stay garbed that way for long.
"As we went higher and higher, they would just start taking off layers of clothing," Chapatte says. "When we went down, everyone covered back up again."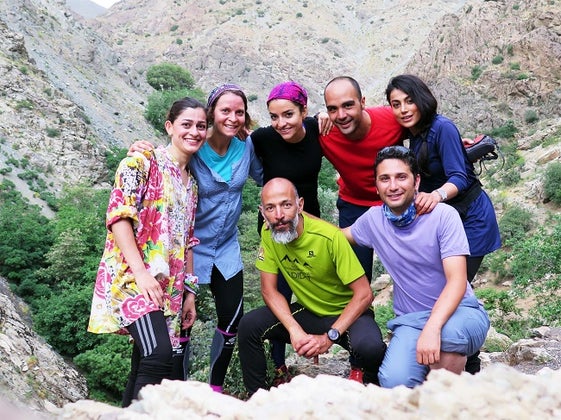 Both male and female athletes train and compete in Iran, but sporting facilities are strictly segregated. Chapatte learned there are "underground" gyms in Tehran where men and women work out together in secret. Women are even barred from watching men's football matches, and female members of the Iranian national athletic teams can only compete abroad in front of mixed-gender audiences in full hijab, ruling out many sports in which the extensive covering would be impractical, if not downright impossible.
The female runners Chapatte met in Tehran told her that the Iranian religious police often look the other way when they are running in the city, perhaps too bemused, or confused, by the unusual sight to chastise the women about their dress. Attempts to organize co-ed races, however, have thus far been thwarted.
So far, nearly 200 men from 40 countries, including the United States and the United Kingdom, have signed up to run the April 9 "I Run Iran" marathon from Shiraz to the ancient city of Persepolis, despite boycott calls from racing figures, such as ultrarunner Stephanie Case, founder of the NGO Free to Run.
Ashkan, a male Iranian runner, said he doesn't plan to compete in in the event. "The cost is so expensive, also women cannot participate, which is not fair!" he wrote in an email. Asked if he thought women might ever have a chance to race publicly in Iran, he replied, "Yes (cross fingers). Hopefully they can in the future."
Organizers of the Iranian Silk Road Ultramarathon hope that chance might come as soon as this May. Eight women and 17 men from around the world have signed up for the six-stage 250K race (or a "lite" 150K version) in the Dasht-e-Lut Desert outside of Kerman, a regional capital some 600 miles southeast of Tehran. Free to Run hopes to sponsor two Iranian women to join them. If all goes as planned, it will be the first co-ed race in Iran in 38 years, since the founding of the Islamic Republic.
Female runners will be asked to wear, at minimum, a T-shirt, a cap and sports pants that go below the knee with a tennis skirt-style cover-up, according to race director Paolo Barghini. He says Iranian authorities have not expressed any concerns over the co-ed nature of the event, though he allowed that "maybe there would have been objections if the race were taking place in a city center."
That jibes with what Chapatte witnessed while running in Tehran. "I understood why the women always get up at 5 a.m. to go to run in the mountains—it postpones that moment where they'll be back in the system."
Jennifer Hattam is an Istanbul-based journalist, blogger and runner. You can also find her on Twitter and on Instagram.