From Viral Tummy To Olympic Standard—Here's Stephanie Bruce's Story
If there's any serendipitous story to read about ahead of the Trials, it's Stephanie Bruce's wild ride to the 10K Olympic standard.
Heading out the door? Read this article on the new Outside+ app available now on iOS devices for members! Download the app.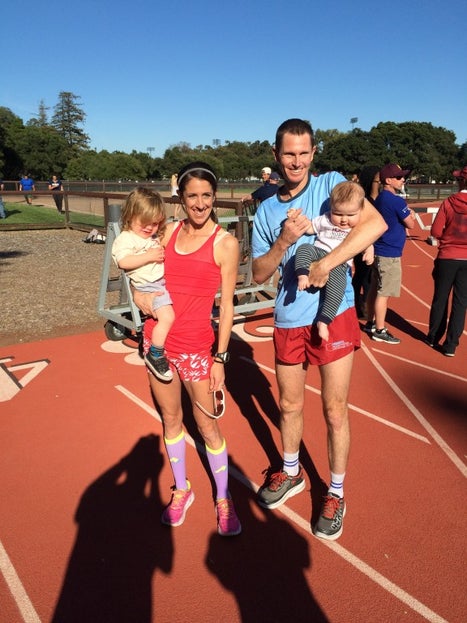 The two weeks leading up to my first competitive track race in more than four years were messy. Not messy from a training standpoint, but from a baby-clothes-all-over-your-couch, dishes-on-the-counter, life standpoint. You see, two weeks I ago I finished a track workout, looked down at my spikes feeling fast and confident, but I couldn't help but notice my stomach. So I shared my thoughts in that moment and posted the image to Instagram. Little did I know, that very moment would have such a rippling effect on the events to follow. There's no better way to summarize it than with what a friend texted me: "I saw you on the Today Show, you've gone viral!"
In five days I talked with just about every major news publication about my Instagram post and what its background was. It started with #JourneyWithSteph more than two years ago, when I made a committment to share my post-baby return to training and racing and my journey to try and make an Olympic Team. I never set out to be an inspiration, as I know there are far more inspirational people out there. I just choose to share my story with candid, raw honesty. Apparently that resonated with many women and I saw an outpouring of comments, support, love and a mega boost in social following. [Stephanie now has more than 50K followers on Instagram.] I tried to read every email, comment and private message and attempted to respond to as many as I could. Then last Tuesday rolled around, and it hit me like a ton of bricks. You're leaving for Stanford tomorrow and racing the 10K on Friday at the Stanford Invite. Get your act together. 
Related: One 5K Changed The Game For Elite Runner Stephanie Bruce
Heading into the race there wasn't a ton of pressure. The primary goal was to run under the Olympic Trials standard of 32:25 to secure a spot on the line in Eugene, Ore., this summer. If all was feeling good late in the race, I could try to mix it up, squeeze down the pace and see what more I had in me. Training over the last 10 weeks had gone very well, considering I have a 6-month-old and was getting up in the middle of the night with him, not getting the ideal recovery for a pro athlete. I had put in a lot of miles and strength work, and I was confident. Don't get me wrong—I was scared poopless—but I was confident. How is that? You can be confident in your training, your coach and the process but still scared you'll forgot how to put it together on race day, or let the hurt get the best of you mid-race and shut down. That's normal; that's healthy.
The guns goes off and 77-second laps are on tap. I found myself in a good rhythm, clicking off my splits. Each time I rounded the oval I'd look forward to getting to coach Ben to hear another "77." There were about 12 runners ahead of me through the halfway point, with race plans of their own. I had a teammate help pace me through just over 5K, and when she dropped it was game time. Each 77 I kept running hurt just a little more as the race progressed. A lot of times it's a mental battle for much of a 10K run on the track. You see the clock that says "17 laps to go," and your heart sinks. So when you get within single digits, you can smell home.
Related: Post-Baby Speedy Tips From Stephanie Bruce
My husband yelled with a mile to go, "You need a 5:05 [mile] to get the standard." He was referring to the Olympic standard of 32:15. I was going to be under the trials mark if I just held it together, but there was also the chance of the Olympic standard. Yet, I kept running 77-second laps and couldn't squeeze it down. One lap to go, I realized I could achieve my primary goal and just cruise it in. But I wanted more; I was so close. I gathered myself, got up on my toes, and tried to leave everything out there that night. I crossed the finished line, crowd roaring, my friends screaming, and I heard my husband's voice: "You got it, you got the standard." By .58 seconds.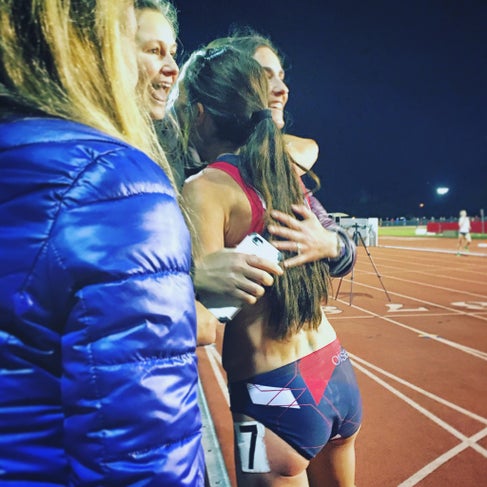 [Editor's note: Meeting the Olympic standard time makes athletes eligible to race in the Olympics, should they place in the top three at the Olympic Trials. Meeting the Olympic Trials standard time makes athletes eligible to race in the Olympic Trials, but they would still need to meet the Olympic standard time during their event, as well as place in the top three to proceed to the Olympics.]
The next morning I woke up, only four hours of sleep to my name (late-night racing, plus coffee, plus buzzing), and our two boys had no idea what took place the night before. How could they—they are 6 months and 21 months. All they cared about was did they get fed that morning, played with, and where's "big car"? So even when I wanted a little extra pep in my step from my performance walking through the San Jose airport headed back home to Flagstaff, Ariz., instead I had heavy, sore legs wearing Hudson in his wrap and making formula instead of getting myself coffee. I was reminded that the moments I get to be a selfish pro athlete are few and far between these days, so I better darn well make them worth it.