Runner Remembers Brave Syrian Competitors That Inspire Us
In a time of crisis, we remember those who use running to make powerful statements.
Heading out the door? Read this article on the new Outside+ app available now on iOS devices for members! Download the app.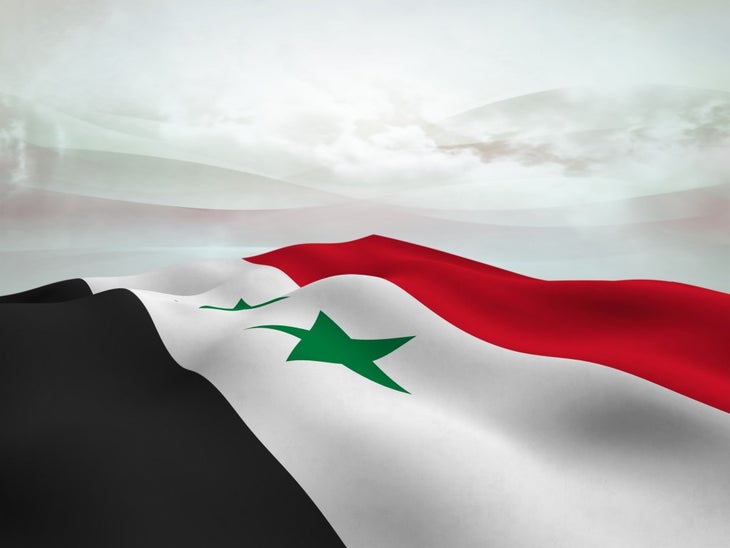 Running in the age of social media means our Facebook feed can play an interesting role in how we come to experience, consume and think about running. Until recently Syria was not a place that often occupied my thoughts and certainly not a place that figured into my thoughts about running. Yet, as news stories detailing the horrors of war line up above and below posts about running, particularly women running, these things have become increasingly intertwined in my daily feed and my thoughts. As a runner, a woman and an anthropologist, I began to wonder—those long runs will do that—who was running in Syria?
Unsurprisingly, information on female distance runners in Syria is sparse…very sparse. Female athletes are rarely photographed, interviewed or quoted in the press. What little information there is on running focuses on men or experiences of Western visitors navigating the "strange stares" they receive on the street. These accounts leave the Syrian female runner conspicuously absent. Yet she is there. We might rightly assume cultural rules about clothing or public behavior make just lacing up and hitting the road difficult for Syrian women, but athletes competing on the global stage compel me to consider my own running practice in relation to women around the globe. Athletes like Yusra Mardini, who swam first for her life, then for the Refugee team in Rio. Or 12-year-old Mireille Hindoyan, whose Olympic dreams and life were cut short by shelling. and Olympic runner Zainab Bakkour –
Another courageous competitor was Olympic runner Zainab Bakkour. Representing her nation at the 2004 Summer Olympics, Bakkour qualified as the lone female athlete for the Syrian team headed to Athens, defying stereotypes of Syrian women. At 5'1" and just 110 pounds, the then 25-year-old runner showed the world just how strong Syrian female runners can be. Though she trailed the leader in the 5,000 meters, Bakkour ran a seasonal best that race. She also ran her own personal best and a national record at the 2000 Syrian Athletics Championships in Damascus four years prior. While there is not a lot of information on Bakkour, to know such a woman exists and has such accomplishments is a story worth telling and remembering today.
Damascus now lies in ruins, but the power of Bakkour's accomplishment stands strong among Syrian women. As debates around refugees continue among government leaders, particularly those running from Syria, many athletes, as well as companies like Nike and Adidas, have spoken out about the phenomenal achievements athletes bring to their host countries and the need for inclusivity in sport. From Jessie Owens, whose running defied Hitler and Jim Crow, to 21-year-old Rose Nathike Lokonyen, who trained in a refugee camp in South Sudan and carried the Olympic flag for refugees in Rio, runners embody the triumph of the human spirit and our ability to endure. As I look around at the many women who with me at a level far lower than Olympic standard, I also see this accomplishment and realize the value of a diverse running community.
Bakkour's story is one of social victory, yet thousands of her countrywomen are literally running for their lives, oftentimes carrying their starving children on their backs. This is not running for fun, fitness or mental health. These women are not hoping to hit a PR, just praying to save their families. For many, running is a way to maintain balance, but today many women in conflict zones around the world are running toward an unknown and often unkind future. They are running off balance, away from everything they have known and the lives they have built. Today, this is real women's running in Syria.
Thinking of these women, I am compelled to remember that running is a luxury. To run as I do is a privilege, not afforded to many of the women in this world. This is worth remembering and acting upon by donating to a legitimate relief cause. Running has empowered millions of us in a myriad of ways. Consider using what has empowered you to help return some power to a woman in need. Helping non-combatants receive food, shelter, and medical attention is one way that we can celebrate the privilege we have to enjoy running as a luxury.
Dr. Andrea Conger is an anthropologist and a runner. She lives in St. Paul, Minnesota.