Our Interview With Cookbook Author Susan Jane White
We spoke with the author about the recipes included in her cookbook Tasty. Naughty. Healthy. Nice.
Heading out the door? Read this article on the new Outside+ app available now on iOS devices for members! Download the app.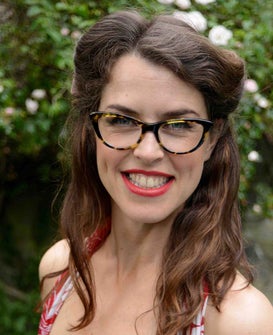 Author Susan Jane White's recipes are perfect for newcomers to whole-food living, and great for everyone from busy moms trying to find healthy snacks and meals to athletes looking for new, nourishing meal inspiration. Packed with creative recipes and overflowing with Susan Jane's knowledgeable and often hilarious take on cooking, these meal ideas show you how to make the tastiest and healthiest dishes to fuel your body and mind. Read below for our chat with Susan Jane about how she created Tasty. Naughty. Healthy. Nice.
How did you come to this way of clean cooking and eating?
I used to think that only boring people had time to cook. I quickly learned that smarter people make time to cook. My track performance was tanking, so I began to interrogate my fuel supply. You know the feeling, right? When I started cutting junk food from my life, I tiptoed around health stores with a mixture of confusion and nervous elation, like an ornithologist sighting a new species of bird. I was busy mourning for Diet Cola Girl. "Whoa! I could buy a bottle of wine for the price of that stuff." Or, "I can't afford that weirdo flour—it's three times the price of normal white stuff!" But it's helpful to remember that, first, we form habits. And then, habits form us.
How did you learn to embrace new ingredients and let go of processed foods?
Eventually I realized there is nothing restrictive about mindful, healthy eating. It's the opposite. It's so liberating—a way to escape the shackles of processed food and the excesses of the wheat-sugar-dairy merry-go-round that I had become addicted to. There are legions of grains, flours and funky beans to experiment with in place of boring pasta and unthinking takeouts. Eventually, I clocked that healthy eating was the most thrilling adventure I was missing! Imagine a space where cravings don't control your every thought, and where energy belts through your veins. This is not a fad for me. It's a way of life, and it doesn't demand rigid principles. I'm all about taking the hell out of healthy. I don't want to demonize wheat or dairy—these foods are not problematic. The quantity we consume is definitely unhealthy, even pathological (breakfast, lunch, dinner, desserts, snacks all seem to have wheat, sugar and dairy, right?). By acknowledging our obsession with these foods, we will naturally reduce our reliance upon them and will open up our eyes to a fabulous fleet of wholesome grains, beans, flours and multi-fabulous rice that we would not otherwise be exposed to. It's the opposite of restrictive—it's incredibly liberating! That's what my cookbooks do; they open up this world of exciting new ingredients.
With your background as an athlete, how do you find that what you eat influences your performance, mood and overall physical well-being?
Good food has me on my tippytoes. Junk food has me on my knees. I cannot reach my optimum performance level when I sabotage my fuel supply. The older I get, the truer this rings.
What do you always have on hand, either in your fridge or pantry, for a quick post-workout snack?
Frozen bananas are my post-workout artillery. My two little boys (Marty, 5, and Benjamin, 7) make a mammoth smoothie with me every morning. We parachute some frozen banana into a blender, along with some plant-based protein, isotonic coconut water, cacao powder, avocado and maybe some almond butter. The ratio of these ingredients can change, but we rarely stray from the base.
What is your most used or favorite ingredient that most people wouldn't have heard of, and why do you love it?
Most people haven't heard of ghee, which is basically clarified butter with all the milk solids removed. Ghee is rich in fat-soluble vitamins A and D, without which some nutrients like calcium can't be synthesized in the body.
Related:
Lemongrass, Coconut And Sweet Potato Soup Recipe
5 Healthy Cookbooks That Were Made Just For Runners
The Story Behind Highly Anticipated "Run Fast Eat Slow" Cookbook