Strange Things That Give Runners Anxiety
Sometimes the little things make runners go absolutely crazy.
Heading out the door? Read this article on the new Outside+ app available now on iOS devices for members! Download the app.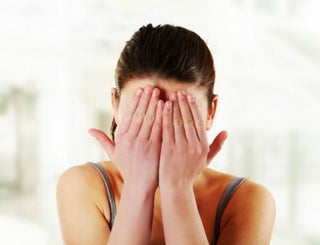 These things probably give normal humans the sweats too, but for runners, there are certain things that momentarily hinder our ability to function at full mental capacity. Little things that might be brushed off until later are suddenly a life-altering issue when it comes to endurance freakazoids. I thought I was perhaps alone on some of these until fellow run nerds totally confirmed my theory: Runners freak out about the weirdest crap. Here's a few examples:
1. Missing socks. Okay, we all have that basket of one-off socks that lost their partner somewhere between the washer, dryer and trek to the bedroom. But when it comes to those coveted run socks—we all have that one or two or three pairs that make us feel secure—lose one, and our world turns to shambles. What if you have a race tomorrow, and your go-to pair just totally split up? I shake just thinking about it.
Related: 10 Things That Make Female Runners Cringe
2. Dirty water bottles. I personally don't have too much experience in this area, but I have witnessed fellow endurance athletes lose their sanity over discovering that their betrothed hydration system is still dirty from the last workout when it's time to fill up. Where's a clean one? What did I drink last? Is that water? Wait, no, that's Gatorade. And now you have to change your whole entire mindset because the other bottle isn't as easy to hold, and it doesn't have as big a pocket, and it's not the same size.
3. Wet laundry. Remember that one load you threw in yesterday and dried overnight? Well, you learned your lesson for treating your favorite shorts as "gentle," because that cycle definitely did not fully complete the drying process. So it's either soggy shorts or digging through the rest of the dirty laundry and pretending your run buds don't have a sense of smell.
4. Dinner plans that just don't end. If you meet at 6 p.m., that gives you one hour to laugh, catch up, eat and leave. Even if it goes until 7:30, you can still make it home by 8 and be in bed by 9. Except now it's getting close to 8, which means you'll be in bed by 9:30…which gives you eight hours of sleep. But then if you wake up, that's one less hour. Maybe next time we eat dinner at 3 p.m.
Related: Seriously, Runners—Stop Apologizing For These Things
5. Broken race results. I feel bad for the teams that have to answer those all-caps emails about THE MISSING RACE RESULTS. My name isn't listed. My time doesn't match my Garmin (tangents, people), my chip time isn't listed, my age group is wrong, I can't find my division place, it's been three hours since I've finished—where are the results?! While I have definitely been one of these spastic people desperate to see if my chip time was in fact a PR, I totally hate myself every time I do it. BUT WE HAVE TO KNOW.
6. Crowded sidewalks. If you're walking, it's a nice stroll with your best friend. If you're running, it's an intense game of Frogger (Remember Frogger?), and every second spent dodging dog leashes is one second added to your overall finish time.