Stephanie Bruce Dishes 7 Myths About Elite Runners
Straight from the horse's mouth, here's 7 things some of us thought to be true about elite athletes.
Heading out the door? Read this article on the new Outside+ app available now on iOS devices for members! Download the app.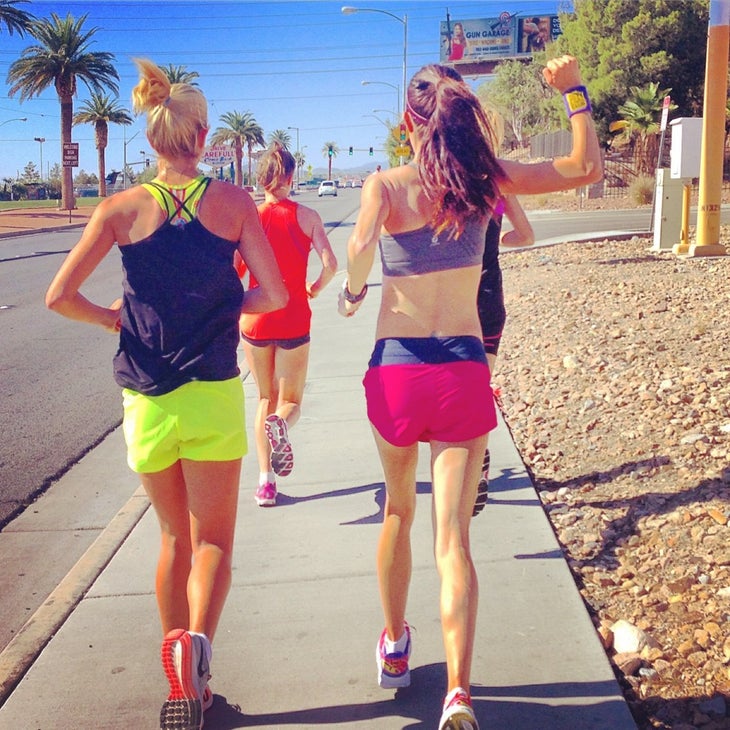 This column is about busting some myths regarding the professional distance runner. Now I am not speaking on behalf of all pro runners, but the ones I've trained with and come across over the years seem to have similar stories of how their lives and training are perceived. Take it with a grain of salt and hopefully you'll find yourself thinking "Oh I always thought that, but now I know differently."
Related: Don't Judge A Runner By Her Baby Bump
1. We eat immaculately clean and healthy foods ALL the time. I eat bacon, a lot of bacon—multiple slices multiple times a week. I also run very high mileage every week, so I don't worry too much about the calories. Elite runners often fall into the stereotype that salads, lean meat, and fruit for dessert is how we fill our bellies. Yes all of these foods are consumed to balance our diet, but there's also room for burgers, nut butters (like you wouldn't believe), popcorn, red meat (iron), dark chocolate and pastries. I can't speak for all of us; some elites eat squeaky clean. I applaud their dedication, but I come from the "everything in moderation" school of thought.
2. We're up training before the sunrise. This is perhaps the best myth that's been trudged up. "On a crisp morning, the sun barely rising on the horizon, you'll find your pro runners out before the human race getting it done." Nothing further from the truth. In an ideal world, when running is your profession, you'd sleep until 7-8 a.m., have a nice breakfast and coffee and let your body be awake for about 90 minutes to 2 hours before heading out for a run or workout. Since our day revolves around our training, we have the luxury to meet and run between 8–10 a.m. when our bodies are fully awake and firing on all cylinders.
3. We run fast EVERY single day. You can't sustain this every day when training at a high level—or really any level for that matter. There are days where easy run pace may be as much as 3 minutes slower per mile than the pace you worked out at yesterday. This can especially be true at altitude. I've had plenty of people say, "I'd like to run with you, but there's no way I could keep up," only to actually run with me, and they push the pace. Irony!
4. We don't go through pain or suffer during races. We've heard it before: "You make it look so easy. You're not even trying." We are trying, and it is painful at times, but we practice suffering through practice day after day. When the race comes around, we are taught to stay composed and have good form, even when the agony sets in. We also have been known to exhibit some pretty good, as my good friend Lauren Fleshman refers to as, "ugly face" during races.
5. We don't get nervous before races. What a bunch of bologna. We do. It's actually flares up the nerves more when you are prepared and in really good shape, because the only thing you can do is blow it.
Related: 4 Strategies For Race-Day Nerves
6.. We have no social lives. It depends on how you define "social." I would say the majority of us live very simple lives, and our social needs are filled with post-run coffee outings, brunch after long runs, watching movies, reading and pool time during summers not surrounding big races. I'm excluding real-life time: being parents, paying bills, etc., just for the fun of this blog. Part of an elite athlete's job is recovery, so activities that are relaxing for the mind and body are often just as important.
7. We only care about one race every 4 years. I think it's called the Olympics. The media draws attention to the Olympic year every 4 years, and although this is the cream of the crop and on many of our bucket lists, it isn't the end all, be all. There are so many races to be run, PRs to set, world championships teams to make and national championships to win that we are filled with goals every month of every year during our career.