The 7 Stages of Sweating While Running
Heading out the door? Read this article on the new Outside+ app available now on iOS devices for members! Download the app.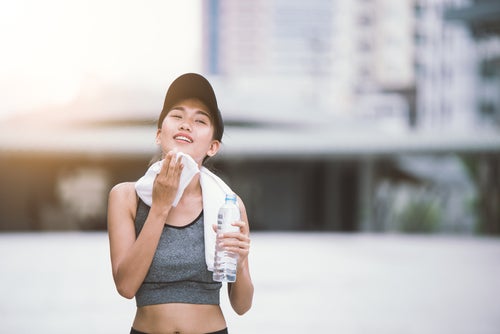 It's toasty AF outside.
When we finish our runs, the perspiration leaps out and drenches our clothes, our hair and sometimes our spirit.
Why is it so hot?  And why is there so much sweat? Okay, so sweating profusely is one of those badges of honor to many of us, but still—we can all relate to these eight steps to extreme, salty perspiration.
You get up way too late.
You are a runner and like to start your day with a 5-mile jaunt. The problem is, you skipped your alarm and now it's 9 a.m. The temperatures are already rising quickly and steadily. You know it will be a toasty one.
You add extra sweat precaution—maybe.
You mosey over to the bathroom, brush your teeth and add an extra special layer of deodorant because you know you are going to need it—or you just screw it and forget the lather. You know the stench will linger around for post-run brunch—so maybe you throw it in your car with wet wipes.
Things heat up fast.
One foot in front of the other—your run has officially begun. Immediately, your heart rate rises with your body temperature. Your body kicks in doing what it is supposed to do—it sweats.
Then it just doesn't stop.
You're 1 mile in.
You debate the science behind geography and how it affects the amount dripping down your face.
At mile 3, you compare your location to others in more mild climates…and others in more severe humidity. Then you think about that one time you ran in a dry area with no sweat. You start calculating the miles to see if it really was the same distance, or maybe the effects of running are just in your head? Or does sweat just dry more quickly in drier weather but you sweat the same? One good thing about living near the equator is that the people there actually have a greater number of functioning sweat glands. Amazing how the body adapts. You keep running.
You slow way down.
Mile 4. Almost done. You've slowed, but it's no big deal. You're still going to look like you just ran up a mountain.
You're done and still sweating.
Finally, you are home. You stop running and stand in the shade. You realize your body continues to sweat profusely. You take a swig of water and some electrolytes. Still sweating. You take a cold shower. Sweating. You realize the moral of the story: the hot sticky summer isn't over yet.