Self-Talk: Conversations with Myself during WRS Nashville
Associate Editor used some inspirational- and at times hilarious- self talk to run through WRS Nashville.
Heading out the door? Read this article on the new Outside+ app available now on iOS devices for members! Download the app.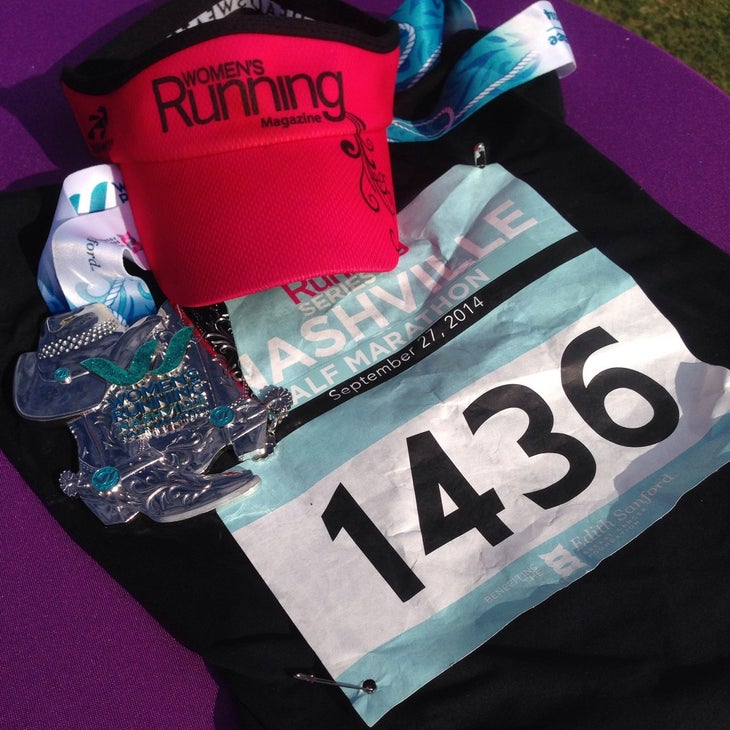 How many of you have seen that "Marathon Thoughts" vid on YouTube? Well, the Women's Running Nashville event was not a marathon, but that ridiculous regurgitation of irrational thought is still applicable to 13.1 miles—especially during my run in Music City last weekend. It went something like this:
Mile 1. You did it two weeks ago—and you've done it 16 times before that. You can do it again. It's just another day of racing.
Lesson: While chronic racing does have a place in some runner's training and has its benefits if executed intelligently, it is not a good idea if done without a plan. I did this one without a plan.
Mile 3. Wait, why did I wear this shirt?
Lesson: Chafing is real. Just like nutrition, do not try something new on race day with your apparel.
Mile 4. You did this two weeks ago—why are you doing this again? Oh yea, because Nashville is awesome.
Lesson: Taking a look around during a rough race on tired legs is an excellent distraction for your mind, which may or may not be convincing you to duck into the next medical station and fake a "stomach cramp."
Mile 6. . Ohmahgawd, it's an out-and-back right here! Hey, other awesome runners! Actually, no "other"—hey, awesome runners! Yea, high five! You look great!
Lesson: This was the first race where I consciously pulled inspiration and energy from my fellow competitors. All-women events tend to have more chatter and colors going on. It was so cool seeing so many girlfriends out just having a great time. It reminded me to chill out, take a breath, and ditch the sometimes crippling mental goal of RUNNING A SUPER FAST TIME.
Mile 8. I should probably take a real weeklong break after this. If I want to run my first marathon in January, I need fresh legs.
Lesson: Well, the break, as of last night, lasted two days. Perhaps the lesson there is I need a weeklong mental break from running, not necessarily a physical one. So I zoned out on my run last night and thought of every single thing in my life other than the run I was running.
Mile 9. Four more miles, four more miles. That's like, from my house to Moonlight Beach and back.
Lesson: I usually hit a consistent mental block around this time during every race. I learned that if I relate the remaining race miles to a run I do on a regular basis, classical conditioning (Remember learning about that?) comes into play and gets my legs excited for my "daily run" instead of dreading that there's still four…more…miles…left in the race.
Mile 11. Running sucks. I hate running. I'm hiding all 23 pairs of running shoes under my bed when I get home.
Lesson: Sometimes your brain lies to you.
Mile 12. Running rules! One more mile!
Lesson: Allowing yourself to revel in your accomplishment—whether it be a half marathon, full marathon, 5K, 10K, triathlon, or whatever else—is the best mental medicine. You've trained for this moment of finishing with your fist in the air, and if you're like me, Avicii is totally playing a private concert in your head for that last 1.1 to the finish. (But seriously, wake me up when it's all over.)
Mile 13.1 Alright, alright. That time wasn't that bad. I can settle for that.
Lesson: You don't have to PR every race. YOU DON'T HAVE TO PR EVERY RACE.
At the end of the day, it was the city, the course and the people that pulled me through my 13.1 adventure on Saturday. To the trio in sparkly skirts at the out-and-back: You looked absolutely fabulous. To our wonderful announcer, Ann Wessling: Thanks for the shout out as I crossed the line. To the police officers along the course: Thanks for cheering (and making sure that idiot in the minivan didn't smack into me at mile 10). And to my team here at Women's Running: Thanks for putting on a stellar event that when off without a hitch and making the mimosas more bubbly than juicy. I had a great time, and I look forward to participating with fresh legs in our revamped series in 2015!