Tips For Running Safely Around Wildlife
Encountering a wild animal on a run can stop you in your tracks. Here's what to do.
Heading out the door? Read this article on the new Outside+ app available now on iOS devices for members! Download the app.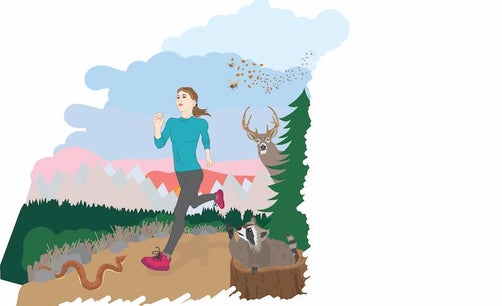 Unexpected run-ins with wild animals out on the roads and trails can be unnerving. "For the most part, these animal encounters you have are going to be harmless," says Jim Fredericks, Ph.D., chief entomologist at the National Pest Management Association. However, there are some situations in which these wildlife encounters can be dangerous—here's what you need to know.
Always Be Aware
You're most likely to see animals if you're running at dawn or dusk, when animals are on the move. A runner himself, Fredericks frequently sees white-tailed deer on his early-morning runs near his home in northern Virginia. "They're quiet and kind of sneak up on you," he says. "You're running along, and then all of a sudden you see two shining eyes from the bushes—it can be really startling!" It's important to "be aware of your surroundings," he says, "because by just completely being surprised by an unexpected animal, it's really easy to take a wrong step or even step out into the street into traffic."
Know How To Identify Rabies
The very rare but most dangerous situation you could find yourself in would be encountering an animal with rabies. The disease is carried by mammals such as raccoons, skunks, foxes or coyotes. The first thing you would look for (from a distance) would be if the animal is acting strangely. "Is it showing no fear? So if the animal is not running away or is approaching you, that's out of the ordinary," Fredericks says. Also, seeing nocturnal animals, such as raccoons or coyotes, out during the day would be a red flag—get away as quickly as possible. If a human contracts rabies and starts showing signs, he says, the disease is considered incurable, or 100 percent fatal. It's transmitted via saliva, so from a bite, for instance, but if you seek medical care immediately, you can be evaluated for a rabies vaccination.
If you suspect an animal in your neighborhood has rabies, call the local sheriff or local police department—rabies is considered a public health threat, and they can direct you to the appropriate wildlife control officers in your area.
Spot Venomous Snakes
The telltale sign of a poisonous snake is that it has a triangular-shaped head (as opposed to a round one). Your best bet is to just turn around, or if the trail or road is wide enough, go around it, giving it a wide berth, Fredericks says. While snakes aren't out to get you, "if surprised or if threatened, they can react in self-defense," he says.
Stay Away From Stinging Pests
"You might not see a bee, wasp or hornet," says Fredericks, "but it's something you can run smack into and get stung." These flying stinging insects send half a million people to the hospital every year, and actually kill 90–100 people who have allergic reactions to the stings. "If you're stung and you're having a reaction—rapid heartbeat, drop in blood pressure, dizziness—it's really important to seek medical attention right away," Fredericks says. (Another reason you should always keep your phone with you on runs, and run with a buddy if possible!)
Check For Ticks
You may not consider these tiny insects "wildlife," but any time you're running through a wooded area, they're a real threat to your health. Ticks can transmit some serious diseases, such as Lyme disease and Rocky Mountain spotted fever. Ticks live in the more moist regions of the country, so the Northwest, north central, Northeast, Southeast and Mid-Atlantic areas. "Stay to the center of the trail," Fredericks says. "Questing ticks, or the ticks that are looking for a host, are going to be hanging on vegetation along the edges." He also recommends wearing repellent and, when you take your post-run shower, doing a full-body tick check. Remove them with a pair of tweezers by grabbing them gently but firmly right behind the head and pulling steadily until they let go.
Related:
6 Races That You Can Run With Your Dog
6 Animals That Are Faster Than Usain Bolt