The Myth Of The Ideal Running Cadence
In this excerpt from Running Rewired, author Jay Dicharry explains how runners can calculate their ideal running cadence.
Heading out the door? Read this article on the new Outside+ app available now on iOS devices for members! Download the app.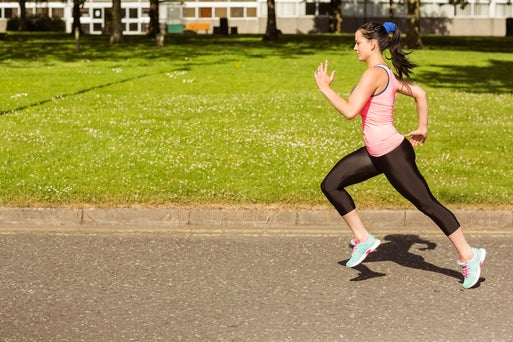 This excerpt is adapted from Running Rewired by Jay Dicharry. In Running Rewired, America's leading endurance sports physical therapist and coach shares a program for runners to become stronger, faster and more durable. Jay Dicharry distills cutting-edge biomechanical research into 15 workouts any runner can slot into their training program to begin seeing real results in about six weeks.
Improving Cadence
Before you set out to increase your cadence, there are a few important points you'll want to keep in mind.
First, running with your existing cadence is reflexive. Your brain has wired and trained your body to use that gait pattern. Modifying this pattern requires your brain to do a huge amount of work to override your reflexive gait. If you force too high of a turnover the result will be an oddly short and choppy run as your brain overthinks your turnover. While this strategy can reduce the stress to your joints, it costs significantly more energy to run this way. Through training it is possible to improve your gait, but it should be done gradually.
This brings us to the mythical optimal cadence. Many tout the idea of 180 steps a minute as the gold standard. Some research does support 180 as an average optimal value, but not everyone's average. So it serves as a nice reference point, but it's not absolute. Your optimal cadence depends on your muscle fiber type, limb length, tendon density, terrain, and speed. World records have been achieved at cadences between 172 and 212 steps per minute. I wouldn't stress about where you fall in this range or how close your cadence is to 180.
Then who should make efforts to adjust their cadence? If your cadence is less than 170 at a moderate pace, it is worth your time to improve it a bit.
Rather than struggle to hit 180, try to increase it by 5 to 10 percent at a time.
Research has shown that this smaller percentage increase provides benefits to your joints without compromising economy. Likewise, it's beneficial to monitor your cadence over longer runs. It's normal to have some variation of approximately 5 percent during a run at a given pace. If your cadence drops from 176 to 160 toward the end of your weekly long run, it's a sign that your form is vastly different when fatigued.
Log your cadence in both runs and races in your training journal for a month, and look for patterns in both.
If your racing cadence is always higher than your training cadence, you should start to practice what you preach on race day and ensure your nervous system with higher cadence runs during the week. Likewise, if you are one of the runners we mentioned above who just can't stride out at race pace with a lower racing cadence, it's time to unlock your form to ensure you can get the pendulum to swing out behind you at speed.
Be mindful of your cadence, but don't be a slave to it.
[velopress cta="See more!" align="center" title="About This Book"]
Related:
The Right Way To Approach Your Stride Length