One Runner Penned A Letter Of Non-Apology To Running
After a conversation with her son about a classmate, one runner sat down and penned this inspiring letter to the sport she loves.
Heading out the door? Read this article on the new Outside+ app available now on iOS devices for members! Download the app.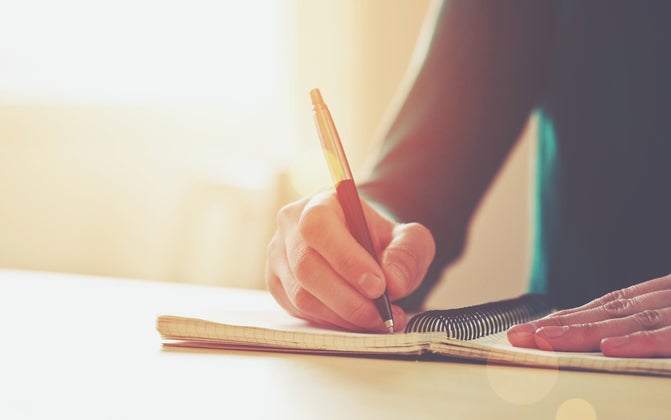 On our way home from school the other day, my 6-year-old son was complaining to me about someone in his classroom.
"She didn't apologize, Mommy," he told me after he described in great detail this young ladies' transgression. "Well," I said, "sometimes people don't apologize." To this my little man wrinkled his brow and frowned. While I was making dinner, I couldn't stop thinking about our earlier conversation, and pictured myself in my son's classroom refusing to write "I'm sorry" in cursive on a giant green chalkboard.
The image in my head make me giggle but also made me realize that I have been the non-apologizer myself, although my infractions have only ever related to running. I refuse to apologize for running. Here's my letter of non-apology:
Dear Running,
Sometimes I don't like you. Sometimes I would rather sleep in. There are days when I actually have gotten so annoyed by you that I want to give you up completely. Sometimes I struggle with you so much that I question our relationship.
But I won't apologize for any of my actions.
No, I won't say I'm sorry for muscling through the last few miles of a long run, cursing as I go because I know it teaches my son grit. As we sit and work on his reading homework each night and he gets mad and frustrated when the words are tough and he's getting tired, I remind him that reading that last page of the book will feel amazing. I know this is true because it is the same feeling I get when I hit "stop" on my run watch after a particularly grueling slog.
I won't say I'm sorry to my bathtub, which I've dumped buckets of ice into after a particularly hard training cycle because I know my son is watching my consistency. I always tell him practicing at one thing makes you better at it, so all those miles my weary legs have run show him that you can't let up or back off if you have a goal.  
I won't apologize to my family who had to start breakfast without me that Sunday morning while I was out for a long run, because it shows my son that everyone needs time to themselves to do what they want for themselves, and that is OK. Those solo miles while my family eats waffles without me show that I will always come back through the door refreshed and ready to snuggle tighter after I've had some time and space to myself, just as my son sometimes likes to build his Lego castles by himself, lost in his creative creations.
I'm sure you'd like an apology, dear running, but it just won't happen.
Our tumultuous relationship means I push to get stronger, I strive to be consistent, and as much as we may have our differences, you helped me become a better me.  
I know it's not what you want to hear but I need it to work this way, running. Because if I felt badly about waking my dogs up to come for a run with me, they'd get absolutely no exercise at all. If I worried that you might think my run that evening, trotting alongside my first-grader as he bikes, isn't long enough, I probably wouldn't do it. But my son and I know, that any effort we put forth, no matter how small it seems to someone else, is the best we can do in that moment.
So, as tolerant as I am, running, I need you to know that I will never, ever apologize to you, for you, or about you to anyone—most importantly myself.