One Runner Shares How You Get Better With Experience
Heading out the door? Read this article on the new Outside+ app available now on iOS devices for members! Download the app.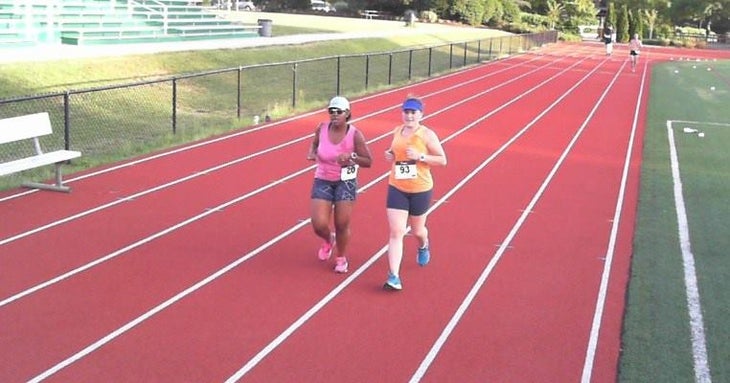 As I watched them run by, they seemed to be running painfully slow. Their legs barely moving, but their faces showed fatigue, pain. I glanced at the clock: 12 minutes. They had less than a lap to go. As I thought about it, their pace wasn't too far off what I ran in high school. "But did I actually look like that?" As I flashed back my own days as a high school athlete, I remembered running my personal record in the 2 mile. In a large invitational meet in northeast Ohio, I "raced" the great Emily Infeld; she lapped me, but I felt like a million bucks.
Now as I stood on the edge of the track at what would be one of my last meets as a coach, a flood of memories from my days as a student athlete and the past four years of coaching seemed to overwhelm me. Fifteen years ago, running became part of my daily life. I think it all started in fifth grade when we were required to run a 300-meter dash in PE class. After receiving instructions from my gym teacher, I set off in a mad dash. I was determined to win. I don't remember much about the race, probably because I passed out after, but there was something about running that made me feel alive.
In the summer of 2001, my sister's high school coach invited me to run with his team. Eager to accept the opportunity, I accompanied my sister to every summer practice. Growing up in a suburb in Ohio without much else to do, we created a "running culture." Every evening, approximately thirty high school kids came together to run in the hot, muggy summer weather. A time of great community, those runs were the highlight of my day.
I still remember the very first practice clear as day. A timid, awkward seventh grader, we completed our warm-ups and the coach sent us out. Without hesitation, I joined my sister and a pack of runners. As we ran out of sight into the woods, she turned to me and said, "You'll never be able to run the entire loop with us." Annoyed as I was, I was determined to prove her wrong.
Although I was far from the prodigy child runner that some had destined me to become, I had a love for running no one else I knew had. Running was my escape from the chaos of school and family. It was something I controlled, something I could work to be better at. I think it was something stable in my life when other things were not. After four years of high school running with little success, my coach said to be, "Kailey, I think your best days will be in college."
I continued to run competitively in college. A part of a very small Division III program, my coach and teammates kept me humble. The women on the team were competitive and disciplined, challenging one another to become better athletes, friends and people. Although I was never going to be a star and our team wouldn't win championships, I began to see just how beautifully running had become integrated into my life. Suddenly my perspective on running began to change. It was no longer all about competing, trying to prove something about myself. No—I began to see how running was making me a better person. I wanted to challenge others to love the sport that I so deeply loved. I wanted others to feel the sense of freedom that I felt when I competed. And once I experienced that change of perspective, I did become a more successful athlete.
In my final college track season, I broke several personal records and was humbled when I qualified for our conference championships, the first and only female to do so from my school.
Back to reality: I stood on the track, inundated with memories from the past. After four years of coaching high school runners, I was about to leave the coaching world in order to pursue a career in nursing. However, I would never stop running, I would never stop competing. As I stood watching the runners complete their eight laps of agony, I realized just how much my perspective on running had changed since I was in elementary school. There had once been a time when I thought long runs meant 6 miles, "excellent" times in the 5K were anything under 21 minutes, and track and field was all about hanging out with friends on the weekend. Now, 16-milers were my "long" runs, anything more than 19 minutes in a 5K was considered mediocre by my standards, and most of the time, when I wasn't running with my athletes, I was running alone in silence.
I may not ever fulfill my dream of becoming an Olympic medalist, but I guess if I can inspire other kids to dream big like I did (and still do), if I can encourage passion for the sport that I so love, and teach them that it's more about the lessons learned than the success we achieve, then running has had a purpose in my life. Running is a gift and I am sincerely grateful for that gift.