What's Next for Sara Vaughn?
The mother of four still has big goals in the marathon.
Heading out the door? Read this article on the new Outside+ app available now on iOS devices for members! Download the app.
Sara Vaughn's marathon career started with a bang–winning the California International Marathon in 2021 in 2:26:53, landing her a notch above Deena Kastor for fastest American women debut marathon times.
But since that bang she's struggled with repeat performances. While she PRed in Chicago 2022 with a time of 2:26:23, she ran a disappointing 2:36:27 in Boston in 2022 and then didn't finish the Boston Marathon this past April.
No stranger to adversity, Vaughn has been an underdog for much of her career. She had her first daughter during college and says she was for years of her career the only woman at track workouts with a child. She was unsponsored until after winning CIM, and works as a Realtor in addition to being an elite runner. After winning her marathon debut, she netted a Puma sponsorship.
RELATED: Sara Vaughn's Memorable Mother-Daughter Mile
But not finishing Boston was another level of disappointment. Vaughn says she doesn't know exactly what went wrong in her race. Her whole family had been sick in the weeks before, and it rained for a time during the race and she got chilled.
"I got cold and I couldn't get warm, I was borderline hypothermic when I stepped off," she says. "It's weird. Everybody had the same race condition, so I don't know why I got so chilled and nobody else did when I was running just as hard."
Vaughn, 37, says she could tell within the first 10K that it was going to be a rough day for her, and then she mentally battled with whether to step off the course after it rained.
"I don't mind not having a good day, that happened to me the year before, I ran way slower than my goal, but I still finished and still got to experience the Boston Marathon," she says. "So that's sort of what I was thinking at 10K. But after I got super cold and about halfway, there was just no getting my body to cooperate at any pace. It was pretty miserable."
After the halfway point, the course has medical tents every mile, and Vaughn stepped into one at mile 15. She says she just physically couldn't run anymore.
"I stopped being able to really have any coordination, I was so stiff and cold," she says. "My back got really tight, but it wasn't like an injury type thing, I think it was just that my core body temperature got cold and I just started getting super tight. If I'd been able to keep going, I would have, but I was just cold and miserable."
RELATED: Sara Vaughn on Motherhood and Chasing Big Goals
Time for a Change
The disappointing performance has led Vaughn to make big changes in her running career. Since 2017, she has been coached by her husband Brent Vaughn, who was also a standout runner in college (at the University of Colorado he set the record in 5,000m in 13:18.46) and briefly as a Nike-sponsored pro. Now their time as a husband-wife running team is over.
Sara Vaughn says after Boston, she and Brent sat down to assess her future. And Brent told her he shouldn't coach her anymore.
"Change is hard, and I like my routine, and so initially I was pretty annoyed, even though it wasn't a surprise," she says. "We've talked about this in the past and it was probably a long time coming. He coached me for a lot longer than he probably wanted. But at first I was like, 'Yeah, this sucks, because we've had so much success together.'"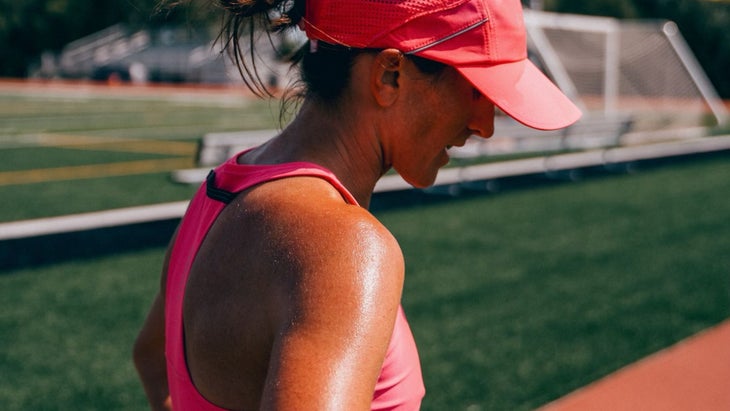 Her husband coached her to make the 2017 World Championship team in the 1,500 meters, to the U.S. Olympic Trials in steeplechase and of course the debut marathon in 2021 and PR in Chicago in 2022.
"So all the best highlights of my career have been with him coaching me," Vaughn says. "So I think initially I was kind of frustrated, annoyed, all the normal things. But it's also nice to recognize that a little bit of a change in training and a new stimulus, just logistically or just physiologically, can be really beneficial. That's what I tried to frame it as, and knowing that it's better for our marriage to prioritize those things that are way more important than running. Probably should have done it a long time ago."
Vaughn says Brent doesn't want to be a full time running coach and felt it was impacting his ability to be a present father to their four kids, run his business and be her husband.
"When he's on his game, he's the best coach in the world for me, but it was always this struggle and battle of, 'OK, we get a date night once a week, do we spend it talking about training?'" Vaughn says. "That's sort of annoying, the strain that that brought to our marriage and all those things. We just were really aware of that the whole time."
A New Coaching Connection
So Vaughn began looking around for other coaches and reached out to Amy and Alistair Cragg, who coach a pro training group sponsored by Puma based in Chapel Hill, North Carolina. Vaughn is also sponsored by Puma, but she says that's just an "awesome coincidence." She reached out to the Craggs because she's known them for a long time.
"Amy was sort of my go to person when I first started out on the marathon journey, just calling and asking her all of the silly questions, and she's been helping, really for the last couple of years," Vaughn says.
Amy Cragg has a distinguished running career herself. She won the U.S. Olympic Trials Marathon Trials in Los Angeles in 2016 and came in third at the 2017 World Championships marathon in London. Alistair Cragg won seven NCAA championships while at the University of Arkansas, and also holds the Irish national records in the 5,000m and 10,000m.
Most of the coaching will be remotely, Vaughn says, though the Craggs will bring their team to do altitude training in Vaughn's hometown of Boulder.
"Hopefully we can train at least a few weeks out of the year altogether," she says.
Amy Cragg says the minute Vaughn asked her to be her coach, she knew her answer would be yes. She's had deep respect for Vaughn for her entire career, for both her running skills and her ability to balance working as a realtor and being a mother of four with her training.
"As a former marathoner, I know how difficult it is to train at that level and do even one other little thing throughout the day and somehow she is able to balance all of it," Cragg says. "There's also a lot of potential there. If you go through her times, you see, 'OK, she's run really fast in the 1500, she's run really fast in the marathon.' But if you look at her half marathon, it's almost half of what she's run in the marathon. So there's still a lot of room for improvement there."
Cragg's plan for the summer is to help Vaughn work on her 5K and 10K speed–slower than an all-out sprint, but faster than marathon pace. As she improves those paces, Cragg says, it will also help her boost her pace in the marathon, especially in the last 10K.
"If we can get her comfy at these paces, which are a bit quicker, then she'll be able to do that when she goes into marathon training," Cragg says.
A key workout, Cragg says, is running 1-mile repeats at 10K pace on the track. Then, after a summer of building speed, Vaughn can add mileage to build for possibly a fall marathon and eventually the U.S.Olympic Trials in February 2024.
Cragg says Vaughn has a real shot at making the Olympic team.
"She's definitely a gamer, she knows how to show up on the day," Cragg says. "And I do think if we can figure out that middle piece, she might be one of the top runners on the day."
Vaughn also thinks she has a shot.
"I just hope that I've run enough and I'm proficient enough with the marathon by February to give myself the best possible chance," she says. "And the marathon, maybe more than other track events, always has a surprise or a dark horse or an underdog that makes the team, and that's how I see myself."
RELATED: How Sara Vaughn Went From A Miler to An Elite Marathoner in Three Months