This Eye Surgeon is Guiding Blind Runners Through the Oregon Mountains
Vivienne Hau fixes retinas by day; now, she's co-captain of the first-ever visually impaired Hood to Coast Relay team.
Heading out the door? Read this article on the new Outside+ app available now on iOS devices for members! Download the app.
Among her running buddies, Dr. Vivienne Hau has a nickname: Scalpel.
Sure, it's a nod to her job as a retinal surgeon at Kaiser Permanente, where she repairs the delicate tissue at the back of the eye. But it also refers to her stealth as a guide for visually impaired runners.
The 2015 Boston Marathon was her first try in the role, when she sliced through crowds on narrow streets with precision, creating space for blind ultrarunner Richard Hunter and another guide. "Gently, with minimal contact or talking with people, she would blaze this trail," Hunter said. And she did it all at a sub-eight-minute pace (they finished in 3:21:12).
On Friday, Hau—with Hunter—is leading the first team of visually impaired runners and guides at the Hood to Coast Relay, an overnight event in Oregon that starts at the base of Mt. Hood and finishes at Seaside. Twenty blind and sighted athletes will cram into two 15-passenger vans, taking turns running three to four legs each of the 199-mile course.
Along the way, they'll raise funds and awareness for United in Stride, the website Hunter developed that matches sighted runners and those in need of guides nationwide.
While Hunter personally runs with as many as 50 different sighted guides in a single year, not every visually impaired runner can easily find accompaniment—so such public displays are important. "There are going to be people out there that are going to go home and say, 'Wow, I want to help a blind athlete,'" Hunter said.
From the Operating Room to the Finish Line
That's exactly how Hau, 43, who lives in Orange County and works in Riverside, started guiding. She qualified for and ran the Boston Marathon in 2014. It was a meaningful edition of the historic race, as runners ran in defiance of the 2013 finish-line bombings. When she noticed a blind runner tethered to a guide, she marveled at the teamwork, compassion, and shared goals.
When she got home and Googled, she came across a Moth story by NPR's Peter Sagal, in which he describes his own experience guiding blind runner William Greer in Boston in 2013. Soon afterward, she connected with Boston-based Team with a Vision, who paired her with Hunter for the 2015 race.
Since then, she's guided about a dozen runners through as many marathons—and Hunter through a 50-mile run. The pair have also spoken at conferences together about the art and science of guiding.
Her operating-room skills serve her well on the race course. Retinal surgery involves careful incisions within a space the size of a walnut. "I'm always anticipating my next move a few steps ahead," she said. As she proceeds, she's monitoring everything from miniscule movements of her hands and feet to subtle shifts in the sounds of her surgical instruments.
Guiding doesn't require a medical degree—Hunter said he can teach anyone to do it within about three miles—but such attention to sensory detail helps.
"You need to be constantly aware of your surroundings and anticipate any potential hazards that could endanger the safety of your partner," Hau said.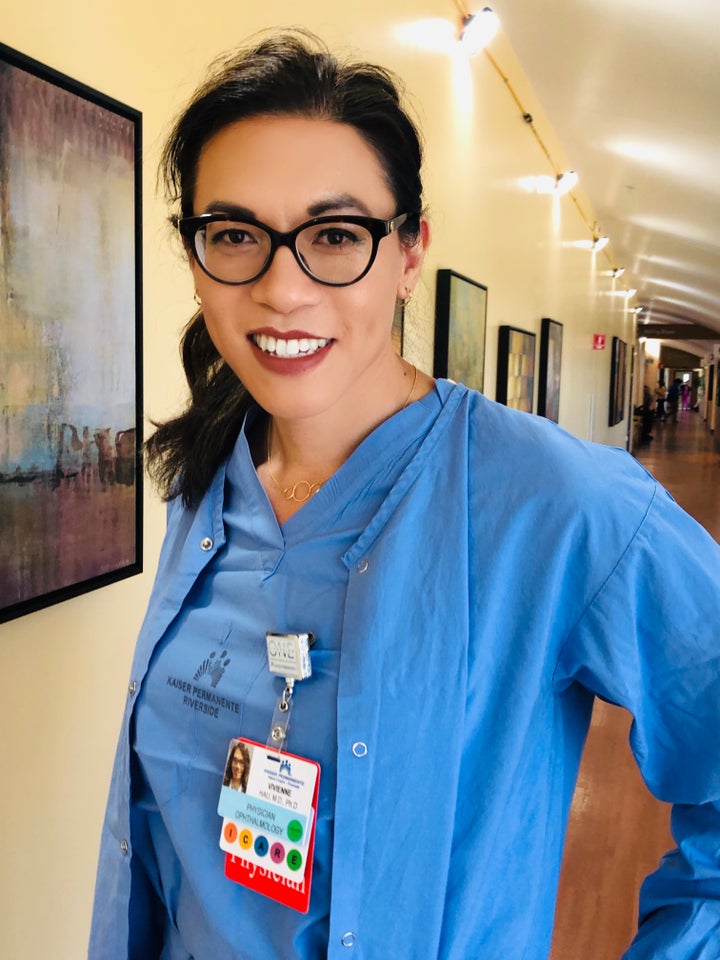 Besides awareness, the other key to guiding well is communication. Sometimes, runners and guides don't meet in person before a race, but Hau always aims to at least have a phone conversation. That way, she can determine the runner's goals and preferences.
Some have limited vision and just need a barrier between other runners; others are completely blind and require a tether. At times, she's offered vivid descriptions of the surrounding scenery: "I'm telling them, 'Okay, we're running up to a bridge and there's a boat going underneath the bridge right now—you can hear it honking the horn,'" she said.
But if runners want to put their heads down and run as fast as possible, without knowing so much as the number on the next mile marker, she'll gladly oblige.
If they do chat, not surprisingly, the conversation often turns to ophthalmology. As patients in a clinic, they might only get 15 minutes with their doctors. But as runners traveling 26.2 miles together, they have the luxury of time, as well as more equal footing.
"I'm coming to them as a friend and not as their doctor, so they feel comfortable with me," Hau said. "They can ask me questions they didn't have time to or are afraid to ask their own doctors."
One runner, for example, felt comfortable disclosing his displeasure at the appearance of his eye after losing his iris—the pigmented ring around the pupil—from a traumatic injury. He didn't want to trouble his own doctor with cosmetic concerns. Hau connected him with a colleague who did an experimental implant, restoring the color.
In turn, she carries the stories of overcoming obstacles and participating in a sport they love back to her own clinic. She's typically the first to tell patients they'll lose their sight or won't get it back, acting as a de facto counselor as they process the news.
"Oftentimes patients who are first being diagnosed are very depressed about their vision loss," said Hunter, who learned he would lose his vision to a condition called retinitis pigmentosa at age 22. "By her connection to our community of blind athletes, she meets all these amazing people and she brings back stories of hope."
A True Team Approach
Visually impaired runners had participated in Hood to Coast before. But no one had formed an entire team until Hunter (who grew up in Oregon), Hau, and Kyle Robidoux—who made headlines in June for being the first visually impaired runner to participate in the 100-mile Western States Endurance Run—stepped up to lead one.
When race organizers heard about their efforts, they welcomed the team with open arms.
"We want to be inclusive; it's really important for us," said Dan Floyd, chief operating officer of the Hood to Coast Race Series. "It's a really cool opportunity to host a team that is doing this for all the reasons we would want our participants to be participating in the race."
Any overnight relay comes with its share of logistical challenges. For team United in Stride, many of these are amplified. First there's the sheer volume—20 runners compared to the typical 10 to 12, half of whom can't drive.
Even the process of getting out-of-town athletes from the airport to the start line adds a layer of difficulty, Hunter said. And then there are the exchanges, where runners must identify the correct vehicle to hop in amid a sea of white vans. It's tough for any sleep-deprived, adrenaline-fueled racer, let alone one who can't see.
To manage all this, they'll employ the buddy system long before the race begins. Guides will have to assume extra responsibility throughout the trip, Hau said. And they'll install a few extra bright lights to make vehicles more visible.
The actual running will likely be easiest part for the team, which includes multiple marathoners and ultramarathoners, such as Jason Dunkerley, five-time Paralympic medalist at middle distances; and Erich Manser, who holds the fastest known time for a visually impaired competitor in an Ironman (10 hours, 42 minutes and 59 seconds).
"We're not slow," Hunter said. If they blaze past sighted runners, all the better. "It's going to say a lot about the visually impaired community."
What he and Hau hope comes across most clearly is the camaraderie among visually impaired runners and their guides, and the need for volunteers and resources to keep everyone moving forward.
Being part of the historic effort holds extra meaning for Hau, for whom guiding has given as much as it's asked.
"While I may guide my athletes to safely finish a race, they are in turn guiding me on how to be a better physician to my visually impaired patients," she said, "as well as a better caring person, more aware of other people's needs."