There's No Hill Tatyana McFadden Can't Climb
Inside Tatyana McFadden's incredible and indomitable rise—plus, the racer's secret to powering through any challenge she faces.
Heading out the door? Read this article on the new Outside+ app available now on iOS devices for members! Download the app.
When it comes to great moments in American women's running, Shalane Flanagan's 2017 win at the New York City Marathon tops the list. So does the day Desiree Linden conquered wind and rain to break the tape at the 2018 Boston Marathon. Deena Kastor winning the Chicago Marathon in a down-to-the-wire battle with Constantina Tomescu-Dita in 2005 is well worth looking up on YouTube if you haven't seen it.
Now, imagine a single woman scored all those victories in a single year, including another win at the London Marathon for good measure. Then picture her doing the same thing, three more times. Add a handful of world records, 20 world championship medals, 17 Paralympic ones—including seven gold—and you'll start to wrap your head around the scope of wheelchair racer Tatyana McFadden's accomplishments.
In a year with little in-person competition, you might think the highly decorated athlete would take some welcomed downtime. But that's not McFadden. Instead, she added film credits to her résumé, by appearing in (and producing) the Netflix documentary Rising Phoenix. The stunning film weaves the history of the Paralympic Games with personal tales of several athletes, including McFadden's journey from an orphanage in Saint Petersburg, Russia, to the bright spotlight of Paralympic podiums.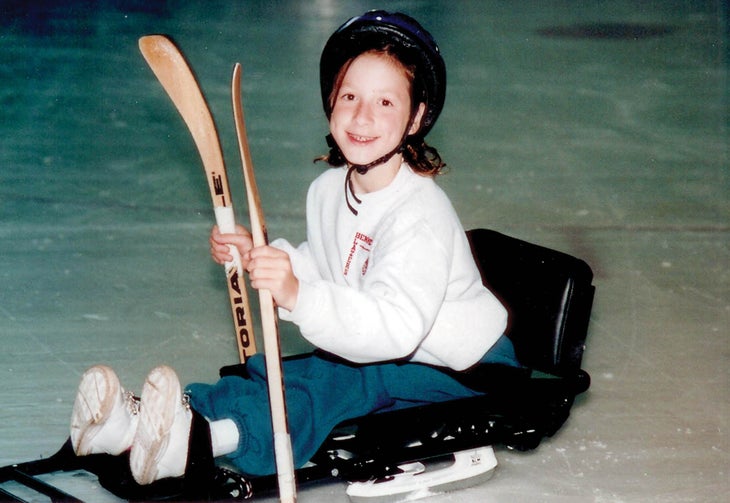 To call it an uphill battle feels embarrassingly cliché and like a drastic understatement. But McFadden, 31, was born to climb. From the time she started scooting around to keep up with her friends in the orphanage—"I never thought of myself as someone who was different," she says—through her victories on undulating courses like New York and Boston, she's thrived on overcoming obstacles. "Resilience has always been inside me."
Her friends and teammates agree: "She can just power through anything: headwinds, hills, uneven surfaces," says Amanda McGrory, a seven-time Paralympic medalist and teammate. "It makes her a really difficult competitor. A lot of times when people are kind of backing off from things, taking it easy up a hill, slowing down on bumpy roads, that's where she excels."
Thanks to McFadden's raw strength and power, which are built on genetic gifts, 120-mile training weeks, and hours of gym time, she can win every event from 100-meter sprints to the marathon. At the 2020 Tokyo Games, she had planned to go for an unprecedented seven medals. But with the pandemic postponement, she turned her focus to the film and what she sees as another incline she's uniquely suited to scale: The fight for full inclusion, compensation, and representation for athletes with disabilities.
With lush cinematography and compelling drama, Rising Phoenix conveys both the obstacles and accomplishments of the athletes. "It's fierce," she says. It's also backed by a few powerful supporters, like Prince Harry, Duke of Sussex and founder of the Invictus Games—an adaptive sporting event for veterans.
Throughout the film's development, McFadden kept a close watch over everything from the language used to the camera angles, making sure the end result was empowering for everyone involved. "We're trying to have a new perception of inspiration," she says. "We want to be called inspirational for the work we put in, the medals we get, or how strong we are—not just because we get out of bed every day. We have to break that stereotype."
Tatyana McFadden's Early Childhood
Most children with spina bifida, a neural tube defect in which a baby's spinal cord is exposed, receive surgery either before birth or soon afterward. But in the Soviet Union in 1989, medical attention wasn't easy to obtain. McFadden waited three weeks. Her condition left her unable to feel or move her legs, and her birth mother with few options but to give her up.
Orphanage number 13 had drafty windows, a dearth of toys, a small yard frequented by stray dogs, and a regular menu of cabbage and potatoes. Tatyana lived there for five years before Deborah McFadden (at the time, the United States Commissioner of Disabilities) visited on an official errand. Orphanage directors tried to keep Tatyana to the side, but the giant bow on her head and her supersized personality captivated Deborah.
"I'd seen thousands of kids at this point," Deborah says, and she and her partner, Bridget O'Shaughnessy, hadn't really discussed having their own. "But I went back to my hotel room and couldn't get her off my mind." She began returning to the orphanage each time work brought her back to the country—every six weeks or so—with gifts like clothes, candy, and a wheelchair, something Tatyana previously did not know existed. From the first visit, Tatyana began telling everyone who would listen that Deborah was her mom.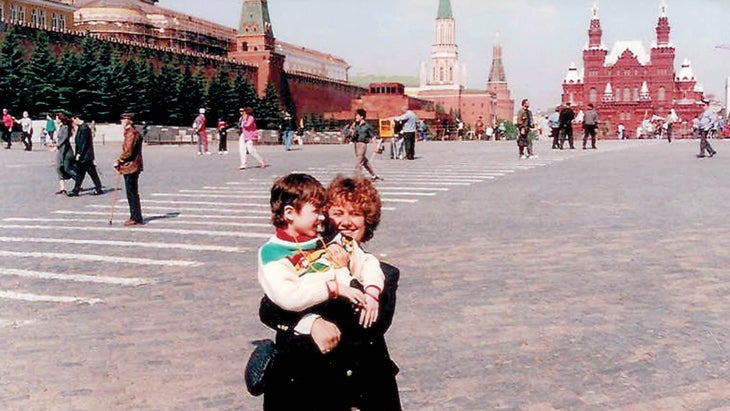 In 1995, at age 6, Tatyana made the trip to America at Deborah's side. After arriving in her new home of Ellicott City, Maryland, she had multiple surgeries to straighten her atrophied legs. She was pale and weak, and doctors predicted she might not live long at all, let alone have a full, meaningful future.
But Deborah and Bridget believed otherwise. They saw the curiosity with which their new daughter approached everything from airplanes to shoes (something else she'd never possessed). They'd endured discrimination of their own as a same-sex couple. And years earlier, in graduate school, Deborah had developed Guillain-Barré syndrome, a rare neurological disorder. She used an electric wheelchair scooter for four years and crutches for eight. "In my own life, I had people looking at me saying, 'You can't, you can't, you can't,'" she says. "I thought, 'Tatyana, you can do anything you want.'"
From early on, McFadden's parents encouraged her to be self-sufficient. She pushed her own wheelchair through the mall, past stares from other families. "Of course, if I couldn't do it, or if I got too tired, they were always there," McFadden says. "But they let me be independent first, trying things on my own."
She didn't need much convincing to comply. The Russian phrase "ya sama" (roughly, "I can do it") quickly came to serve as her motto (and later, the title of her 2016 children's book). When a swimming instructor doubted she could teach a child who couldn't kick, McFadden yelled it as she leapt fearlessly into the water.
An elementary-school physical education instructor also attempted to leave her on the sidelines. When Deborah visited the gym to protest, he listed the things McFadden couldn't possibly have the stamina to handle, from volleyball to kickball to a rope hanging from the ceiling. When Deborah pointed to it, her daughter wheeled over and—ya sama—used her arms to pull herself all the way to the top. "I was trying not to be astonished myself," Deborah says. The coach got the point. From then on, McFadden was included.
In a different light, what some saw as weaknesses increasingly revealed themselves as strengths. In a sixth-grade competition, teams of kids raced to complete obstacles that included a wall climb. The taller boys hoisted their smaller peers over easily, but failed to consider how they'd get up themselves. As other students held her from the top, Tatyana reached her already powerful arms to the biggest boy's and lifted him up, to cheers from her classmates.
On another day, Deborah drove some kids to get ice cream. When she parked in a handicapped spot, McFadden's friends warned her she'd get a ticket—no one in the car was disabled, after all. In moments like these, a philosophy McFadden would articulate years later began to take shape. "Life isn't about what you don't have," she says. "It's what you do with the gifts you're given."
McFadden's Athleticism Was Evident Early On
Deborah first signed her daughter up for swimming and other sports to improve her health. But not long after McFadden joined an adaptive sports program called the Bennett Blazers, her talent became apparent. She'd dabble in everything from basketball to swimming to sled hockey, but as she explains in Rising Phoenix, it was track where she felt most at home: "The moment I sat in that racing chair, I knew it was for me. It was something that I never felt before—freedom."
At age 13, she broke the world record for the 100-meter sprint in her age group. Officials at track meets began taking notice. "She was the athlete everyone was talking about and excited about," says Adam Bleakney, her longtime coach, who first encountered her when he was scouting talent at the junior national championships.
By eighth grade, McFadden knew she wanted to be an Olympic athlete. In 2004, the summer before she started high school, a coach for the Bennett Blazers raised the possibility she could compete in Athens that same year. Deborah hastily filed her paperwork and booked a trip to California for the Paralympic Trials, where McFadden qualified in four events.
At just 15, McFadden claimed silver in the 100 meters and bronze in the 200 meters. The gold medalist in both those events—and three others that Games—was Chantal Petitclerc, a Canadian superstar who retired after the 2008 Beijing Paralympics with 21 medals to her name. McFadden admired Petitclerc's athletic dominance and efforts to raise awareness for wheelchair racing. "She was the Paralympic queen. And she did a lot of speaking for the Paralympics in Canada," McFadden says. "I thought, 'Wow, I want to do the same.'"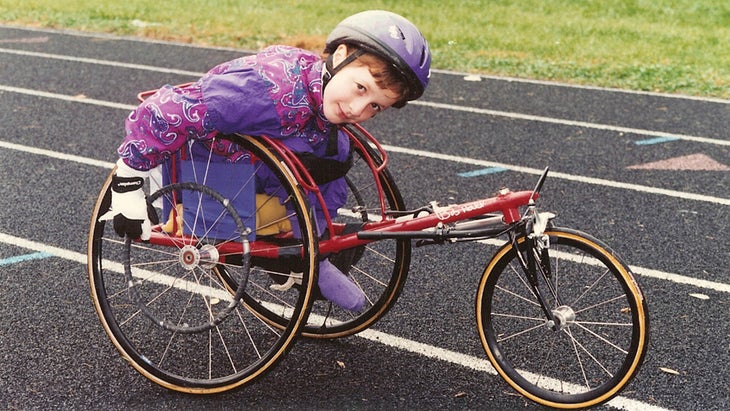 Little did McFadden know an opportunity for advocacy waited just around the corner. At first, her classmates seemed to celebrate her Paralympic victories—she came home to a congratulatory marquee outside the school and a spot in the homecoming parade. But when she tried to run with her high-school track team, it was a different story. Her athletic director and principal denied her the right to participate.
Crushed, McFadden asked her mom what they could do. Deborah, who'd helped write the landmark Americans with Disabilities Act of 1990, knew her exclusion was illegal. She told her daughter they could file a lawsuit, but warned her it wouldn't be easy.
McFadden considered this. She recalled Petitclerc and others before her, and what sort of difference she could make for those after her, including her sister, Hannah, who was adopted from Albania and had her leg amputated above the knee. "She was in elementary school at the time," McFadden says. "I didn't want her to go through the same experience of having to fight for this, to be treated the way I was treated." So, they sued, for no damages. They just wanted the right for McFadden, and others with disabilities, to line up alongside classmates.
"I was like, 'Well, I'm just gonna do it,'" she says. "What's the worst thing that can happen? Nothing bad will come out when you're trying to do something good, to push for these things." Sure, standing up for what's right is often uncomfortable. But what athlete doesn't understand that temporary pain often leads to the greatest victories?
Deborah's predictions were correct. Parents booed McFadden from the stands. The coach's daughter wrote a particularly nasty letter to the local newspaper. McFadden cried often, and relied on her family—and dog Bentley—for strength and consolation.
But the McFaddens prevailed, and eventually turned their legal victory against the Howard County School District into a state law, the Fitness and Athletics Equity for Students with Disabilities Act. Now, it's called "Tatyana's Law." In 2013, the legislation inspired a national mandate. And, to McFadden's relief, Hannah's high school sports experience was indeed far easier: "No one thought of her as anyone different; they just thought, 'Oh, cool. She's in a wheelchair. And she's on my track team. That's awesome.'" (Hannah's also athletically gifted; the two competed together at the Rio Paralympics in 2016.)
The fight solidified McFadden's commitment to advocacy. But it's also given her athletic pursuits a new, laser-like focus. "When I was 15, I thought to myself, 'Well, if I want people to listen to me, I just need to be the best,'" she says. "If you look at the Williams sisters or Michael Jordan or Michael Johnson—the greatest athletes in history—they became the best and people listened. I thought the same: I need to win everything."
By High School, She Was a World Champion
McFadden's rise continued through high school. She won gold and silver medals in sprints at the 2006 IPC Athletics World Championships. After graduating in 2008, she returned to the Paralympics in Beijing and claimed four more medals: silvers in the 200 meters, 400 meters, and 800 meters, and bronze in the 4×100-meter relay.
To take the next step, she knew just where she needed to go: the sprawling cornfields of Champaign-Urbana, Illinois, a couple of hours south of Chicago. There, Bleakney, a 2002 Chicago Marathon champion and Paralympic silver medalist himself, oversees the top-notch wheelchair track and field team at the University of Illinois. The program has been producing champions since the Paralympics began in Rome in 1960. Among its many female standouts are Jean Driscoll, who between 1990 and 2000 won 14 Olympic and Paralympic medals and eight Boston Marathons. McFadden hoped to continue this tradition of excellence while earning degrees in child development and education.
Speed was her natural gift, and Bleakney worked with her to draw it out over progressively longer distances. He started with the 1500 meters and 5,000 meters. "I felt that was a space where she could be dominant," he says. "She brought a dynamic and explosive element of surging, accelerating, and a finishing kick at a high max speed." The combination proved unbeatable. At the 2013 world championships, she won six gold medals, in every distance from the 100 meters to the 5,000 meters.
As if that range weren't impressive enough, Bleakney also encouraged McFadden to try the marathon. She hesitated at first; she was a sprinter, after all, and Bleakney's argument that 26.2 miles was just 400 meters about 100 times was hardly convincing. Eventually, she relented, and she tried her first marathon in Chicago in 2009. She told Deborah she wasn't sure if she could finish.
Not only did she cross the line, she won. That surprised McFadden and Deborah—who was still fumbling with her camera and missed witnessing the victory—but not Bleakney. For able-bodied runners, marathons involve mostly endurance, especially in the early and middle miles. Wheelchair racers surge, sprint, and attempt to outmaneuver their competitors far more often.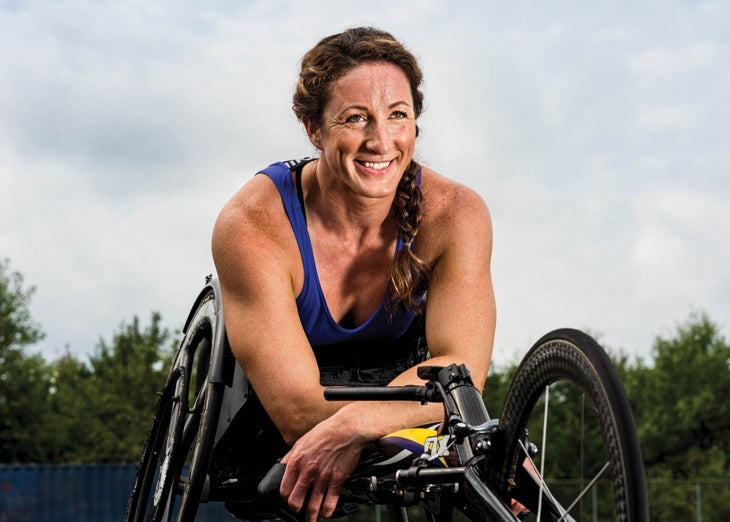 Even on a flat course like Chicago, McFadden's strength and sprinting ability gave her a distinct advantage. In hilly New York and Boston, it's made her a force to reckon with. "That's her strength, and where she's really been able to leverage attacks on her competition is on climbs—and notably, very steep climbs," Bleakney says.
Of course, what rises must eventually fall, and McFadden had to work harder at mastering the decline. Maintaining control without losing momentum at speeds topping 40 miles per hour is a technical challenge—and a psychological one. That's especially true on courses like New York, where wheels can catch on bridge joints and many downhills are followed immediately by sharp turns.
In her first New York race, on a rainy and slick November day in 2009, McFadden watched McGrory take a hard crash into the side of the Verrazzano-Narrows Bridge. "It freaked me out," she says. "I pulled over, and I was like, 'Amanda, are you OK?' And she was like, 'Why are you stopping for me?'"
For McGrory, who was beaten up but not seriously injured, the moment demonstrated McFadden's combination of competition and compassion. "When we come up to the starting line, she's going for it," McGrory says. "But in that moment, there was nothing more important to her than making sure her teammate was OK."
With time, practice, and repetition, McFadden built her confidence on the downhills. Descending involves a finely tuned balance of chair positioning, braking, and steering along the best lines—a precise orchestration of steps that varies by athlete, depending on how their body's positioned and the control they have over their core and trunk muscles.
"There's so many little things about wheelchair racing that I think people don't think about," McGrory says. "The coasting, the turning, and hitting your compensator"—a device that aligns the chair's wheel's with the straights or curves—"to steer on the track, being able to change a flat tire from your chair. All of those additional things have to come together in order to make you a great athlete, beyond just the hard work of your training."
McFadden has developed each of those little things, and those efforts were evident in Rio in 2016, where she won four gold medals and two silvers. In the 1500 meters and 5,000 meters, McFadden, McGory, and their teammate Chelsea McClammer finished top three, in what commentators dubbed "McSweeps."
The 1500-meter race, especially, highlighted how McFadden uses her dominance to lift both herself and her teammates. She leads from the gun, with McGrory and McClammer executing just the right sequence of lane changes and surges to thwart their competitors from catching up. "She pretty much ruled that race, and Chelsea and I were in a great position to support her," McGrory says. "It ended up working out great for all of us. But without Tatyana and the absolute force of nature she is, we would not have been able to pull it off."
To Bleakney, the results exemplified the ideas of collaboration and shared power he's long preached. "Each of them sacrificed a little bit in order to leverage the others' strengths, in order that together as a team, they would be stronger," he says.
Now, She's Moving into Activism and the Spotlight
The same type of collective action has led, over the course of McFadden's career, to dramatic if overdue progress in achieving equality for disabled athletes. Wheelchair racers and able-bodied runners now share the stage at marathon press conferences, and McFadden appears in ads from sponsors like Nike and Coca-Cola.
During the 2016 games, NBC aired 70 hours of Paralympic coverage across its networks and sports apps—less than the thousands of hours afforded to the Olympics, but an exponential increase from 5.5 hours during the 2012 Olympics.
Last year, the U.S. Olympic Committee changed its name to the U.S. Olympic and Paralympic Committee (USOPC) in recognition of the parallel nature of the athletes. And even before that, in 2018, the organization announced medal payouts would be equalized for Paralympic and Olympic athletes.
"For the first time very recently, I finally feel valued as an athlete," McFadden says. "It's so weird to say, after 15 years in this career."
Every advocate has their role. McGrory now works as an archivist for the USOPC, aiming to preserve sports history, and Petitclerc serves in the Canadian senate. McFadden has added her voice to the chorus ("nudging," as she puts it), pressuring NBC for more coverage, asking the USOPC for equal publicity, and pushing marathon race directors for equal treatment as able-bodied runners.
But as a social media–savvy Millennial steeped in pop culture, McFadden is perfectly poised to take the message of inclusion and changing perceptions to a broader audience. She's attended the Golden Globes; rolled the catwalk as a model on the fashion reality show "Project Runway"; and appeared in People magazine and on "The Ellen Show."
And then, of course, there's Rising Phoenix. As a producer, she pushed to have people with disabilities behind the camera and not just in front of it; they wound up accounting for 16 percent of the film's staff. The soundtrack features a collective of disabled rappers called Krip-Hop Nation. The directors hired a researcher in London who uses a wheelchair, though they struggled to find her an accessible building to work from. "They said, 'We had no idea this is what people with disabilities face, today, in the 21st century,'" McFadden says. "It was a huge eye-opener."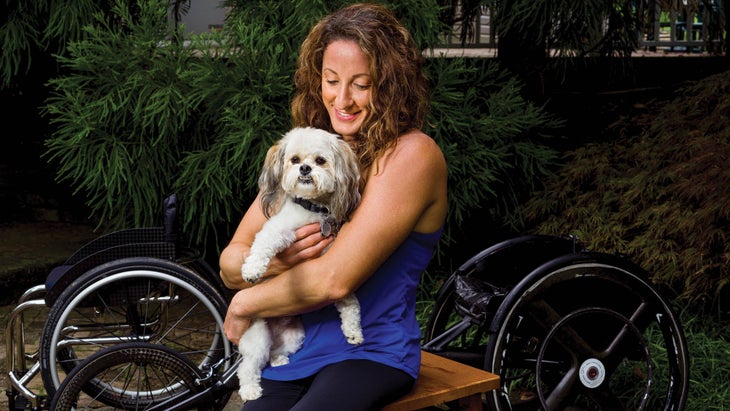 When the 2020 Games were postponed, McFadden and the other producers considered delaying the film. "But then we realized that this is the perfect time. People are at home. There's still less travel. And people are thirsty for sports, they're thirsty for good stories," McFadden says. Calling attention to these incredible athletes now will ensure no Paralympic momentum is lost heading into Tokyo next year.
In characteristic fashion, McFadden has also made the best of the Games' delay to help her achieve her own athletic goals. In January, she relocated from Illinois to Tallahassee, Florida, to prepare for the Paralympics. She's found the mild temperatures, wide-open spaces, and varied terrain to be perfect for training through a lockdown. Bleakney, acting as a coach, sends her training instructions in a spreadsheet; but after working together so long, they are, in many respects, partners.
In the meantime, the extrovert has stayed connected with FaceTime and Zoom calls, talking with everyone from young athletes to friends to Prince Harry (for discussions linked to the film, though they've now spoken enough that he told McFadden she could just call him "Harry"). At night, she winds down with a hot shower, time in her Normatec recovery boots, and books of inspirational quotes. She's learning to prioritize time for herself and moments of gratitude for all she has: the wonders of technology, her supportive family, the changes she's seen in her 31 years.
She's nowhere near slowing down; McFadden hopes to continue her career at least through the 2028 Los Angeles Paralympics, to compete on her home turf. But after a lifetime of climbing, she appreciates a moment to admire the view. "Being an advocate is like training for a marathon or the Games; it can be long and strenuous and exhausting," she says. "But to stay in this for as long as I have is amazing. I've learned as I've gotten older to step back and appreciate everything that's happened. You can't always be pounding, pounding, pounding."
Maybe it was after winning six gold medals at one world championships or after her fourth marathon Grand Slam, but at some point, McFadden must have realized she'd reached those heights her 15-year-old self dared to dream about. She is, by most measures, the best—the fastest woman in the world. And increasingly, people are listening.
This profile was first published in the Winter 2021 print issue of Women's Running as part of "Women Who Lead: Power Women of 2021" which celebrates 25 women who are reshaping the running industry for the better. You can see the full list of honorees here.