"I still have many miles to run": Suzanne Munroe Shares Her Best Miles With Her Grandchildren
Munroe teaches her young running buddies to get out for fun and not medals.
Photo: Courtesy Suzanne Munroe
Heading out the door? Read this article on the new Outside+ app available now on iOS devices for members! Download the app.
Suzanne Munroe loves running and racing, but there's nothing quite like the excitement of sharing it with her grandchildren.
"Running with them makes me feel like I am 'passing the torch' to a new generation," says Munroe, 71, who lives in Tallahassee, Florida. "These grandkids are learning that there is a thrill to this unlike any other sport."
A few years ago, Munroe, the mother of four sons and grandmother of six, asked her granddaughter Raina Lloyd, now 9, if she wanted to go for short jogs around her neighborhood after school. Soon it became a regular afternoon activity for the pair.
"The more I run, the more excited I am to do it," says Raina, who participates in fundraising runs at her school and sometimes runs laps on her school track before classes in the morning.
When Raina was just 7, she ran the Tallahassee Women's Distance Festival 5K, her first 5K ever, with her grandmother. In addition to getting lots of encouragement from her grandmother, Raina learned how to put on her bib number and be courteous to other runners during the race.
"We ran over the finish line holding hands, and she was youngest kid to run it," says Munroe, who has completed races with three of her six grandchildren over the years. "I said, 'It's not about the awards, Raina. It's about the fun.'"
When the COVID-19 pandemic hit last year, the running buddies were forced to stay apart. "When (the runs) stopped, that affected Raina," says her mother Miranda Lloyd. "Her grandmother really motivates her and just makes her happy."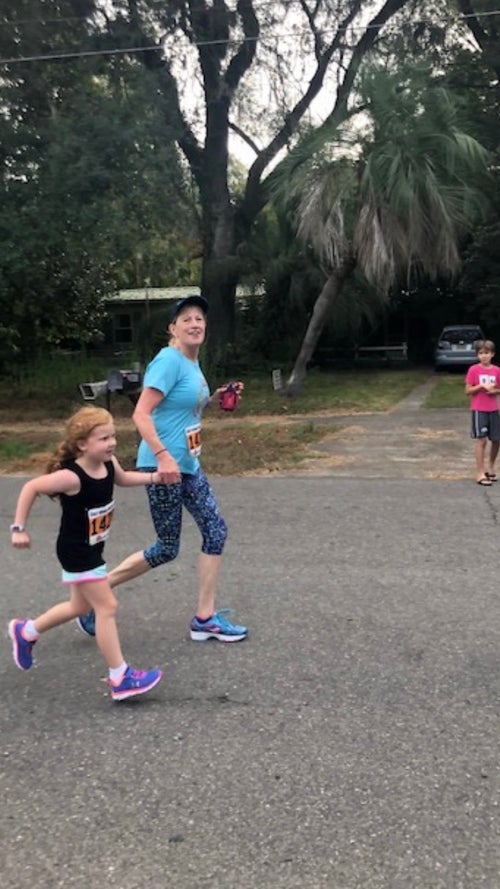 Finding Opportunities to Run
Growing up in the 1960s in a northern suburb of New York City, Munroe had few athletic opportunities. In high school, girls either played field hockey or joined cheerleading, which Munroe did.
"I don't think we were allowed to run cross-country," she says.
A young nurse and mother in the early 1980s, Munroe decided to run with her brother in a 10K race hosted by the hospital where she worked. After the race, she was surprised when someone from the hospital called to tell her she had won a pair of running shoes.
"They said, 'You were the only employee of the hospital to do the race,'" Munroe recalls. "That got me hooked running—that first 10K."
Munroe turned to distance running "to clear out the cobwebs" in her mind and loved that she could do it anywhere. That was especially important when she started to work as a traveling nurse in different parts of the United States. "I used to put running clothes and shoes and a water bottle in my car trunk," she says. "If I was in a new city, I found a park and I would run."
In addition to loving to run, she used it to raise thousands of dollars for various causes, including Stanford Children's Hospital, where she worked.
New Goals to Share
Eager to keep pushing herself even as she aged, Munroe took on her first half marathon when she was 59. At The Humboldt Redwoods Half Marathon in California in 2008, she ran an impressive 2:11 in her debut at 13.1 miles.
Not content to stop there, she continued to run 10Ks and half marathons, winning age-group awards in her 60s and lowering her half personal best to 1:57.
"I still have many miles to run, but medals are just a collection," says Munroe, a registered nurse for 40 years before retiring last year. "Getting out there has become of greater importance now."
Getting out there for herself—and her adoring grandchildren. In recent years, she's been running with her 9-year-old grandson John Parker and Raina.
"She's very encouraging," says Raina. "She's very positive. And she's outgoing and fun."
And now that Munroe and her husband have received the COVID-19 vaccine, Munroe is looking forward to company on her runs again.
"It's great that (she and Raina) can share something they both enjoy so much," says Miranda. "They get that quality time with each other and the memories—that's something Raina will have forever."