Why Steph Bruce Wants to Bring You Along for Her Farewell Tour
With one more year of pro racing ahead, Steph Bruce wants her supporters to celebrate her pro running retirement with her, like they've always done.
Heading out the door? Read this article on the new Outside+ app available now on iOS devices for members! Download the app.
When Stephanie Bruce created her Instagram account, circa 2012, she first posted a photo of her wedding dress—before her nuptials to husband Ben Bruce. She was under the impression that only she could see the photo, until a friend called to tell Bruce it was public and she might want to delete it.
"I had like five friends on there and that was my intro to social media," Bruce says, laughing. "If you want to know how much I didn't know about it."
Bruce, 38, now has more than 96,000 followers on the platform and a highly developed sense of what to post. With a 2:27:47 personal best in the marathon and a sixth-place finish at the 2020 U.S. Olympic Marathon Trials, she's a member of the first generation of pro runners who have used social media as a means to elevate their careers, as well as attract more fans to the sport—and, hopefully, to their sponsors, too.
Despite that rookie mistake 10 years ago, she's always been one of the most prolific among her peers on Instagram, quickly realizing that sharing nearly everything from her speed workouts to her postpartum bladder control problems would garner a bigger audience. Female recreational runners, in particular, have grown to rely on Bruce for advice and insight on matters ranging from pelvic floor exercises to managing celiac, to body image, parenting, and grief after Bruce's mother's death in 2021. In turn, followers have also become loyal fans, showing up to her races, signing up for her coaching services, attending her running retreats, and purchasing her apparel.
RELATED: Stephanie Bruce Encourages Boldness
It was only natural, then, that when Bruce, who lives in Flagstaff, Arizona, decided that she's retiring from her competitive running career at the end of 2022, she wanted to give her fans the news herself and invite them to join her farewell tour. She posted her announcement on January 6, explaining she had a newly diagnosed congenital heart condition, bicuspid aortic valve disease (BAVD), and while it doesn't pose any risk to her current athletic endeavors, it does influence her timeline for having more children, in addition to sons Riley (7) and Hudson (6).
The strategy is another departure from the norm—traditionally, pro runners have simply faded away from competition or announced their retirement after the fact.
"The only reason professional sports exist is because of the fans who are paying either shoe companies for their shoes or for tickets or entries into races—they're the ones who give us a job," Bruce says. "I thought if they knew that their favorite athletes were going to retire, maybe they would try to go to their last race or their last game. My inspiration was to try to give back to the sport in a different way."
Steph Bruce, Community Builder
Her following really took off in March 2016. During Bruce's return to training after giving birth to Hudson, while standing on the track, she posted a photo of the loose skin across her abdomen, with the caption: "When I look down I see stretch marks that are here to stay, ab muscles that need continued strengthening, legs that are powerful, and feet that are ready to fly!"
That one photo quickly made the rounds not only within the running community, but well beyond it, leading to coverage on ABC, the Today show, in People magazine, Glamour, Self, Parents, and more. "Such an inspiration to see another fit mama whose post-baby belly looks like mine! Wish I could wear mine as proudly as you do," one woman, among hundreds of others, commented.
Suddenly people were listening, and Bruce discovered she had a far-reaching platform that she could leverage in several ways.
"I realized, OK, if one person went to bed that night and something I said spoke to them, I'm doing a good job," Bruce says. "All the things that happen in life are in-between. We have success and failure, right? Highs and lows. But most of us are all existing in that in-between life and that's the most compelling stuff to tell, so when you have those huge breakthroughs, people have been with you the whole time."
To be sure, pro running fans are not a massive or fast-growing market. While tens of thousands of runners from all walks of life line up behind the elite competitors at big-city marathons several times each year (barring, say, a pandemic), many are unaware that the people at the front are making a career out of what most of us enjoy merely as a leisure activity. Converting recreational runners into consumers of elite distance running or track and field has always proven difficult outside of the Olympics.
In the past decade, athletes like Bruce have taken on the challenge themselves, making concerted efforts to connect with the masses ("The sport is honestly not going to do it for you. Sponsors are not going to do it for you. U.S.A. Track & Field is not going to do it. The athlete has to be the person creating a brand," she says.)
"We hear, 'Grow the sport, grow the sport,' all the time. And I'm sitting here being like, 'Well, I've done quite a few things that I feel connect with the fans,'" says Bruce, who is a member of Northern Arizona Elite and sponsored by Hoka. "But I think when I got pregnant, it allowed me to zoom out and realize that the job of a professional runner had different layers—it wasn't just who was the first across the finish line or who had the fastest time. I was telling my story and it resonated with a lot of women. They weren't necessarily runners, but it brought them in to be a fan."
Julia Berteletti, a runner and mom of a 3-year-old living in Boulder, Colorado, says she began following pro running about 10 years ago, while living in St. Louis. She had joined an all-abilities group through the local shop Big River Running Company, where Ben Rosario, who is coach and founder of Northern Arizona Elite, was then a coach and part owner of the store. She also had joined the Oiselle Volée team, a national women's running community created by the athletic apparel brand. Until then, she had watched the Olympics, but had little awareness of the sport beyond that. Through each group, eventually she was connected to athletes like Bruce, Kara Goucher, and Lauren Fleshman.
"I ran Boston one year and we had a spaghetti dinner with Kara Goucher and Lauren Fleshman the night before," Berteletti says. "I mean, like, I had a poster of Kara on my wall and there I was eating dinner with her the night before Boston. It was a very cool community feeling—I was just a big fan immediately."
Over the years, Berteletti has met her best friends through running—they talk shop on their group text, she says. Her favorite pro training groups include NAZ Elite and Team Boss, the Boulder-based group started by world champion steeplechaser Emma Coburn and her husband and coach, Joe Bosshard. The athletes on those teams seem to share the most on social media, she says, "so I feel like I can relate to them and get to know them from what they post."
"We are just constantly talking about women runners on our group text, like I'm sure some people probably talk about football players," she says. "It's a fun way to connect."
After following Bruce's career closely for many years, Berteletti is happy to have advanced warning that her retirement is coming. She plans to follow Bruce's final races, including the Boston Marathon on April 18.
"I just love what she's doing and I hope more runners take that lead to make it so much more of a celebration, rather than a fizzling out of their career," she says.
RELATED: Boston is Back, and Everybody is Running It: Americans Include Molly Seidel and Des Linden
In Racing, There's No Secret Sauce
Jesse Williams, who was the head of sports marketing at Brooks for 13 years and recently founded Sound Running, which creates track meets and other races for elite runners, says that while the audience remains small, training groups like NAZ Elite have done a lot to promote the sport to the masses.
"They take people along for the ride, which is the closest thing we have to like a professional team documentary—if you follow along, you kind of see the inner workings," he says. "It doesn't do us any good to have this cloak-and-dagger thing around our sport. I like it when people are really open about it; they show the roadmap. There's really no secret sauce—workouts are just workouts. The secret sauce is the person doing them."
As a race director, Williams laments that he often isn't given enough time to promote big rivalries or matchups at his events. Agents and coaches often keep race schedules under wraps until the last minute and plans change on a dime. If athletes were contractually obligated to commit and show up, maybe more people would become invested in their careers.
"We've gotten good with the teams, time trials, and all these things that [Sound Running] has helped orchestrate, but because of the system that exists, we can't create these big matchups," Williams says. "There's a reason that the Olympic Trials and U.S. championships get a lot of buzz—it's because the athletes absolutely have to be there."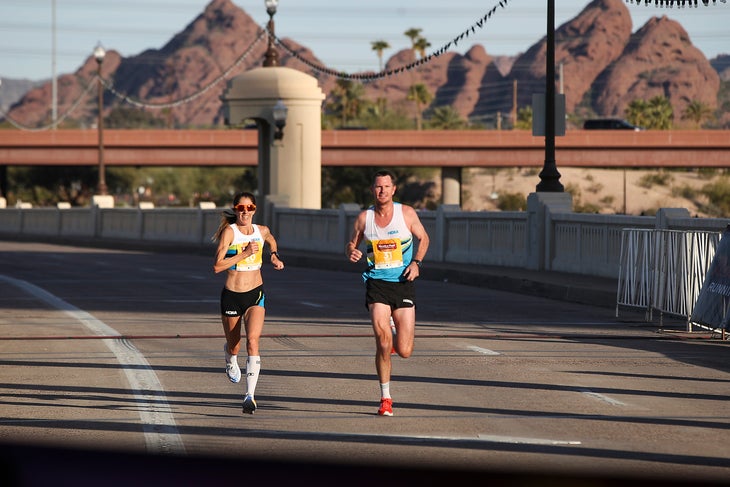 Viewership may be small (typically anywhere from 5,000 to 10,000 people pay $5 to watch a live stream of a Sound Running event), but it exists—and the money has been used to pay prize money to the athletes, too. Courtney Carter, another member of the Oiselle group and several other local running groups in Washington, D.C., was a sprinter and hurdler on her high school track team, but she didn't pick up running as an adult until training for a 10 miler in 2007, during law school.
"I am really focused on what runners of color are doing in the sport and try to be really intentional about following their successes. I research what they're doing and what's going on with them—sprinters tend to be where you find more racial diversity within the sport," Carter says. "Not exclusively, but primarily I follow women. It's not that I don't care about the men who run, I just care more about women."
In mid-December, when Carter saw on Instagram that Bruce was visiting D.C., she reached out on a whim and invited her to come to her running club's holiday lights run. To her surprise and to the delight of the rest of the group, Bruce showed up.
"It was funny because I didn't tell people she was going to be there," Carter says. "Steph beat me to the meet-up place and a handful of people were already there who've never met her, but they felt like they knew her. That sort of relatability is why many professional athletes have followings, as well as just being approachable. I think that's cool and certainly unique to the sport."
As Bruce heads into the final months of her competitive days, she is trying not to reminisce or reflect too soon while she still has significant races on the calendar. She's dubbed this pre-retirement year the "Grit Finale," and she plans to include community events along the way. Among the hardest factors in making the call has been closing the door on making an Olympic team, she says. For 15 years it has been among the biggest motivations to keep training at the highest level.
"There's part of my identity attached to being a pro runner, but that's also what's pushed me toward other things that I started or founded or poured myself into," Bruce says. "I'm hoping those characteristics stay with me and I don't feel a missing hole, so to speak."
When the next phase of life begins, no doubt she'll take her fans with her, offering the same transparency, trials, and tribulations she's always shared with the women who will continue to look to her for empathy, inspiration, and connection.
"I would like to finish my professional running career and not feel like I'm starting over, but that I'm leaps ahead already, hopefully giving back in different ways to the sport, to the fans and community, but also to the athletes," Bruce says. "I really want to help women take ownership of their lives."