Sophia Gorriaran Commits to Harvard
How the running phenom is forging her own path with her choice to commit to Harvard University's track team – positioning herself for life beyond running. 
Heading out the door? Read this article on the new Outside+ app available now on iOS devices for members! Download the app.
Photography by Aisha McAdams
Last fall, Sophia Gorriaran, a high school senior from Providence, Rhode Island, was faced with a dilemma that would shape her future. The world, national and state record holder in multiple track events and All-American lacrosse player confronted the bittersweet question of whether to pursue a professional running career or continue her athletic journey in college.
Gorriaran has already achieved what many runners dream of in a lifetime. She's the youngest qualifier for the 2020 Olympic Trials, holds U18 and U20 World records, and is the fastest freshman, sophomore, and junior to run the 800m. She's had remarkable performances this season, including the US No. 6 all-time mile in 4:37, a win over Shawnti Jackson in the 500m, and clocked 2:39.83 in the 1000m, the second-fastest time by a high school girl. Eight days later, she ran the No. 3 all-time 500m in 1:10.42, just 0.2s from Athing Mu's (Olympic Gold medalist 800m) high school record. Despite her achievements, Gorriaran remains grounded by her coach and father Steve, her mother Carine who's also her doctor, and her two training partner siblings Natasha and Max.
"Definitely, my family," she says about who influenced her decision the most. "It's tricky. I remember just wanting to know where I was going. Then I was like, I actually have to sit with this and figure out what's going to be best for me. Someone can't tell me that."
Gorriaran was in a spot where she had to let a few people down. She eventually (and patiently) decided to defer offers to become a professional runner and prioritize having a student-athlete experience – narrowing her options to Texas, Texas A&M, Virginia, Harvard, and Penn. "It set me back a bit with schoolwork," she reflects about missing school days for official university visits last September. Balancing academics and recruiting visits caused the AP scholar unsurprising stress, but she has embraced the challenge to maximize her full potential in life beyond running.
"He'll still be watching from afar but I'll have to figure out how to work with someone else other than him," says Gorriaran about her dad Steve, who has been coaching his daughter since she was four, along with coach Jon Barnes and coach Kurt Benninger over the years. "I'm a little nervous because my dad knows me so well and knows how I run and how I need to train. [A new coach] might be a good thing, might be a bad thing. We'll see," she says lightheartedly.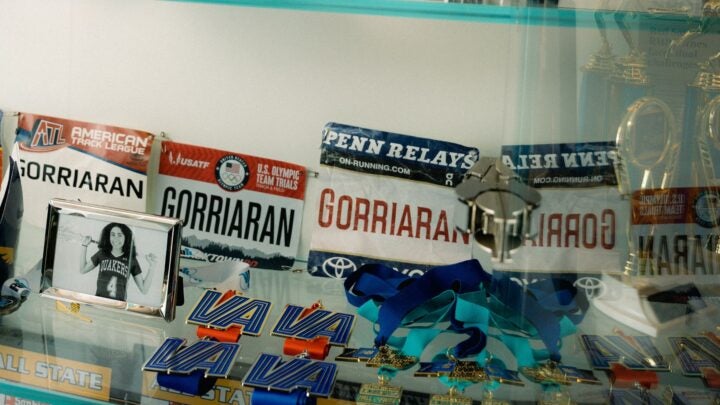 In her search, Gorriaran weighed the benefit of joining a powerhouse track program with top athletes and training partners, against the reality she might not receive the same level of personalized focus her father offers in coaching. "I was really having a hard time deciding between Harvard and UT," she says. "A&M was my third choice."
Solitary discoveries are a big part of growing up, and finding out your values and what matters. "My family just wanted me to do what I wanted to do," says Gorriaran. "They kept telling me, 'It's your decision. We can't make this decision for you.'" Her father, a former Brown University football player and son of Cuban immigrants, allowed her to make her own decision, just like he did. She didn't take cues from either of her parents. In fact, the only way Gorriaran knew what was the right path forward was by slowly constructing a brand new vision for her life, athletic career and academics — on her own.
Gorriaran was offered full scholarships from several Division-I schools to play both lacrosse and run track, but a hamstring injury last spring led her to conclude, "I can't really do both in college. It would lead to a lot of injury and I wouldn't be performing my best in both." Ultimately, Gorriaran decided to put all her effort into track, but she still wants to join a club lacrosse team with a lower commitment.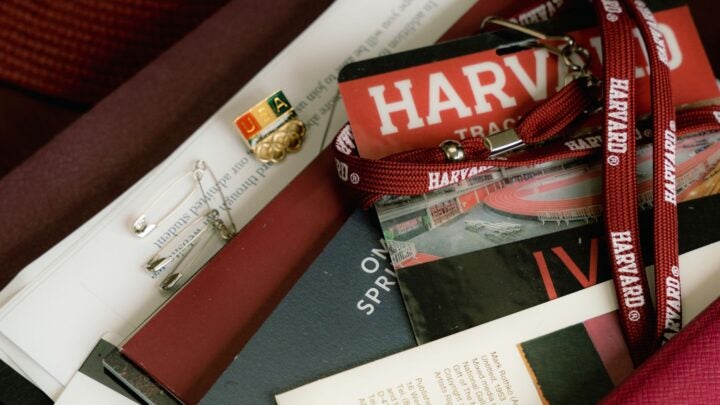 Gorriaran's Decision To Attend Harvard
In the end, she chose Harvard University. "It was the best fit for me, coaching wise, and the school itself," she says. "This was where I wanted to be. I liked being closer to home and Harvard offered a more individualized approach compared to big programs at major track schools." Gorriaran was initially attracted to Harvard for its academics, as well as alumni athletes, such as Gabby Thomas (NCAA Indoor 200m champion, US Olympic Trials Champion), who have done well and consistently progressed in running after college. Then she went on a visit last fall and "met the team and the coaches and liked the girls and everyone was really nice to me."
As the youngest in the family, Gorriaran continues to chase her siblings. She'll join her brother Max (track at Boston University) and sister Natasha (lacrosse at Penn) as a Division-I athlete in college later this year. "It's always like, 'Oh, I want to catch up to them wherever they are.'" Despite the Ivy League rivalry, her sister approves of her choice. "She makes jokes about it, like 'Ugh Harvard,' but she thinks it's a good decision," Gorriaran says with a smile.
Gorriaran doesn't take herself too seriously, and felt things clicked when the coaches at Harvard shared her father's sense of humor. "They're willing to figure it out and put a lot of time into me with individual attention, which I was really happy about," she says about Alex Gibby, the head distance coach, Kebba Tolbert, the women's sprinting coach and Marc Mangiacotti, the long sprints coach. They're focused on helping her adapt to college athletics while balancing schoolwork, without trying to change her techniques. "The coaches don't have any egos or anything like that, so that's amazing." Although the specifics of coaching her from a distance or sprinting perspective have not been worked out yet, she's confident they'll build on her momentum, as a coaching team. "We'll figure that out eventually. They're really flexible." If Gorriaran finds herself wanting to go pro while in college, Gibby, Tolbert and Mangiacotti have expressed their support in doing what's best for her.
Adjusting From Life at Home to a College Campus
Gorriaran's room is messy in typical teenage ways with clothes on the floor and open drawers. It's not obvious this is the bedroom of a remarkable young talent, other than a foam roller by the side of her dresser. All of her medals and trophies are securely displayed in a trophy case in her basement, beside her siblings accomplishments in track and lacrosse, and even her father's awards from football and race car driving and her grandfather's accolades from the US Wrestling Hall of Fame. In some instances, she might be put on a pedestal, but at home, she's just part of the family. Gorriaran has already been a roommate her whole life with her sister Natasha, but soon, she will be initiated into a new 'family' as a Harvard freshman, paired with a random roommate. This gives her a chance at a fresh start and to be known for however she wants to be.
No matter what, her family is a consistent support system. Earlier this winter, Gorriaran made the trip from Providence to Boston to spend an entire Saturday cheering on her brother Max at an indoor track meet. "Having him so close will make visiting him a lot easier," Gorriaran says. She will only be 10 minutes away from Max, who has one more year at Boston University.
"I'm going to miss my mom's cooking so much," says Gorriaran, who will be moving an hour away to college in Cambridge. "Her pasta with garlic sauce, tomatoes, and chicken is so good. It's, like, the best. And her salad, with our meal afterwards." But, Gorriaran welcomes taking ownership over her nutrition in the dining halls, and future meals with her teammates.
And she is thrilled to finally have teammates after years of solo training, relying on her siblings, or local pros for workout partners. Gorriaran will train with Maia Ramsden, a junior distance specialist who placed 10th in the 1500m at the NCAA outdoors, 11th at the Cross Country Nationals and recently ran 4:30 in the mile, and Victoria Bossong, a sophomore sprinter who she has known and enjoyed competing against for years. Gorriaran's focus will be on improving her 2:00 800m and 4:37 mile times and competing in team relays like the Distance Medley Relay and the Sprinting Medley Relay. Part of why she loves lacrosse is the team aspect, and says, "I'm excited to have a similar camaraderie for track."
Looking Ahead
In four years Gorriaran has accomplished much athletically, but she has also made her own decisions in growing up. She's not following anyone else's path – veering from the choice of her sister to play college lacrosse or those who immediately turned pro from high school such as Alexa Efraimson or Ajeè Wilson. She figured out what she wanted the most. Balance. Even if it scares her.
"I'm a little bit nervous about how to balance school and sports. I'll have to work on time management and not procrastinate, which is what I do right now," she says with a smirk.
Gorriaran is focused on building a future that includes athletic and academic goals. She is considering Economics as a potential major as she wants to ensure she has a path to pursue when she completes her running career.
Right now, she says, "I just want to enjoy the last part of high school I have left," like prom and senior spring events. Gorriaran's enjoyment also includes racing against professionals, like in the 600m at the Millrose Games tomorrow.
True to form, she continues to follow her instincts and the path she has always known – right beneath her feet.