Sika Henry Takes on the Challenge of Comrades
The world's first female Black professional triathlete takes on the bold challenge of Comrades, the world's largest ultramarathon
Heading out the door? Read this article on the new Outside+ app available now on iOS devices for members! Download the app.
The Comrades Marathon is the world's largest and oldest ultramarathon and is thought by many to be the hardest. Founded in 1921, the 89K, or 55-mile, road race spans the length between Durban, a coastal town on the eastern part of South Africa, and Pietermaritzburg, an inland town nestled into hills.
Making this renowned race even more unique is that it  alternates between "up" years and "down" years. On "up" years, athletes run from Durban to Pietermaritzburg, gaining approximately 6,000 feet of elevation along the way—and yet, this is thought to be the easier direction to run.
On "down" years, like 2023, runners begin in Pietermaritzburg and run to Durban, gaining 4,000 feet of elevation and descending 6,000 feet—which always results in a major thrashing of runners' quads.
RELATED: 100 Years of Female Participation in the Comrades Marathon
Among those lining up to take on the challenge at this year's race on June 11 was American Sika Henry, a professional triathlete in her late 30s from Newport News, Virginia, who only decided to continue her recent foray into ultrarunning when an opportunity to run Comrades with the Durban-based Phantane Athletics Club arose. Gerda Steyn, who also represented the Phantane Athletics Club, won the women's race in 5 hours, 44 minutes, and 56 seconds – a new course record for women.
"After my triathlon season in 2022, I was feeling burned out from triathlon and not feeling inspired to race [triathlons]," Henry says. "I had never focused solely on running before and wanted to see what I could do in the sport. A friend showed me an article about Comrades last year and I immediately was like, 'if I'm going to do an ultra, I'm going to do the hardest one.'"
Although there are few gender-based statistics available about Comrades, some basic math over the recent years shows that only 20 percent of the 15,000 runners on the starting line are women.. In fact, women and people of color were only officially allowed to participate in Comrades beginning in 1975, although the first woman to unofficially complete the race was Frances Hayward in 1923.
Despite unorthodox training, Henry worked hard and completed the grueling course in nine hours and thirteen minutes—an effort that landed her in the top 25 percent of all finishers and 376th among the roughly 3,000 women in the race.
RELATED: Professional Triathlete Sika Henry Sets Virginia State 100K Road Record
Staying True to Triathlon
Despite wanting to step back from competing as a professional in triathlon, Henry leaned heavily on her multisport background to keep her healthy as she approached this journey to Comrades. In December, she unintentionally set a new Virginia state 100K record when she won the Dismal Swamp 100K in Chesapeake, Virginia, in 8:34:20. That was only her second ultra-distance race, following her 2021 finish of the JFK 50 in Washington D.C.
"I started my build to Comrades by doing the 100K back in December at home in Virginia, and then racing the Houston and Boston marathons shortly after," says Henry, who was an All-American collegiate runner at Tufts University. "I took a bit of downtime after those events, but as my mileage built back up for Comrades this spring, I knew I would need to rely on swimming and biking to keep me healthy."
Henry notes that she feels "comfortable" running about 50 miles a week, but that her build to the Comrades required 60 to 70 miles a week, which was tough on her body.
"I was swimming twice a week and biking three to four days a week to supplement my running," Henry says. "Two of those bike sessions might be easy one-hour spins and the other two would be legitimate workouts, so I felt like I was maintaining some of that triathlon training, too."
A brief Achilles flare-up about six weeks before Comrades curtailed some of Henry's running mileage, so she was extra grateful to feel comfortable training in the pool and on a bike.
"I had to totally back off my run mileage for about two weeks to let my Achilles calm down," Henry says. "I was basically living in the pool and on my bike during that time to keep my aerobic fitness up…although my buildup to the race wasn't perfect, I knew I was aerobically fit."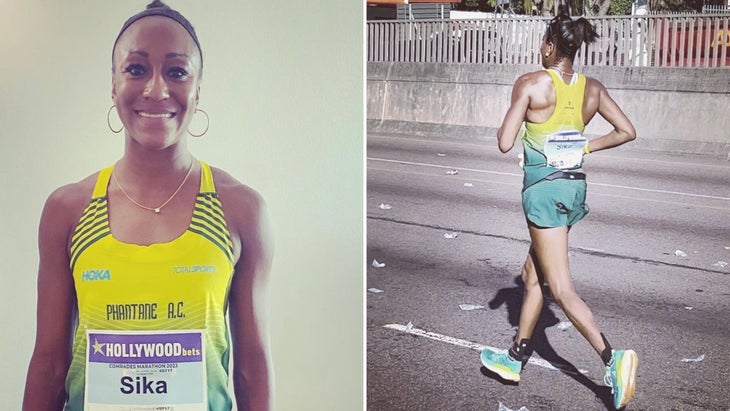 Race-Day Jitters and Challenges
Even with a nearly 48-hour travel period to get from her home in Virginia to South Africa, Henry and her partner Ben (who did not race, but came to support Henry) did all they could—including getting a massage upon arrival to Durban—to help her arrive at the start line feeling as fresh as possible.
"My partner and I drove the course the day before and I was just scared out of mind," Henry says. "I knew right away that I was in over my head…I wasn't expecting so much uphill early in the course or how long the downhills would be… I knew it would take a lot out of me early on."
Regardless, Henry, who was classified as an elite athlete for the race, arrived at the start line race morning inspired to give the legendary course her all.
"I was in the starting corral with Olympians and world-class female runners…I started to feel a little pressure," Henry admits. "There's nothing like getting out on the start line in front of the entire field with amazing women. But I definitely started out too quickly as a result of beginning the race in the elite field."
Henry says her body already felt wrecked through the first 20 miles of the course.
"My body was not ready for that type of terrain," she admits. "Where I live in Virginia is very flat, and while I tried my best to replicate hills, my body immediately had a tough time with the vertical gain."
While many athletes struggle with the mental aspect of the race, Henry says that her mind was completely on board, but her body fought with her every step of the way.
"Once your body starts disintegrating, no amount of mantras or mental tricks can stop it," Henry says.
With more than 30 miles left to go and a body that was struggling, Henry looked to others on the course for support and was flexible with her nutrition plan, opting to substitute regular gels for caffeinated ones and higher frequencies to keep her energy high and pain levels as low as possible.
Athletes who have done Comrades more than 10 times are allocated special green bibs to identify their achievement. Henry would ask those participants for tips as she fought her way through each mile.
"I would literally sidle up to people with green bibs and be like, 'How have you done this 10 times?,'" Henry shares with a laugh. "They would see my elite bib and be like, 'Oh, this lady is really in trouble.'"
Mentally, Henry looked outside herself for motivation to continue.
"I put myself out there so much—I post about my goals on social media, I talk about my aspirations, and I do that to hold myself accountable to my goals," Henry says. "I can't just bail out when things get tough; I have a whole team who has helped me get to the start line and the least I can do is finish the race."
After 55 miles that were more painful and slower than Henry, who had aimed for a seven-and-a-half-hour finish, hoped, she reached the finish line.
Representation Transcends Results
Henry says that regardless of how difficult her day was, the pleasant surprise of her notoriety among people she had never met meant more than any result.
"Since I ran as an elite runner, I had my first name on my bibs—one on the front and one on the back," Henry says. "I had other athletes and spectators run up to me and say things like, 'Oh my gosh, you're Sika the triathlete. My wife follows you on Instagram, you're my hero!' and that was incredibly touching."
Henry goes on to say that there were plenty of people at the finish line who did not at all care about her Comrades finish time, but wanted to get a picture with her after following Henry's journey to becoming the first Black female pro triathlete—even some of the women who finished hours ahead of Henry wanted to document that they got to meet the triathlete-turned-ultrarunner.
Representation has always been a key part of Henry's motivation to take on endurance sport challenges, and part of her efforts include serving as an ambassador for the Ironman Foundation, through which she has helped teach children of color swim lessons and spearheaded the Race for Change initiative, which aims to introduce more diversity into triathlon. The Phantane Athletics Club that Henry represented at Comrades also works to recruit young athletic talent from historically disadvantaged regions of South Africa.
"You see plenty of men of color finish in the top ranks at Comrades, but not as many women of color who do the same," Henry shares. "I had people cheering me on like, 'Yes sis! Yes sister!' so I felt like I was part of this element of representation out on the course for women of color."
The 2023 edition of Comrades had runners from 84 countries at the start line.
"This was the most diverse endurance event I've ever done," Henry says. "I've had a lot of folks ask why I don't do certain other popular ultra events, and part of it is because they are so homogenous. I loved how when I was running in Comrades, it was a sea of people of color on the course with me."
RELATED: Sika Henry: The Pioneers Who Inspired Me To Make History
After an adventure that began in December 2022 by setting the Virginia state 100K road record and ended a continent away on South Africa's eastern coast, Henry is finally giving her mind and body a break.
"I haven't taken a full week off from training in a very, very long time, so I'm spending the rest of this week in South Africa with my partner doing tourist things like going on a safari and eating local food," Henry shares. "Honestly, beyond that, I haven't thought about what the rest of my season will look like."
Henry may dip her toe back into the triathlon scene or she may focus on another road marathon in between her day job as a corporate analyst in the manufacturing industry.
No matter what her next adventure is, Henry will continue on her mission of increasing representation for women and women of color in endurance sports.
"To do an endurance race in such a multicultural location was beautiful," Henry shares. "I hope that by sharing my journey to this race it will encourage other people of color to do events like this and hopefully my story will spread awareness about the race itself and the incredible people and athletic clubs who participate in it all over the world."
RELATED: Women Run The World: Pam Payne Nails The Comrades Marathon With A Broken Pelvis