Sara Hall Shares 7 Keys to Her Longevity of Excellence
Sara Hall's career is a reminder of what's possible.
Heading out the door? Read this article on the new Outside+ app available now on iOS devices for members! Download the app.
Sara Hall entered 2022 running better than ever: She set a new American record in the half marathon (1:07:15) on January 16 in Houston. At 38, age is just a number for Hall, who has been a picture of persistence her entire career. Her longevity is a testament to her inspired determination and the belief that anything (and everything) is possible if you truly believe in it and approach it with love.
Originally a middle-distance runner who focused on events from 1500 to 5,000 meters on the track, Hall turned to longer distances later in her career and ran her first marathon at 32. She's been on a tear since 2019, running her three fastest marathons and two fastest half marathons in that span, and has continued to reach new heights.
She's also had plenty of challenges along the way—including a disappointing Chicago Marathon last fall, the inability to make a U.S. Olympic team in several attempts, and numerous injuries that have sidetracked her to the point she almost considered retiring from the sport.
Hall will turn 39 on April 15 and three days later will line up in the deep women's elite field at the 2022 Boston Marathon. We caught up with her before and after her record-setting day in Houston to talk about what has contributed to her success, longevity, and continued joy of running.
Immersing herself in the love of running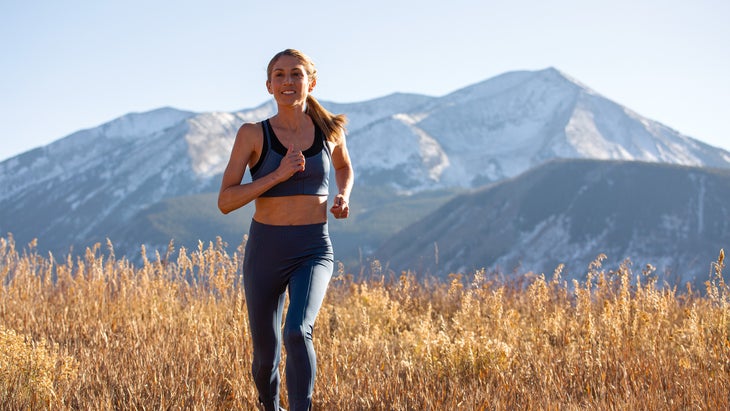 Few American runners, if any, have enjoyed the continued progression at an elite level that Hall has experienced, dating back to her high school cross-country national championship in 2000 and numerous podium finishes during her standout career at Stanford from 2001–2005. Although she wishes she had approached the marathon earlier in her career, she has no regrets, and knows that every step of her career has purposefully led her to where she is now.
But if there is one underlying aspect that has contributed to her continued success, it's the pure joy she still gets out of running. Sure, there are days when she feels fatigued and is just "trudging through a run," like the rest of us. But amid all of the highs and lows in her career, numerous life changes and the physical toll of training so long, her raison d'être is still tied to her love of running. Recognizing that love every time she laces up her shoes, as well as constantly rekindling it and sharing it as much as possible, have been the keys to keeping that love vibrant and constant.
"The bottom line is that I still love it. It's as strong as ever," Hall says. "I love running and am really enjoying the training and really love seeing the improvement. I'm turning 39 this spring and getting stronger and stronger. If you can stay healthy and keep your body healthy, then you can actually keep building that engine for a long time. I enjoy competing more than I ever have, which is just a total shock at my age and my point of life. But I think I have a lot more to give to the sport and am excited to keep improving my craft and see what happens."
Being relentlessly resilient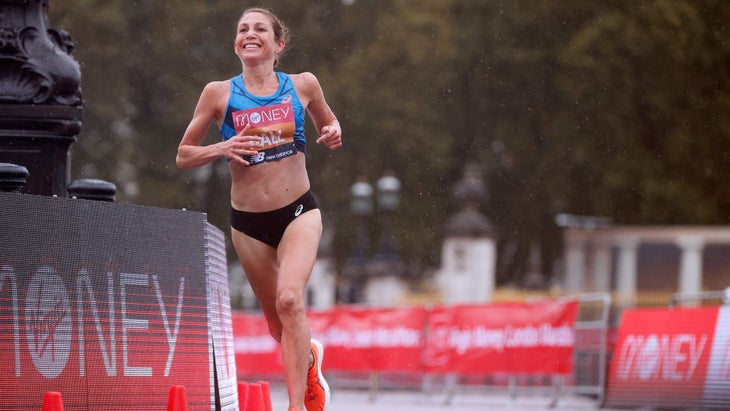 Hall and husband Ryan Hall began dating while at Stanford, got married in 2005 not long after graduation, and both became ASICS-sponsored professional runners. While Ryan immediately experienced high-level success as a pro with a breakthrough year in 2007—setting an American record in the half marathon (59:43) in Houston, running the first of several fast marathons (2:08:24) in London, and winning the U.S. Olympic Trials Marathon to earn the first of two Olympic berths—Sara's pro career wasn't on the same trajectory. She's continually adapted her focus to new events in her quest for excellence. The fact that they set American records in the half marathon 15 years apart at the same race is a poetic testimony to her perseverance.
"It just kind of effortlessly flowed out of him, but for me, it's often been a grind and overcoming injuries and disappointments," Hall says. "But I think my journey is more relatable to so many people. Hopefully my journey is able to inspire others with their running goals in their 30s, especially those who have kids and are living a busy family life."
Hall says running has given her physical and emotional strength, taught her lessons about courage and overcoming disappointment, helped her become the best parent she can be, and enabled her to trust her instincts and embrace the support around her.
"What's most important about my journey is that it's changed me as a person, and that's really the lasting part," she says. "I'm sure someone is going to break that record maybe in a couple of years, but what's lasting is everything that running develops in you in the process, the strength, the perspective, and the love."
RELATED: The 10 Biggest Running Stories of 2021
Embracing imperfection
Hall experienced plenty of success before turning to the half marathon and marathon in earnest, winning the 1500 meters at the Millrose Games and a Pan American Games gold medal in the steeplechase in 2011, taking the 2012 national championship in cross-country, and capturing numerous U.S. road running titles. But she's also come up short when it's come to the Olympics: She's run in seven U.S. Olympic Trials races dating back to 2004, but the closest she's come to an Olympic team berth was the distant sixth she recorded in the 10,000 meters at last summer's Tokyo Olympic qualifying meet.
"With so many highs and lows I think it almost makes it harder, because your hopes are always getting up for those big moments—like making Olympic teams that have still alluded me to this day," Hall says. "The Olympic dream is a beautiful thing, and it's something we've really idealized here in the U.S., but the reality is that it's only three people who make it every four years. I don't know how healthy that is to instill that in kids as the only path to success … There is another route, that's not the only route to success and having a fulfilling life-giving career."
"I think the biggest thing for me was being able to separate my identity from my running successes," she adds. "That process of realizing that I am worthy of love and a sense of belonging is always present, and that's not on the line every time I line up to race. Realizing that was a big turning point for me, so now I can continue to enjoy racing and enjoy my career so much because there isn't this fear of failure every time out."
Trusting and adapting in training
Hall has been coached by her husband for the second half of her career. Their dynamic has helped elevate her performance, because of the mutual trust they have in each other and in allowing her to listen to her body and embrace what she wants to do as a runner–even if that means wanting to run back-to-back races with unconventional training build-ups. While she won't give out any secrets, she says she's curious in her training and is often thinking outside the box and constantly making strength work and recovery a priority. Even for the build-up to the Houston Half Marathon, she changed this up and ran less mileage volume and focused more on faster, high-quality workouts.
"With Ryan as my coach, there is a special relationship because we're husband and wife and there is mutual trust there," Hall says. "While he doesn't always let me have my way, he gives me a longer leash than what most coaches would let me have. He trusts me that I know my body and, because of our relationship and that trust, it's allowed me to be more aggressive in how I approach the sport than other coaches would let me. We do much more under collaboration and that's important for us."
Keeping the faith
In 2009, Hall was dealing with several lingering injuries and was close to retiring from competitive running. She credits her work with Phoenix-based therapist John Ball (and the optimistic support of her husband) as key factors in keeping her going, but more than anything it was her willingness to follow her faith and persevere through moments of frustration and unknown. Although she might not be outwardly vocal about her faith, she's never been shy or felt the need to hide her convictions.
"You have to have a sense about what you're being called to do," Hall says. "I never really envisioned doing this career for more than a few years; it wasn't necessarily my dream. I would have been fine stepping away from the track in 2009 when I was dealing with a lot of injuries. I attribute it to God speaking to me and letting me know that there was more ahead. I always sensed something in my training and in my racing that there was more ahead."
Focusing on a full life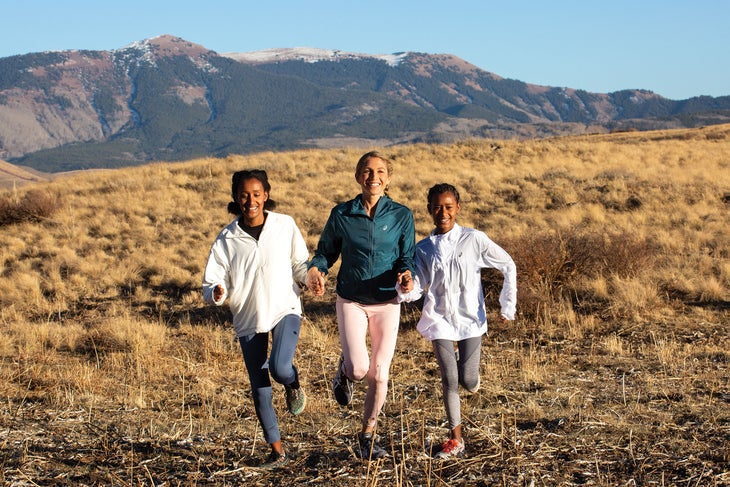 In 2015, Hall and her husband adopted four Ethiopian sisters, Hana, Mia, Jasmine, and Lily, and have been immersed in family life ever since. The girls are all teenagers now, so you can imagine how busy their lives are on a daily and weekly basis. That's inspired Hall to train and race with more enthusiasm, but it's also tempered the notion about what's important in life.
RELATED: 4 Ways Optimism Benefits Your Health
"I know looking back on my life I am not going to regret spending more time with my kids, I'll regret spending more time training," Hall says. "I try to do as much as I can sustainably, but the more important thing is loving the people in my life. I think you can become tunnel focused and endlessly pursue that one percent, you know? But I think the relationships are the best part of the sport and the best part of life. I am always trying outside-the-box stuff to train smarter and not necessarily harder. I am committed to that, but my whole day doesn't revolve around running and my career, and I think that's healthy."
Turning disappointment into teaching moments
After her surge to the elite ranks of the marathon with consecutive top-tier marathon results at Berlin, London, and the Marathon Project, Hall hoped to go after the American record last October at the Chicago Marathon. Unfortunately, it wasn't her day, and she struggled. She still managed a third-place finish in 2:27:19, but it was a huge disappointment relative to her expectations and training.
That was not only another opportunity for Hall to rebound and re-channel her energy into her next race, but it also translated into something bigger in the scope of her life. Two months after the Chicago marathon, the Hall's second-oldest daughter, Mia, 17, barely missed qualifying for 2020 East Bay Cross Country National Championships, coming up less than a second and one place short at a regional race.
"She said to me, 'Mom, I have seen you go through this over and over and now I know what it feels like.' And I said, 'Yeah, but you've also seen me use all of that fitness that I gained and use it toward the next goal,'" Hall recalls. "So the best part of all that is being to be able to show my kids what it looks like to pick yourself up after a massive disappointment and still go after things in your heart and succeed.
"And it's very cool to get to live it in parallel with kids. More is caught than taught with kids. They're always going to learn more from watching you do stuff than talking about it, so I get to actually do that with them. They knew I wanted to break the marathon record in the fall, and they saw me fail miserably in the process, so to see me do what it takes to succeed after that, that's really powerful."