Why Her Running Shoes Are Her Daughter's Favorite Color
After losing her daughter Gracie to brain cancer, Liz Flores turned to running to find solace.
Heading out the door? Read this article on the new Outside+ app available now on iOS devices for members! Download the app.
Liz Flores runs all of her races these days in a pair of teal Brooks running shoes that she would have normally retired many miles ago. The outsoles are worn thin. And the cushion is flat out gone.
"I really need to get new shoes, but I have a special connection with these," Flores explains. "They remind me of the love that others have had for Gracie, for her memory, and for me."
Gracie, her youngest daughter, was just 7 years old when, in an instant, their family's life changed forever.
In October 2010, Flores—a single mother of three, photojournalist and freelance wedding photographer in Minneapolis—was shooting a friend's wedding at a country club. With her friend's permission, she brought along Gracie who loved weddings.
Gracie was having a great time until she suddenly started to feel ill. She told her mom that her head hurt and the noise was too loud.
"But it wasn't loud," Flores says. "It was just a room full of people talking."
Flores took Gracie into another room, dimmed the lights, gave her Tylenol which seemed to help, and called Gracie's dad to pick her up. The next week, Flores took her to the pediatrician wondering if she'd experienced a migraine. After a neurological exam, the doctor ordered an MRI just to be thorough, Flores says. While waiting for the results, she was concerned but never imagined what would come next.
Gracie was diagnosed with brain cancer. She had a diffuse intrinsic pontine glioma (DIPG)—a rare, aggressive, inoperable brainstem tumor that typically strikes children under the age of 10. More than 90 percent of patients with DIPGs die within 18 months.
"My heart just sank to the depths of my stomach," Flores says.
Every day for a month, Gracie underwent radiation therapy to shrink the tumor and alleviate symptoms, but in nearly all DIPG cases, the tumor grows back after a few months. Yet even while going through radiation, Flores says Gracie remained vibrant and active.
However, in June, things started to change quickly. Literally overnight, Gracie lost the use of her right arm. And then the use of her right leg. In September on a weeklong trip to Florida to fulfill Gracie's wish to swim with dolphins, she went from being able to walk to her wheelchair to not being able to walk at all, go to the bathroom, or even eat.
"I felt like I was living this dark nightmare and at the same time I kept thinking we're going to survive this," Flores says. "But Gracie was getting worse and worse. The cancer was like an octopus—it had tentacles that wrapped around her brain."
A few days after returning from Florida, Gracie died in her mother's arms. She was 8 years old.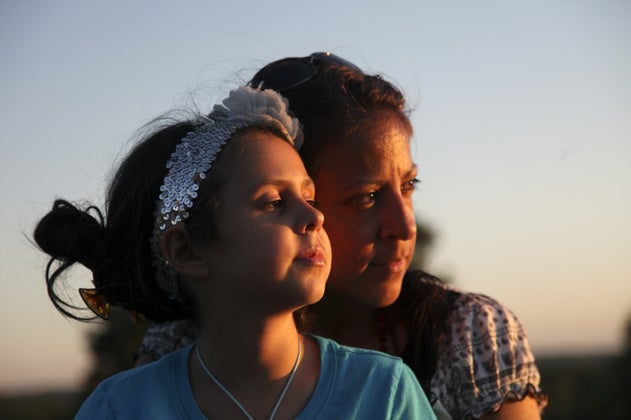 "Throughout that whole process, the way I dealt with it emotionally was by running every morning," says Flores, a longtime distance runner. "There were days when I would run 7 to 10 miles, more than I ever had." After Gracie passed, Flores continued to hit the trail to work through overwhelming anxiety and sadness. "Running helped me stay connected to the life around me—it kept me alive."
In 2014, Flores was going through an especially difficult time around the anniversary of Gracie's death, when one afternoon an unexpected package arrived at her front door. It contained the teal Brooks running shoes, brand new, and a note from someone named Denise Dollar from Boulder, Colo., who somehow knew her story and that teal was Gracie's favorite color.
As it turns out, Flores and Dollar had a mutual friend, Jenni Sevenich, who shared Flores' story—and shoe size—with Dollar who had just launched a project called Heart Strides with a simple idea: to provide new running shoes for mothers whose children had critical illnesses or disabilities. She hoped the shoes would inspire moms to keep running, start running, or just take a walk during a time when self-care might not be a priority.
For Flores, the package made all the difference that day. "It was like Gracie was encouraging me not to give up," she says.
"We want moms to know that there's a larger community out there thinking about them and cheering them on," says Dollar, a mother of two, one of whom has type 1 diabetes. She understands firsthand how medical bills can pile up, making running shoes an expense that may be out reach for many.
As the donations and demand for shoes increased, Dollar transitioned Heart Strides into a nonprofit, which has now gifted more than 350 pairs of running shoes to moms across the country while forming partnerships with like-minded organizations such as Another Mother Runner (AMR). In 2015, the AMR tribe raised nearly $15,000 to benefit Heart Strides through a five-week training program called Stride through the Holidays, which will start up again in November.
"The mission of Another Mother Runner and Heart Strides is pretty closely aligned in that there's a lot of healing and health and forward movement," says Dimity McDowell, co-founder of AMR. "It doesn't matter how fast you're going or how far you go—it's about taking care of yourself and making sure that you're not number 50 on your priority list."
Running and connecting with the running community continue to help Flores heal and move forward. In fact, last month at age 45, she laced up her well-worn Heart Strides shoes and flew through a half marathon in 1:46:17—a personal best. Apparently, you don't need much tread when you've got wings.
Learn more at www.heartstrides.org.
Cate Hotchkiss is a freelance writer, marathoner, and mom who lives in Hood River, Oregon. She blogs at gorgegirlruns.blogspot.com.