Alexi Pappas Brings "Olympic Dreams" to the Screen
Olympian Alexi Pappas reflects on her marathon debut in Chicago last fall and her upcoming role in Olympic Dreams, a new film premiering next month.
Heading out the door? Read this article on the new Outside+ app available now on iOS devices for members! Download the app.
Four months after her marathon debut in Chicago, Women's Running caught up with TrackTown USA's distance sweetheart Alexi Pappas for an update on her career as an indie filmmaker and aspiring 2020 Olympian. With her half-marathon goals this spring and third film premiering next month, Pappas is running through 2019 braver than ever.
After your first marathon in Chicago last October, you reflected on the experience via Instagram saying you chose a "half full cup" perspective. Can you tell us more about your experience in Chicago? What were some of the major takeaways from that race that are helping you to prepare for your next one?
Chicago was a great learning experience for me—an athlete can imagine, read about and train for a marathon, but until you actually complete the distance yourself, it's still somewhat of a mystery. To actually finish the race in Chicago opened up a whole new understanding for me about the sport of marathon racing, which is different than track racing.
I learned specific things about my body and its limits, especially which areas I need to strengthen for next time (my hamstrings). I also learned to recognize my mental strength and the huge role it plays in finishing a marathon. I remember there was a moment in the race when I realized that I would not be able to run the time I wanted (because of my painful hamstring), and I wondered if I should stop and drop out of the race. Then, I heard people all around me yelling "go bravey" and I realized that the marathon is about more than just the individual—it is a sport that connects all runners. When I crossed the finish line, I felt proud that I was joining a tradition.
At an elevation of 7,881 feet, you've been training hard again in Mammoth Lakes, Calif., where your last training cycle took place as well. How does your current buildup compare to your Chicago Marathon buildup?
My current buildup is totally different than Chicago: I have the base underneath me from several more months of marathon training, plus all my Chicago training, and we've also returned to speed work! For me, speed work is incredibly helpful in making longer races feel "slower," getting my body used to the feeling of running fast. Also, as compared to summer, right now I am "sleeping high, training low"—we drive down to 4,500 for most of our workouts, so my workouts more closely resemble race pace. I am also working on specific weaknesses of mine so that I am prepared for many months of preparation ahead, with eyes on the 2020 Olympics in Tokyo.
In college, one of your main events was the 3000-meter steeplechase, an event that is significantly shorter than the marathon and requires completely different training. You took eighth at the U.S. Championships back in 2013 and qualified for the Olympic Trials in 2012. In the 2016 Olympics, you represented Greece in the 10,000m, setting a Greek record and a personal record. After garnering much success in those shorter, speedier events, what made you decided to transition to the marathon? Do you have plans to return to shorter races in the future?
I am running a 10K on the track this weekend, then trying to race my first ever half marathon in April, then looking at a marathon this fall. I've always loved the track, but more than anything, I am a curious runner. When Coach Kastor and Deena Kastor said they see a future for me in marathon running, I jumped on the opportunity to train with and learn from them. Deena is my role model and having the chance to follow in her footsteps is a privilege. Also, with running, I feel it's a sport that can grow with you, if you let it. For me, I am trying to grow into the marathon.
It's no secret that you're a huge role model for many young female runners. From your thoughtful poems to featuring them on your social media platforms, you're helping to build a generation of confident, young athletes. In a past interview, you mentioned that being able to give them confidence is a gift. Can you elaborate on that statement? How does their mutual love for the sport of distance running help you as a professional runner?
Confidence is an intangible thing we can pass around to each other. When I was younger growing up without a mom, the biggest thing I needed to find in myself as a girl was confidence. I found it in looking up to people around me—men and women—so to now be in a position where I might help bravies feel more confident about themselves is such a privilege.
The training you perform to get to the level you've obtained in distance running is undoubtedly tough on one's body. Do you ever feel any pressure or responsibility knowing that there are young runners looking up to you and seeing the intense mileage you put yourself through?
Definitely—this is why I mostly do not post the details of my training on my social media. I only post things that I feel comfortable with young bravies imitating—understanding that if I say I just ran 20 miles, a young bravey might go out there and try it herself. Instead, I will post, just did my long run and took off my wet sports bra when I was done! Because that is something I think we can all share and something I feel comfortable with people imitating.
One particular subject in the distance running community that you've covered on social media is eating disorders. Young female runners have come to you and said they struggle to eat enough, are worried about eating too much, and in extreme cases say they feel as though they don't deserve to eat when they aren't performing at a certain standard. What are some ways you've helped them to combat patterns of disordered eating and body image issues?
I feel that giving bravies new vocabulary and imagery to think about their bodies is the best way to help change how they view food and their body. For example, if we think about our bodies as a house, it makes sense that we would want to build a very solid foundation for our house. Changing the way we see our bodies can hopefully change (for the better) how we treat our bodies. I also feel that the word "strong" from the common phrase "strong not skinny" isn't as useful as other words—I prefer capable, durable, powerful.
In addition to inspiring young runners through your athletic performances, you've inspired them through your dual career in filmmaking. You got your start in cinema with Tall As The Baobab Tree, a film you and Jeremy Teicher created while at the University of Oregon. In 2017, TrackTown was released. Now your newest film, Olympic Dreams, is premiering at South by Southwest in March. Tell us about the film.
Olympic Dreams is the first scripted film shot in an Athlete Village during the Olympic Games. I star in the film alongside Nick Kroll and dozens of real Winter Olympians, including Gus Kenworthy. Olympic Dreams opens a window into a highly exclusive world that many people hear about but very few ever get to see. The film is set in the highly exclusive Athlete Village at the Olympic Winter Games, and it's about Penelope (played by me), a young cross-country skier, who befriends Ezra (Nick Kroll), a volunteer dentist, after a disappointing finish in her competition. Penelope and Ezra share a special but limited time together.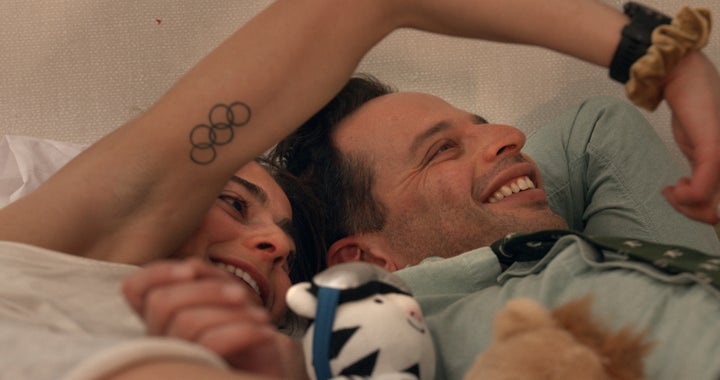 Back in TrackTown, you played the role of Plumb Marigold, a talented young distance runner who is forced to take a day off due to a twisted ankle. Plumb has many characteristics that are similar to yours, and many young runners identified with her. Her rigid schedule, race anxiety and relentless determination in spite of injury are all common characteristics of a young distance runner. Similarly, these are characteristics that you help young runners manage. Knowing this, what made you decide to venture away from that role and take on the role of an Olympic cross-country skier in your new film, Olympic Dreams?
As an actor, I hope to continue to grow beyond my comfort zone. With my new film Olympic Dreams, I had a once-in-a-lifetime opportunity to make the first ever fictional film in an actual Olympic Village. The catch was, it was the Winter Olympics—so I had to adapt! I chose cross-country skiing because the sport felt kind of like the "long-distance running" of the winter sports world, and in interviewing several Olympic cross-country skiers before filming, I grew to understand that we have a lot in common. Olympic athletes can all relate to each other in some ways and those universal themes are what I hoped to put on screen in Olympic Dreams. Also, I feel strongly that anyone can be a bravey—whether you're a runner, a cross-country skier, a swimmer, a speed skater, or even someone who isn't an athlete at all. By playing a non-runner character who is still a bravey, I hope to begin spreading this message.
Catch Alexi's 2019 racing debut at Pacific Pursuit in San Diego this weekend as she chases down the world standard in the 10,000m.