On Athletics Club Announces Kelsey Quinn As New Assistant Coach
Kelsey Quinn joins the slowly growing list of female coaches at the pro level as she takes on the role of assistant coach at OAC.
Heading out the door? Read this article on the new Outside+ app available now on iOS devices for members! Download the app.
The On Athletics Club, led by head coach and three-time U.S. Olympian Dathan Ritzenhein, today announced new assistant coach Kelsey Quinn has joined the Boulder, Colorado-based team.
Now in its fourth season, the team includes Olympians such as Joe Klecker, Alicia Monson, as well as 2022 Commonwealth Games 1,500-meter run gold medalist Olli Hoare of Australia and two-time Olympic silver medalist Hellen Obiri of Kenya, who is also the 2023 Boston Marathon champion.
Quinn, 33, who was a 400-meter hurdler at the University of Iowa, has coaching experience that dates back to 2014, when she coached a small program while getting her master's degree in exercise physiology at the University of Iowa. From there, she worked as director of operations at the University of Washington, where she organized the school's indoor track meets, before returning to coaching athletes at the University of Portland and later the University of Utah.
Most recently, Quinn had been living in Portland again with her husband and two young children, coaching for local clubs such as Rose City Track Club, Team Athena and Jacuzzi Boys Athletic Club, as well as several individual sub-elite athletes pursuing goals such as qualifying for the 2024 U.S. Olympic Trials Marathon.
Ritzenhein's Thoughts on Bringing Quinn to OAC
"Bringing in another coach was something that we needed as the team has continued to grow, but it also came with some anxiety as we have such a close working group," Ritzenhein adds. "This is a very emotional sport and having someone who I can trust with the athletes when I am gone and that they can trust when needed is very important. While that takes time to build, I am excited to have an ally who can help me to support and push them. I feel very confident that [Quinn] will become invaluable to me and the entire OAC team in the coming years."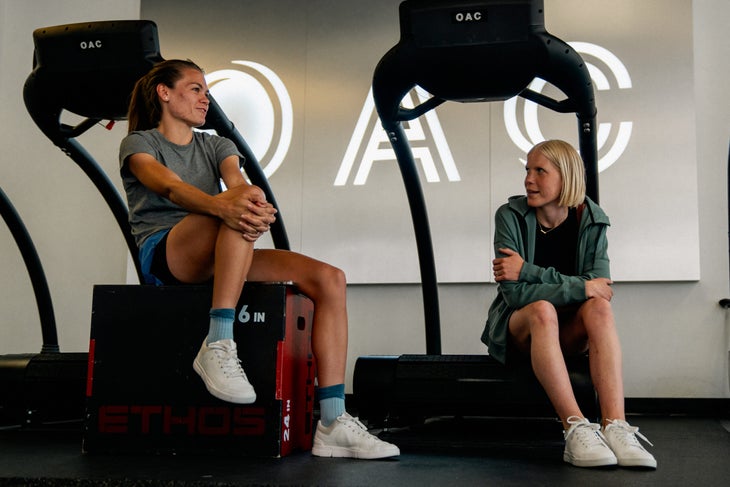 Quinn had told those close to her that coaching a professional running group would be her dream job and had actually kept her eyes peeled for the assistant coach opening to be announced after the On Athletics Club was formed in 2020.
"The ratio of coaches to athletes in the collegiate program can be hard when you usually have teams of 30-plus [athletes] and two coaches," Quinn says. "So the idea that your attention isn't spread as thin and that you can really give the athletes what they need appealed to me."
After Quinn applied for the role and went through the interview process, which she describes as fairly standard, she traveled to Boulder to meet with and get to know the team and test the waters working with them in their training environment. After accepting the role, her family made the move to Boulder and she began working with OAC last week.
"From the get-go, I felt like this was a role I could fill well, to just be able to fit into all the places that they need some support," she says. "Everyone's been really welcoming and I'm super excited to now be here in Boulder with the team."
RELATED: OAC's Hellen Obiri Sets Her Sights on Boston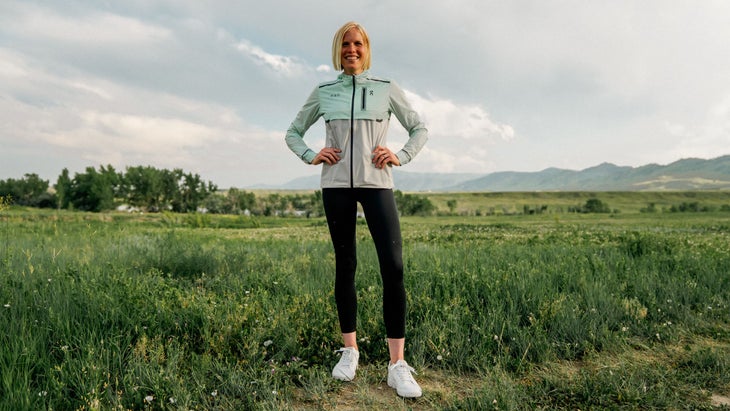 Quinn Adds a Female Perspective and Voice to OAC
Quinn, who will continue to coach her individual athletes on the side, was well aware of the disparities between male and female coaches, and with even fewer coaches of color, particularly at the professional level. She noted that she found it refreshing to have the importance of having a female coach brought up during the interview process before she was hired.
"I think my background in physiology and specifically how women and men are different in exercise physiology, can be helpful, and I also just think sometimes as a female, it's just nice to be able to get a female perspective on something, even if it isn't necessarily about training," she says. "I think it means a lot that they recognized the importance of that and that the team really benefits from having both a male and female coach perspective."
Additionally, as a mother of a two-year-old and an infant, Quinn was also aware of the barriers that prevent women, particularly those with families, from pursuing coaching roles at the collegiate and professional level, which are known to be demanding and often require a lot of time away from home.
"So far, my experience has been an understanding and some flexibility that things are going to have to look different for me sometimes, especially when the kids are little. That was very much a discussion that [Ritzenhein] and I had, that right now, I can't leave and be gone for three weeks, or if we go to Switzerland, my family will probably come, too," she says. "You have to all be on the same page and I think that can be really intimidating to even have that conversation depending on who you work with and for. I think just seeing women in these roles that do have families [will hopefully help create a shift]."
"There are many barriers for well-qualified female coaches in this profession and we were determined to let the qualifications lead the right person, and [Quinn] was really the ideal candidate and it was just a huge bonus that she was a female," Ritzenhein adds. "She will be able to give a perspective that I might not and that's important not only for the women's team but to our entire organization."
Quinn's Goals at OAC
Without having experience as a professional athlete herself, Quinn is also eager to learn from the team's athletes, as well as Ritzenhein, in her new role. The OAC has runners from several nationalities who will be trying to qualify for the 2023 World Athletics finals, which take place August 19-27 in Budapest, as well as the 2024 Olympics next summer in Paris.
"These [athletes] are some of the best of the best, and seeing how they operate outside of actual workouts and how they manage their lifestyle will help me understand and apply what really works for people individually," she says. "[Ritzenhein] himself was also a professional athlete for a really long time and has so much knowledge of what it takes to be successful in the longevity of this sport. So learning that and really trying to get these athletes that same type of longevity to have long and successful careers is certainly something I'm looking forward to helping with."
RELATED: What All Runners Can Learn from Dathan Ritzenhein's Coaching