Katie Asmuth's Long Trail Back to Western States
After recovering from a broken foot, she's back ready to chase another top-10 finish.
Heading out the door? Read this article on the new Outside+ app available now on iOS devices for members! Download the app.
With the horrific kind of day Katie Asmuth had at the Western States 100 last year, you'd think she'd never want to come back. 
But the considerable physical, mental and emotional grind she experienced on the famously challenging 100-mile route last year—and later discovering she was running with a broken navicular bone in her left foot that would require surgery—is a large part of what motivated her to get back to the starting line this year. And yet, she's honest enough to admit that there is more than a little tinge of trepidation mixed in with her excitement to return. 
And therein lies the conflicting dilemma at the soul of the sport. Ultrarunning beats you up in every way possible—sometimes subtly and sometimes acutely—and yet the thrill and challenge of pushing through the fire and torment continually regenerates and draws us back. And that's especially true at Western States, the most prestigious race with the richest trail running community vibe in the U.S., one that just happens to be celebrating its 50th anniversary this year. 
Asmuth heeded the call to return last year after placing fifth in the race in 2021, and, despite the injury, she wasn't about to miss a chance to get back to the starting line at Palisades Tahoe resort on June 24. 
"It's a little bit strange to go back to a race that really has eaten you up," admits Asmuth, 37, who lives in Mammoth Lakes, California, with her husband, Pete, and their two young boys, Noa, 8, and Liam, 6. "It's scary to go back to a race like that because you know how tough it is and you don't know how the day's gonna go, but you know it's not going to go perfectly."
Asmuth will be be part one of the deepest women's fields in Western States history, which includes returning top-10 finishers Emily Hawgood, Leah Yingling, Taylor Nowlin and Camile Herron, as well as Golden Ticket winners Courtney Dauwalter, Katie Schide, Eszter Csillag, Devon Yanko Heather Jackson, and non-binary athlete Riley Brady who competes in the women's awards category, among others.
There's nothing quite like Western States—the lore, the course, the heat, the personal struggles—all shared by engaged family, friends and the trail running community. 
"To me, it's grounding in the fact that you're choosing the right life path when you want to go back to it. That it's worth all the rehab, all of the cross-training, all the baby steps to get back to the race," she says. "It may be a little crazy to some, but it just shows how deep-rooted the stoke for the day and for the race is. I've been doing a lot of soul searching, to be honest, the last couple of months. It's been a journey for sure, but definitely kind of reignites your commitment to the sport."
RELATED: Yes, Western States is Worth The Hype
Balancing Life
To say that Asmuth lives a full life borders on being an understatement. Aside from being a professional athlete, she works three days a week as a nurse practitioner while also balancing motherhood and family life. 
She's been working as a nurse practitioner for 11 years after starting her career as emergency room nurse on the night shift at LA General Medical Center and then working as a family nurse practitioner in a low-income/free community clinic, where she took care of patients across the clinical and socio-economic spectrum. (She's also volunteered her nursing experience for numerous nonprofit organizations overseas.)
She's reduced her workload since she became a Saucony-sponsored athlete and the family moved to Mammoth Lakes, California, on a full-time basis. But caring for patients remains genuinely ingrained in her life's purpose, so she has no plans to quit the nursing profession anytime soon.
"I think in the public eye people see me as a runner because that's what they know based on what they see on Instagram or what they hear on a podcast," she says. "But, you know, really the other half of me is deeply rooted in medicine and I never want to give up seeing my patients. That's a very big and important part of my life."
Being in Mammoth Lakes not only gives her access to better places to train, but it allows the boys to grow up in a mountain lifestyle close to the environment. The busier the kids are, the busier she tends to be, but she finds a way to make it all work.
"Life is very full. It's packed. But it's fun, too," she says. "I feel like I wouldn't want it any other way, you know? Life is full but it's all things I've chosen and I'm very intentional about where I put my time."
RELATED: Heather Jackson is Ready to Go The Distance
100 Miles in One Ridiculously Hard Day
Last June, Asmuth had a legendarily hard day running from Palisades Tahoe resort to the Placer High School track in Auburn. She twisted her ankle early in the race but didn't think much of it, especially as the race wore on and she had severe gastrointestinal issues while battling the scorching heat. In hindsight, she knows she probably took in too much sodium, but ultimately it got complicated by not being able to take in calories for 60 miles.
Somehow, between hobbling with a slight limp from her painful foot, suffering in the hot sun, throwing up numerous times and other physical challenges, Asmuth found her way to the finish line on the Placer High School track in less than 20 hours as the ninth-fastest woman. And she did it sporting a big smile on her face, something she's become known for even while suffering.
"To see her finish top 10 on that day, like it was one of the more bonkers performances ever," says her coach David Roche. "Adversity is not something she shies away from. I think it's one of her great strengths. I mean in classic Katie fashion, she's always gonna push the very top end of what's humanly possible."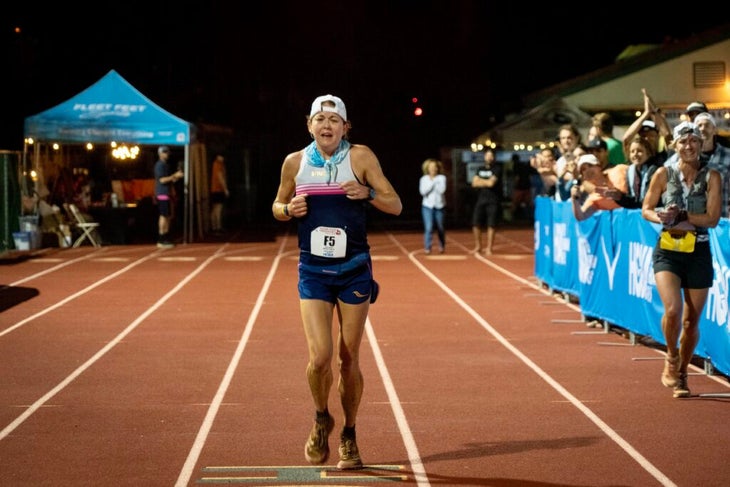 She credits her longtime crew of family and friends for doing the heavy lifting that helped reach the finish despite suffering for most of the second half of the race. Her husband heads up the crew, but it also includes her brother, Dan Parziale, and friends Gwen Ostrosky, Emma De Lira, Keith Yanov and Anthony Snitker. Pacers Alissa St. Laurent and Kelsy Siegel were the ones who kept her ambulatory and motivated, but she also got onsite support from three other siblings—Becca, David and Grace—her parents, Peter Parziale and Emme Dyer Russell, and of course, the sweet, joyful energy of her boys.
"It takes a village, and I couldn't have done it without my crew," Asmuth says. "I have a killer crew of people that I've known for years, learned to train with and then people I continue to train with in Mammoth. It's fun to have people on your team that have been with you through the whole journey."
She recovered quickly and was soon back to work, but then she learned her left foot was still aching because she had suffered a broken navicular bone, either during the race or from a previously undiagnosed stress fracture. She had surgery in late July, which meant she had to cancel her plans to run the late-August CCC 100K in Chamonix, France. 
It was the first significant injury of her career, but she took it in stride and trusted the process, focusing on what she could do, not what she couldn't. In mid-September, she was helping out and cheering on runners at the new Mammoth TrailFest and giving back to the community in other ways.
RELATED: Western States 100 Mile Endurance Run
After almost 10 weeks ambling around with non-weight-bearing devices, she eventually transitioned to a walking boot. Then she endured months of physical therapy and cross-training before she was cleared for light running in December. It wasn't until early January that she began running 30 minutes at a time.
All the while she was grinding on a bike, elliptical machine and doing menial exercises to regain strength—not to mention balancing work and family life—her primary motivation was to get back to the starting line at the base of Palisades Tahoe resort so she could run Western States all over again.
Back on Her Feet
She returned to racing in March, when she placed third in the Way To Cool 50K near Cool California, and then was third at the Gorge Waterfalls 50K in Oregon. Both of those went well enough, but she split her knee open when "super-womaned" down a thick muddy descent after clipping her toe in the latter race and needed sutures and time off from training. She recovered without incident and by late May, she was in top form during the three-day Western States Training Camp. 
When she got the green light from the doctors, she began doing three hard elliptical workouts a week, Roche says. 
"The types of things that I would give athletes in those situations, I almost cringe a little bit because it is so difficult," he says. "And every single time she just stepped up with so much fire and the, she's just absolutely nailed every little step of the way. I have never seen an athlete work so hard. It's one of the most inspirational things I've ever seen."
Why keep grinding to get back when she already has back-to-back top-10 finishes under her belt? She doesn't have anything to prove, but it's more about relishing in the opportunity to be a part of the special, family-like atmosphere of the race.
"Once you're a part of it, you're never, you're never not a part of it," she says. ""I know how hard Western States is and I know what it takes to have a good day out there, and you really do have to leave a little part of yourself or a big part of yourself on that course," she says. "You know, there's gonna be a lot that doesn't go right, and it's, it's a little bit like jumping into the unknown, even though I've done it twice before. Every time you sign up, there's gonna be, it's gonna be a memorable day, whether good or bad."