Kara Goucher's Advice to Her Younger Self: "Believe in Your Power"
World championships silver medalist Kara Goucher recounts how silencing her intuition didn't serve her well. Now she gives the advice she wishes she received as a young runner.
Heading out the door? Read this article on the new Outside+ app available now on iOS devices for members! Download the app.
When I started running it was all about joy. I only ran a few times a year. Whether it was running a quarter mile at the Mother's Day Run against the boys and trying so hard to get a special medal, or running here and there with my grandpa. And maybe a race or two that were around town. I was really into dancing and soccer; running was just a fun thing I did every once in a while.
After running for my middle school cross-country team, the high school coach asked me if I wanted to join the high school track team in the spring. There were already a few girls doing this, walking down to the high school after the school day and participating in high school sports. I said yes—I was excited to run and compete more.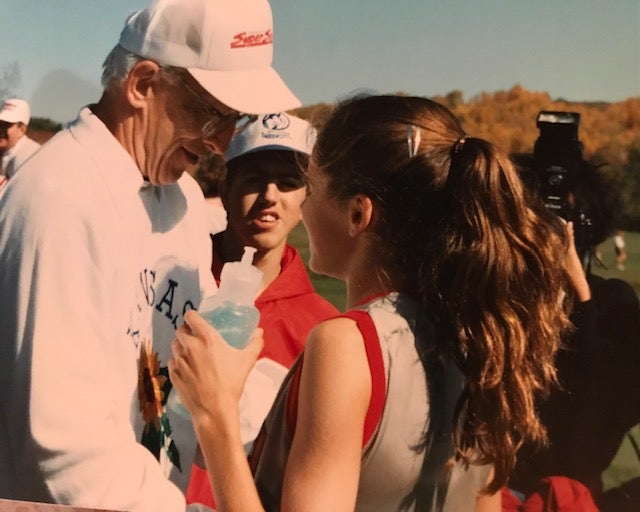 By 8th grade I was running really well, and I upset the defending state cross-country champion. I won half of the races I entered. I started dreaming of being a state champion. I finished 3rd in the state cross-country meet and the state track meet in the 3200 meters as an 8th grader.
It seemed like every time I laced up, I got faster. But then I started to feel pressure. I had to win everything. I had to run personal bests at every competition. This was an impossible standard. This was a mindset that only leads to failure.
Looking back at my younger self, there are many thing I wish I had known. I wish someone had told me that I was right where I needed to be. I was learning the sport, learning how to win, how to lose. I was learning what racing strategy was, I was learning what my strengths were and what my weaknesses were. This is all valuable information. I wish I could have taken the blinders off and seen that this was the very beginning of a long relationship with running and racing. I didn't have to win everything at once. How boring would that be? I would have loved to think more long term, that not setting a personal best in the 11th grade does not mean that I would never get better. That losing at the state meet did not mean I had no value. The pressure I put on myself back then was insane. I wish I had been able to be present, not always worrying about what I might lose. I wish I had known that the key to a loving relationship with running was to take each experience as it came, one at a time.
RELATED: Mirna Valerio's Advice to Her Younger Self: Practice Saying "No"
I feared puberty like it was a villain in a horror film. I was little, like many of my teammates—young and prepubescent. But right before Footlocker Nationals my junior year, I lost the race against the puberty monster. It got me. I was embarrassed with how much my body changed. I grew taller, wider. I got breasts and thicker legs. I was so ashamed of this body. I would try to run harder, a little longer, and it was so hard. Whose body was this? It didn't move the way I was used to. It didn't effortlessly pop off the ground. I'd see pictures of me racing and I wouldn't recognize myself.
"You finally look like a young woman," people would say. To me it felt like they were saying, "You failed. You will no longer be fast." I resented my body, the growth that was happening. My results on the track suffered. I hated what had happened to me.
What I really wish was that someone had pulled me aside and said, "Kara, don't despair! Your body is doing exactly what it is supposed to be doing! It will take a while, but when you get used to it, it is going to take you so far. It is going to be stronger than you ever imagined you could ever be. You are going to get muscles that will make you so much more durable. The times for the 3200 that you are think are fast now—with your new body you'll be able to run those same paces… for a marathon! Hang in there. Lean on your teammates. Focus on what you can control and not what you can't. Have faith. Once you adapt to this new body, you are going to be able to do things you never could even dream of."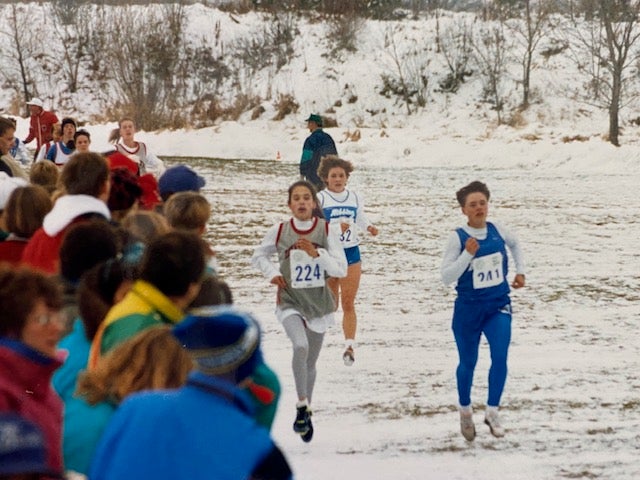 My senior year, my step-father started getting a national newspaper. Once a week they would print the fastest track times from around the country. I'd run 5:05 for the 1600 meters and feel pretty good about it, but then read that someone else ran 4:48. This was the beginning of a comparison game that was crippling. Instead of feeling good and confident in the progress I was making throughout the season, I'd see other times and tell myself I wasn't good enough. This continued into college. As websites started popping up, I could immediately find out what other women around the country were doing. I'd have a solid day on the cross-county course but then I'd read that someone else broke a course record.
The thing is, the comparison game never works. Maybe I was obsessed with a time someone ran, or I was obsessed with an actual opponent. Instead of focusing on what was making me great, I was wasting so much head space worrying about someone else's success. I wish I had someone tell me to stop this. That playing the comparison game only empowers others, not myself. No one has the same journey throughout running and competition. Everyone falters, everyone shines. What works for some athletes is not necessarily what works for you. I wish I had learned early to really just focus on myself. Was I working hard? Was I making progress? Then it doesn't matter what is happening elsewhere, that's just giving competitors space rent-free in your head.
Focusing inward and appreciating my own progress lead to the biggest successes of my career. Decide to limit distractions that take you away from your own journey. Choose to bet on yourself.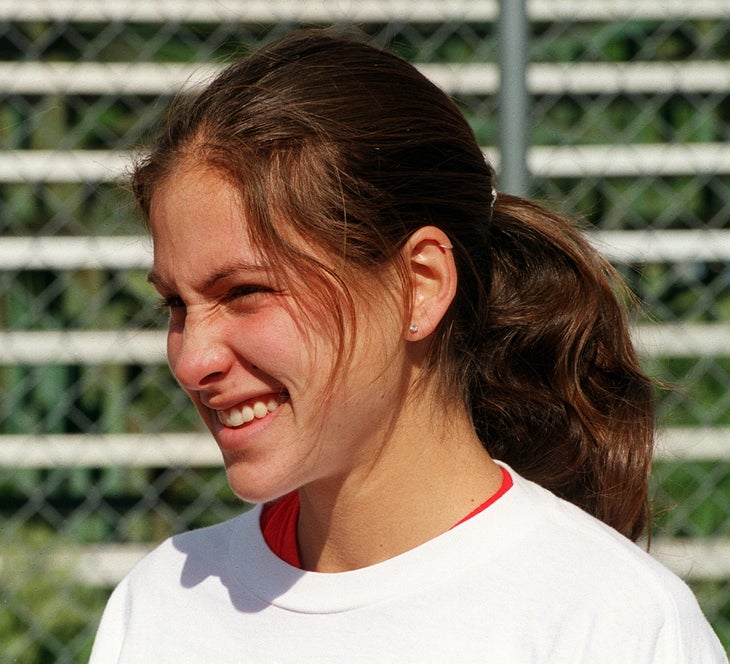 There were so many times in my running career when I felt one way, but allowed other people or coaches to talk me out of how I was feeling. I learned to be a good listener and soldier, and in the process defeated my own feelings and intuition. There were times when I knew I was redlining in practice, but I didn't want to let anyone down, and so I'd keep running. More often than not, this would result in an injury. There were days when I felt sore and tired and a little voice would say, "today is not the day to push hard" but I'd see everyone else pushing through and so I would too. Days later I'd get sick or develop a niggle.
You have intuition for a reason. It will protect you in all stages of life if you listen to it, trust it. As I got older, I'd have days where I would say, "I'm tired today. This isn't the day to do the 20 mile tempo." We'd wait two days and I'd nail it. Yes, maybe I missed a small workout because we pushed it back, but my body was on an edge, and that probably would have pushed me over it.
There were times when this worked out in races too. In my first half marathon, my coach told me to just stay on Paula Radcliffe's back as long as possible. After all, she was the world record holder in the marathon and I didn't know what I was doing! But halfway through I started to feel like I could go faster. I pushed a little and started to pull away. Then I doubted myself and slowed and let her catch back up. But my gut said, "You can do this," and so I pushed again.
Running down toward the finish line, I never could have imaged the result: 1:06:57 and the victory. This was a good lesson that you know your body better than anyone else. You may have a plan with your coach, but only you know what you are feeling in the moment. Don't silence your intuition. Go ahead and trust your gut!
RELATED: Kara Goucher is Protecting the Next Generation
Growing up Kara Clean Grgas Wheeler in Duluth, Minnesota, I was about as shy as you can be. Yes, I was comfortable around my friends, but walking through the halls of school, attending a school dance—that would be agony. I was so sure I was being judged. I wanted to be liked and I wanted to fit in. There is nothing wrong with this.
Believe it or not, I am still shy. (That's why I love online shopping.) But part of my shyness made me quiet. I would see something I didn't agree with and inside I'd think, "That's not right," but outside I would say nothing. It took me a really long time to find my voice—until my mid-30s. Believing that I am allowed to share my thoughts and opinions has completely changed my life. We are allowed to speak up when we see injustice. We are allowed to have opinions based on our experiences. And we are allowed to stand up to people who try to make us feel inferior. (Trust me, my 14-year-old self could never have imagined that I would even write this essay. She would think, "I'm not qualified, no one cares what I think.") If we all stay silent then nothing changes, for better or worse.
I'm not advocating that you disagree to disagree, but when you know something isn't right, when you feel that in your gut, you can and should stand up for what you believe in. I've found that even though a lot of the time I thought I was the only person feeling this way, when I spoke out I found out that endless other people felt the same way too. One of us just needed to say something. Use your voice, use it for good.
When I look back at my nearly 38 year journey with running, I know how lucky I've been. I know how much I have loved it and just how much it has given me. But I also know it could have been a little smoother, with a little less heartache. So listen up young Kara: Read this over and over again. Believe in yourself and your power. I'm proud of who you become.
RELATED: Want a Healthier Running Culture for Women? Start With Girls