In Her New Book, Kara Goucher Shares Her Full Self
The two-time Olympian uses a deeply personal story of her time in elite running to encourage other women to use their voices, as well as further revelations about her time under coach Alberto Salazar.
Heading out the door? Read this article on the new Outside+ app available now on iOS devices for members! Download the app.
Editor's note: This report includes references to sexual assault.
Anyone who's closely followed professional women's distance running is undoubtedly familiar with the fact that Kara Goucher was one of the whistleblowers in the anti-doping case against her former coach, Alberto Salazar, and subsequent investigation into her former team, the Nike Oregon Project.
While Goucher went public with her experiences in 2015, in an investigation published by the BBC and ProPublica, she has hinted that more information would come to light in due time. And after much anticipation, Goucher has finally released her memoir, 'The Longest Race: Inside the Secret World of Abuse, Doping, and Deception on Nike's Elite Running Team,' co-authored by Mary Pilon.
While the book does dive into what Goucher, a two-time Olympian and World Championship silver medalist, witnessed on a deeper level, it also covers many personal experiences that she hasn't shared publicly until now. Goucher sat down with Women's Running to discuss what made the timing right to come forward now, what changes she wants to see in women's running across various aspects of the industry, and why it's important for all women to cope with their personal lived trauma on their own terms.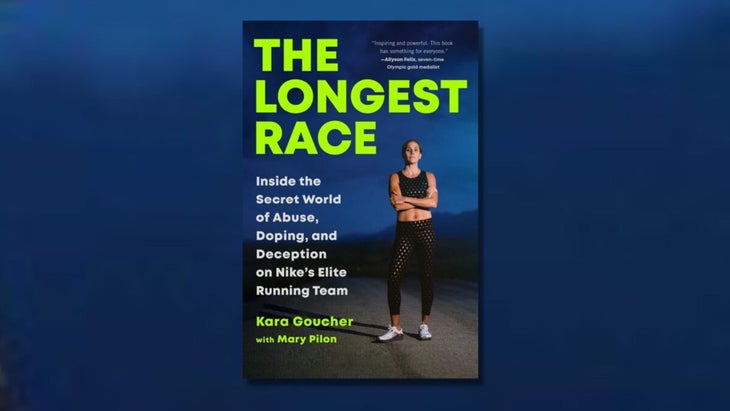 Women's Running: Congratulations on the book release. There's a lot in there that you haven't revealed before, about questionable things you witnessed and experienced during your time with the Nike Oregon Project. You've hinted these revelations were coming for a while, which I'm guessing played into your title choice of 'The Longest Race.' How are you feeling about having everything out there now?
Kara Goucher: Yes, that's correct. I can't believe it's finally here. Of course, I feel nervous about how it will be received. But at the same time, I'm so ready to not hold things in or to keep secrets for other people anymore. This is something that has affected my life and I feel like this is a chance for me to finally be able to move forward and just say what happened and talk about what I witnessed and experienced. I don't have to carry any of those secrets around anymore.
WR: Who do you most hope reads your book and what do you hope they take away from it?
KG: Oh my gosh, that's a great question. I obviously hope that a lot of people read it, but specifically, I hope college-aged women read it so that they know they're not alone and know things to look for that I wasn't aware of and I didn't know about.
I also hope even women my age, in their 40s or 50s, who have experienced some trauma and always felt like it was their fault or felt they were alone, can read it to know that they're not. I was a married woman and I had some really crappy experiences, and there's a lot of shame in that. But I've worked through enough therapy to know that it wasn't my fault and I guarantee I'm not the only person that felt that way or experienced those things.
WR: At the beginning of the book, you note that your husband, Adam, has always been unafraid to stand up to anyone, while you've always been one to avoid confrontation. But as time has gone on, you seem to have grown more comfortable with speaking your mind and not caring as much about what other people think. Would you say that's accurate?
KG: Adam definitely has much thicker skin than I do, but I've learned that it is important to use your voice. I have periods where I get a lot of hate mail or trolling on the internet, and he's my go-to resource when the going gets rough because he's so funny.
But I do still hate confrontation and fighting, though I've realized that sometimes you have to do the right thing, and that might come with some confrontation and fighting. But at the end of the day, it's the right thing to do if it helps you and other people. I would like to say I have thick skin and nothing hurts me. And my feelings do still get hurt, but not enough to make me not stand up for what I believe in.
RELATED: What is the United States Center for Safe Sport?
WR: There are some things that you cover in the book that you've briefly touched on before about your time with the Nike Oregon Project, including verbal abuse, pressure to lose weight through questionable methods, and witnessing instances of potential cheating and doping among your teammates. 
But there's also a lot you haven't shared publicly until now; specifically the sexual harassment and abuse that you endured at the hands of your former coach, Alberto Salazar (which played a role in his ultimately being barred from the sport for life by the United States Center for SafeSport). That had to be difficult to relive as you worked on this book, but it's also something that, unfortunately, far too many women will be able to relate to, especially when it comes to not knowing what to do in the moment and deciding when, if ever, to speak up and speak out. What message would you want to send to young women and athletes who may find themselves in a similar position?
KG: First of all, I'm sorry that happened to you and you're not alone. You haven't done anything wrong and there is no right or wrong way to handle it. You're just handling it the best you can with information you have in that moment, which is probably just survival [mode]. There is no timeline of when you have to share it or when you need to move on. In fact, you don't even have to share it.
I'm bracing myself for criticism for waiting so long to share, but that's how long it took me with therapy to be able to do that, and I had to really work through it on my own. I've had so many people question why I reacted the way that I did and I've had to say "You weren't there. You weren't in that moment. That wasn't an option for me in that moment." It was easier for me to say it was a mistake and then to actually deal with the fact that it was intentional. Having to learn that and process that, there was no way I could have talked about it. I just wasn't there.
The one thing I really want [other victims of abuse] to know, though, is it does not have to define you. I am not a victim of Alberto Salazar. I am Kara, and what happened between the two of us does not define me at all.
WR: You also share career moments and interactions with one of your running idols, Lynn Jennings, who very recently went public with her own experience of being sexually abused by her coach. What was your reaction to learning about that?
KG: I don't have a lot of idols, but if you read the book, you'll see [Jennings] has been one of mine since 1992. I was driving to the airport to call an indoor meet when I heard the news and I just felt devastated by it because it made me see just how common it can be. I felt so freaking sad and it just really broke my heart. I could not stop crying.
Again, I think these things show that you can be running really well and have success while you're dealing with these other things. When I was testifying in the SafeSport case [against Salazar], some of the people speaking on his behalf were saying, "But she was running so well. How could that possibly be?" And I think [Jennings's] experience just sums it up. You would never know what someone's dealing with or how they compartmentalize it or mentally push it aside. I was so sad to read about what happened to her and I did reach out to her privately and let her know that.
WR: Do you think running and sports companies are better equipped to address these issues now, or is this more likely to still serve as a wake-up call? 
KG: I think there needs to be safe people for these training groups, for the athletes, who are completely independent of the brand. You need a third party that's neutral. There should be someone checking in with athletes, who they can feel safe opening up to and who can hold the brands accountable. I don't know why someone hasn't done that yet. It seems so easy and simple.
In my situation, where was I going to go? To [Nike director of athletics] John Capriotti? To [current Nike executive chairman and former president and CEO] Mark Parker? No. Everyone on the team was running so well; they weren't going to shut anything down over me. I was disposable and the team wasn't. So I still feel like we have a ways to go before we have a system where people can talk about and report this stuff without feeling like they have to go up the chain of command through the brand they're sponsored by.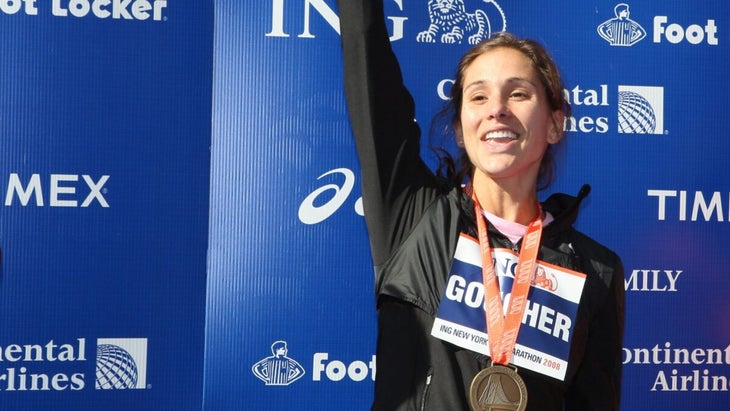 WR: In taking us through some of your biggest career moments, from placing third at both the New York City and Boston Marathons and competing at the Olympics, you share how you weren't really able to celebrate those accomplishments with the criticism that typically came from Salazar immediately afterward. Has it gotten easier to look back and appreciate those accomplishments having come out on the other side after you finally walked away from NOP?
KG: I've never wanted to talk about the Olympics. I didn't feel like I performed there, and that's what I had been told. And then also just looking back at my career, I don't think I'll ever watch the 2009 Boston Marathon. But I feel I have forgiven myself for that, too. I know in the moment I did the best that I could, and I've done a lot of healing on that.
But I also look back now with a lot more grace. I think I did a lot of healing when I went to the Tokyo Olympics in 2021 as a commentator because I saw every athlete giving it their all, whether they moved onto the final, got last in their heat, or won their heat. I did a lot of self-healing through that process. I don't have an Olympic rings tattoo, but I actually am getting one this Friday with my son, Colt, because he wants me to get it so badly. I'm finally going to get it, 11 years later.
WR: As a woman of color working in this industry, I especially appreciated how, in sharing your experiences with Nike, you not only addressed inequities in pay among men and women but also existing disparities in the recognition of white female athletes compared to female athletes of color. Those things definitely play into who gets certain financial opportunities and when you compare salaries for white men specifically to women of color in pretty much any industry, the wage gap is even bigger. 
Fellow former professional distance runner Lauren Fleshman also discusses this in her recent book, and she has said she believes there's hesitance among athletes to speak openly about this both because of confidentiality clauses they have to adhere to, and because talking about money is still often viewed as taboo and in bad taste. What are your thoughts there? 
KG: That is the one thing where I feel like I could get sued because I do talk about all the contract details. But I think it's important because if you don't know what your worth is, how can you ask for it? I was getting paid, I felt like I deserved that money, but I also knew I was getting paid a lot more than the Black women who were kicking my ass, and that was conflicting. If they don't know what I'm making, how do they know to say, "Hey, she's making four times what I'm making and I beat her every time we line up"?
So, of course, it's always uncomfortable to talk about money. But I feel like it does a disservice to athletes when we keep everything behind closed doors. It keeps the status quo of the white female runners being able to make more than athletes of color, just like with men and women alone. Until we can talk about this openly, it helps keep that oppression in place.
WR: You also talk about how you essentially had your hands tied about racing at the 2011 World Championships with a femoral neck stress fracture after being told you "got off light for the pregnancy thing," and you felt you had no choice when it came to racing while injured or returning to competition so soon after giving birth. Do you think athletes are in a better position now to be able to advocate for themselves when they feel they need to listen to their bodies?
KG: No. Contracts are still written with race requirements and ranking requirements, and that's the thing that needs to change. I understand that brands need a return on their investment and you can't give an athlete a bunch of money and then they just don't race and they don't do any appearances, and you don't get any of that money back that you invested. But the fact that they were having someone run with a femoral stress fracture and the doctor who was giving her a cortisone shot to try to mask the pain told her, "You don't have to do this," and I said, "Yes, I do," was ridiculous. It was so shortsighted and put me at risk for not making the 2012 Olympic team. Was it so important that I ran at Worlds just to have another Nike shoe on the track, rather than having another athlete get to go while I fully recovered to come back and qualify for the Olympic team?
These are the conversations that need to happen, and these are the reforms that we need in contracts. Not everything is black and white. These things force athletes to make really poor choices and feel like they have to run injured and can't take the rest they need. And until contracts are changed, people are still going to have those experiences.
WR: It was only after you and Alysia Montaño, and, later, Allyson Felix, participated in the "Dream Maternity" piece for the New York Times that several brands eventually took steps to add maternity clauses to athlete contracts. Do you think female athletes are in a better position to ask for clearly outlined protections now?
KG: I think [Montaño] and I got people talking, but [Felix being Felix] got people mad. That was what we needed, so I have to just acknowledge her huge role in that.
I think a lot of smaller companies changed right away – all the brands I was running for at the time (Oiselle, Altra, and Nuun) immediately put clauses and addendums into their existing contracts, giving athletes protections. Nike was actually one of the last ones to do that. They waited a while, but I think the public pressure helped.
We're definitely in a better place than we were four or five years ago, without a doubt. But I still feel like it's sort of taboo to ask. I remember when I signed my first contract with Nike and Adam (who was still my fiancé at the time) asked "Well, what happens if she gets pregnant?" and I gave him daggers through my eyes like, "Don't ask that. I'm so lucky to have this opportunity. Don't make them think that I'm just going to have a baby and fall apart."
But the truth of the matter is that running careers are going longer and longer and people are going to have babies. There are so many babies being born to distance runners right now, most recently those of Abbey Cooper, Elle Purrier St. Pierre, and Kate Grace. Now we're going to get to see them come back and return to the top of their game, and see that it is not the end of their lives. It's just a reality of what the situation with sport is and women need to feel safe to say, "What is my protection?"
RELATED: Nike Maternity Ad Prompts Response From Allyson Felix
WR: What else would you like to see from brands in this regard?
KG: Brands need the word "maternity" to be in their contracts because that's the word that gives athletes legal protection. That is what's missing in many contracts as of right now.
Brands also need to give new mothers more time to recover and come back. Nine months isn't enough time. If you want to come back to competition within nine months, that's great; good for you. But I think there needs to be an overall understanding that it takes time, and the less we rush female athletes to come back from giving birth to a baby, the less chance there is that they're going to get injured. That was my whole career after I gave birth to my son; I was healthy for three months, then severely injured, then healthy for three months, and then injured again because I never was able to heal.
Brands should also just continue to tell their athletes' stories. It's not like athletes lose their value just because they're not racing. You can still be telling these stories about how they're slowly coming back, how they're dealing with postpartum; these are all things that people care about. I'd love to see a shift in the storytelling from just "hardcore mom" to "What does this really look like on a daily basis and what is this journey like?" because there are a lot of women runners who have had babies and can relate to that.
WR: Between your book, as well as those from Des Linden, Fleshman, and even Alison Mariella Désir with "Running While Black" all being released within the span of a few months, it's safe to say women's running is having a moment in media right now. But even so, we still have a long way to go to get the same attention it deserves compared to men's sports. What are some other women's running stories you want to see told that you think not enough people know about? 
KG: It's funny you say that because when I first signed my contract, I remember saying, "Oh my gosh, this is too many women's running books within a six-month period." And my co-author [Mary Pilon] was like, "What? That's crazy. No one would say that about baseball or football memoirs." And she was right.
I would love to see a story on Faith Kipyegon from Kenya, about the way she grew up, how she lives, how she manages with her daughter, Alyn, and what does that all look like. Kipyegon was also in a situation where, culturally, female athletes don't force themselves to come back after giving birth. She took her time coming back and look at the good it did. She's been healthy and she's been running so well. She is the best 1,500-meter runner of all time and she has a daughter who is there and she's still dominating. So she is a huge inspiration to me of what it could look like if you weren't forced to race for a full year after giving birth and if you were really able to enjoy that time with your baby and let your body heal. What could it look like? It could look like Faith Kipyegon, who is an all-time great.
I'd also love to see a story on Caster Semenya, [the South African athlete whose genetic condition has led World Athletics to ban her from competing in certain track events unless she suppresses her testosterone levels with medication or surgery], and on [recently upgraded 2021 Boston Marathon champion] Edna Kiplagat, who adopted her sister's children when her sister died.
There are so many powerful stories that just haven't been told. We've just seen snippets at competitions, but they are real people and that's what I want to see. I want to see what's happening behind the scenes and how they got to where they are and became who they are. I hope they know their stories are worth telling and I hope someone will fight for them to tell them.
This interview has been edited and condensed for clarity.
RELATED: Des Linden and Kara Goucher Become New Voices on the Podcast Scene