How 100 Women of All Ages Combined to Set an Amazing Running World Record
The San Francisco Women's Miler Club averaged 5:35 per mile for 100 miles in an all-day relay.
Photo: (Photo: Lindsey Pfeiffer)
Heading out the door? Read this article on the new Outside+ app available now on iOS devices for members! Download the app.
As a mother of four young kids, Clara Peterson knew she was going to have a typically busy Saturday balancing weekend sports, birthday parties and an assortment of other activities. But the 39-year-old  runner from Larkspur, California, made it a point on June 3 to plan her day around running just one mile as fast as she could.

Sierra Brill, a 24-year-old recent college graduate, wasn't nearly as busy that day, but she made time to run a fast mile, too. So did Sarah Swanger, a 36-year-old runner from San Francisco who happened to be 22 weeks pregnant, as well as Cat de Jong, a 33-year-old new mother who is just getting back to running after a difficult bout of postpartum sciatica nerve pain. And then there was Peggy Lavelle, a 62-year-old masters runner who has been running in San Francisco since she was a teenager in the mid-1970s.

Peterson, Brill, Swanger, de Jong and Lavelle, along with 95 other dynamic women, showed up at San Francisco State University's Cox Stadium to run a singular mile on their own, at their own pace. But their collective efforts and shared passion transcended their individual results and exemplified the vast power running can wield through a shared purpose of a connected community.

Running as the Nike San Francisco Women's Miler Club, the group of inspired San Francisco-area women ran 100 miles in 9 hours, 18 minutes and 32 seconds to break the world record for the 100 x 1-mile relay. Averaging an impressive 5:35 per mile during the non-stop event, they chopped five minutes off the previous best set by the Canadian Women's Miler's Club in 1999.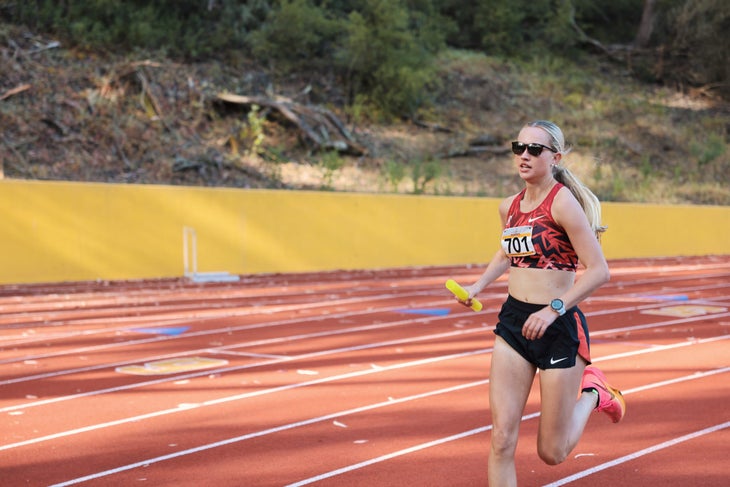 The results and numerous layers of documentation are being submitted to Guinness World Records for validation with the expectation that it will bring the record back to San Francisco. Bay Area running groups have broken the record in the past, as early as 1977 and as recently as 1997. 
Nike-sponsored professional runner Vanessa Fraser, who grew up near San Jose and ran collegiately for Stanford, started the relay off for the club with a 4:58 split at 7:30 A.M. Lavelle ran a 5:50 split on the world record-setting relay organized by San Francisco's Dolphin South End Runners in 1977 when she was 16. She was the final runner in this year's relay, contributing with a 7:48 split to secure the new record just before 5 P.M. that afternoon.
"It's great to see so much support for a women's event in sports," Lavelle said. "In my era, women weren't always accepted in sports … It just shows how far we've come."

Sponsored by Nike and co-hosted by several local running clubs—San Francisco Road Runners, Dolphin South End Runners, Impala Racing Team, Pamakid Runners and Olympic Club Foundation—the event raised more than $5,000 for Girls on the Run, a nonprofit that aims to increase girls' access to and empowerment through running at under-resourced schools in the city. A Runner's Mind, Lululemon, Sports Basement, Bras for Girls, and Skratch were among the many in-kind donors to the event.

The event was directed by Shawn Sax, a San Francisco Road Runners Club board member who began recruiting runners a year ago. He wound up with 100 runners ranging in age from 13 to 63, but he also had a few alternates on standby just in case they were needed to run in a pinch.
The fastest split of the day belonged to Gillian Meeks, who clocked a 4:53 mile for Mile 32, although Kayla Knapp wasn't far off with a 4:55 split for Mile 42. The youngest runner of the relay was 13-year-old Josephine "JoJo" Gregg, who ran the second mile in 5:46.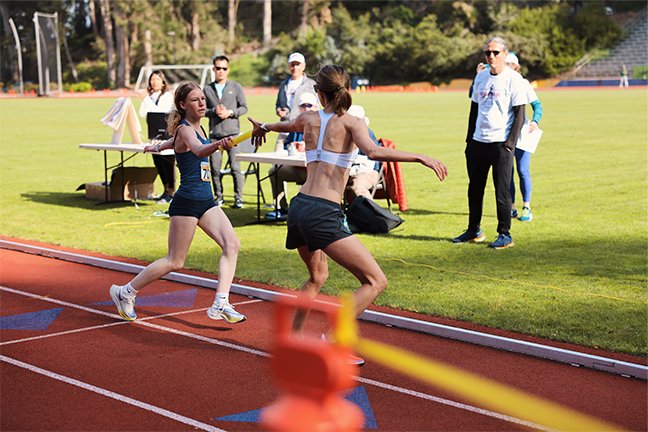 "There was no sense even worrying about a strategy when all about just getting everyone plugged in and making it work for everyone's schedule," Sax said. "We had 100 different people, many of whom had something going on that day. We had moms who had to go to kids graduations or kids who had to run in the morning and we had others whose kids had to take the SATs in the morning, so they had to run in the afternoon. But they all delivered and ran some really amazing times to help us get the record."
Running is one of the world's most accessible mass participatory activities, but it has had inclusivity issues in the U.S., and it's still often segregated by pace or age or a specific discipline of the sport. Although speed was at a premium for this event, it was intentionally designed to be as inclusive as possible with a diverse group of women that included mothers, grandmothers, cancer survivors, school-aged runners, former collegiate runners, longtime masters runners and more.
"Running is such an individual sport, and having the opportunity to compete as part of a team with the common goal of setting a world record, that could only be achieved if each one of us ran our best, was special," said Nancy Simmons, the oldest runner in the relay at 63. She ran a 6:05 split for Mile 56. "We will always be linked together as record-holders."

Although most women came to run their mile at their assigned time, mostly followed the progress on social media and some returned to watch Lavelle run her historic mile to finish it off. Throughout the event, there was a shared sense of accomplishment and sisterhood—through smiles, cheers, hugs and even a few tears, said Swanger, who ran a 6:18 split for Mile 99 and was thrilled to show that pregnant women are powerful and not limited.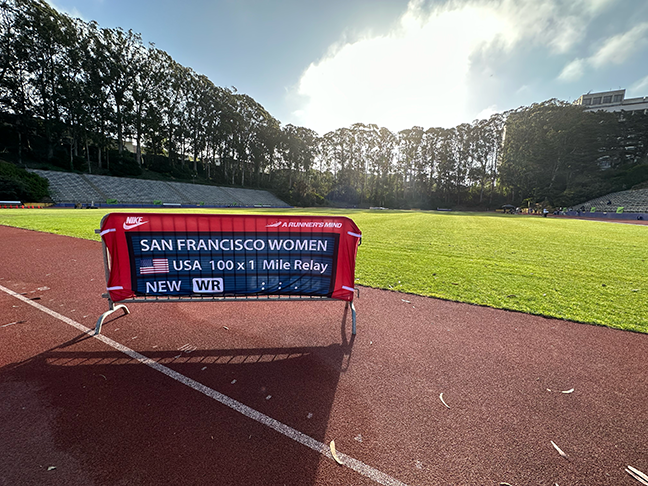 "When I initially signed up to participate, running a mile in 5:30 was well within my wheelhouse, but unlike in a typical training scenario where things become easier and faster, for me, each day that passed things became more and more strenuous for my body" she said. "But it was an incredible challenge and something that I am proud to have achieved. I shifted my mindset and rather than experiencing my changing body as a limitation, I embraced the fundamental strength of what it was accomplishing—creating a new life and allowing me to run. Many of us were strangers to each other but in that moment we became a team, and it felt like we were truly all connected and proud to have done this amazing thing together."

De Jong gave birth to her young son, Aidan, in October 2021, but she experienced severe sciatic nerve pain during her first year postpartum, making it tough to run consistently. She finally had surgery to resolve the issue last October and was able to get back into a groove with consistent training.

"The best part of running this relay was having my 20-month-old son there to watch me and cheer me on," said de Jong, who contributed a 5:34 mile split. "My highlight was getting to take photos with my son Aidan and the other two bad-ass moms on my team and their children after we finished our legs. I'm finally able to consistently run again and this gave me the confidence to start thinking big again for races later this year."

Meanwhile, Brill contributed a 5:01 mile and had the time of her life being part of such a diverse group of women.

"This entire event was insane and wonderful and beautiful," said Brill, who is an assistant track and cross country coach at San Francisco State. "It's not often that you get to see so many women of so many ages, ability levels, and backgrounds coming together to participate in one single event, much less do it explicitly for each other. Running and racing are naturally individual sports until you enter in a relay, where you are completely reliant and trusting of those on your team to accomplish your goal. Not only were 100 nearly strangers able to come together and complete the relay with no disqualifications or hiccups, but 100 nearly strangers broke the world record!"