The Secrets of Courtney Dauwalter's Success
OK, there are no secrets, but she combines hard work with a fun vibe and doing whatever works for her
Heading out the door? Read this article on the new Outside+ app available now on iOS devices for members! Download the app.
Courtney Dauwalter has earned the reputation as one of the best female long-distance runners of all-time, the G.O.A.T. among female ultrarunners. The 38-year-old runner who's originally from Minnesota and lives in Leadville, Colorado, has won more than 50 races of 50K or longer over the past 10 years, including twice winning the Madeira Island Ultra Trail 115K, Western States 100, Hardrock 100, and Ultra-Trail du Mont-Blanc, plus overall wins (beating all the men, too) at several races, including at the Moab 240 (2017) and Big Dog's Backyard Ultra (2020). 
But as great as she has been, she's seemingly risen to a new level this year with course-record wins at the Bandera 100K and Transgrancanaria 128K early in the year, and most recently, the unprecedented feat of winning the Western States 100 and Hardrock 100 just three weeks apart, also in course-record times. And she's not done yet.
On July 28, she announced she's decided to enter this year's Ultra-Trail du Mont-Blanc on September 1-2 in Chamonix, France, a very competitive and rigorous 106-mile race that encircles the Mont Blanc Massif. 
Here are 10 things that have contributed to Dauwalter's success:
1. She trains very hard.
Dauwalter doesn't have a coach, isn't on Strava, doesn't follow a training plan, and sometimes doesn't wear her data-tracking Suunto smartwatch on her training runs. But she's meticulous about working hard, living a normal life, and having fun. Since moving to Leadville full-time in 2020, Dauwalter has been living at an elevation of 10,200 feet and often running up and over the high local peaks that range from 12,000 feet to 14,450 feet. She says she wakes up everyday and determines what kind of training she'll do that day, mostly based on how she feels, what she has coming up and the weather forecast. The mileage, vertical gain, and duration of her weekly training varies, but generally speaking she mixes long runs (which range from 10 to 30 miles), a lot of vert, and some spicier (but unstructured) speed work with occasional cross-training (mountain biking, cycling, bodyweight strength work, and skiing in the winter months) and occasional do-nothing-at-all rest days. 
"Everybody's different. Your high mileage weeks are not going to be the same as your buddy's high mileage weeks, and that's totally OK," she says. "I know people training for these 100-mile plus races doing a range of 40 to 50 miles a week of running to 140 miles a week of running. So I think that's what's kind of cool about ultrarunning. It's not a super dialed system yet of what it takes to prepare yourself for it. So you get this puzzle to play with and just kind of figure out what works for your life and your body and what you want to do with it." 
RELATED: Courtney Dauwalter Runs to New Western States 100 Course Record
"My speed workouts are usually not super planned out. I just go out on the trails and mining roads and find a hill I like to do speed work on," she says. "I'll meander that way and when I get there I try to do something faster on a 400-meter stretch and then it kind of depends how I feel. When I get to the spot, I'll at least give it a shot to see how one goes, see how two goes and usually if I get through a couple of them, then I'll have the feeling that this is going to feel so satisfying at the end, so let's just do it kind of a thing,'" 
2. She's serious about running, but she's really chill and embraces fun.
If you follow Dauwalter's social media or have listened to her on a podcast, you've probably heard her talk about how much she loves pastries, pizza, nachos, and beer, and that she eats and drinks whatever she wants without following any rigorous dietary regimen. She also admits to having a sweet tooth, especially for candy. Her favorite mid-race snack food? Jelly beans! But she really likes all kinds of fruity candy like Mike and Ike Original Fruits, Dots, Sour Patch Kids, Nerds Gummy Clusters, and Gummi Bears.

What's interesting is not about what she eats and drinks, but more that she's so transparent and forthcoming about who she is and doesn't alter what she projects publicly or on social media. Some of her other mid-race must-haves are more mundane: Colgate Wisp mini toothbrushes, lip balm with sunblock, and eye drops to keep her contact lenses from feeling like sandpaper.
As much as she's a committed professional athlete, she generally keeps things light and stress free and appreciates when her crew—led by her husband Kevin Schmidt—and pacers tell her jokes, especially corny Dad jokes. The beauty is that she's the same genuine, kind, funny, and sometimes silly person away from running that she is during a race or on a long training run. (This video clip from the Rucky Chucky Boat crossing during the Western States 100 gives a pretty good idea of her easy-going temperament, given that she was on record-pace at mile 78 during the hottest part of the day.)
"To me, it's really important that running stays fun," she says. "Running is fun, it's something I want to do my whole life, days like this, you know, this is what I want to do when I'm a hundred years old," she says. "And so it's important that fun is always at the forefront of decisions and attitudes and feelings about it. Running is fun, and we're so lucky that we get to do stuff like this." 
3. She's modest and humble.
Whether it's her "Minnesota-nice" roots, or how her parents raised her, Dauwalter is as humble, kind, and sincere in-person as she appears to be during races, at awards ceremonies, on podcasts, and on social media. When she wins a race, she never raises her hands over her head, holds the finish line banner aloft, spikes her water bottles, calls out her sponsor logos, or does anything remotely self-serving or vain. Almost always, she immediately she turns around and claps toward the spectators and says thank you, thanks race directors, volunteers, crew, and pacers, and humbly relishes in her accomplishment knowing she had a lot of support in making it happen. "That's just who I am," she says.
4. She doesn't focus on her competition.
In high-profile races with competitive fields—including Western States, Hardrock, Madeira Island Ultra Trail, and even Big Dog's Backyard Ultra—there are other talented women who are capable of winning. At Western States, Katie Schide entered as the defending UTMB champion, while at Hardrock, French runner Anne-Lise Rousset Seguret took an early lead in the race and stayed in a back-and-forth battle with her for the first 60 miles. But, simply said, Dauwalter runs her own race and doesn't worry about the competition. She absolutely respects the other runners in the races, but she knows she can only focus on the numerous variables she can control. 
"The races I do are really long, so everyone's on their own little roller coaster and you might see someone feeling really good, you might see someone feeling really bad, but things can turn around all the time," she says. "For me it's never about racing people. It's racing the course and the day and myself. My thing is: 'Let's make sure we get everything out of it that we can.'" 
She admits every time she gets to the starting line of a race, she relishes in the notion that there is an unknown outcome—even if that means she later learns she isn't as optimally prepared.
"Standing on the start line, I've never had the feeling where I feel the most prepared I've ever felt in my life," she says. "I think that's hard to feel, but when I'm on the starting line I just say to myself, 'We're doing it!' and 'Here we go!' At that point, I forget everything I've done or not done in my training. It's more like, 'I'm at this start line right now and we're gonna start it and see, and we're gonna do our very best to get ourselves to the finish line.' Do I always feel super prepared? No, but it doesn't matter. You know, it's like 'Let's party!' because this is what we've been preparing for."
5. Her mental fortitude is equal or greater than her physical fitness.
Dauwalter talks about her ability to maneuver and expand her comfort level inside the mindset known as the pain cave, but that's not something she works on when she's not running. When she's on long training runs and especially in long, hard races, she embraces the anguish by "shoving the negative thoughts out of my head." (She's talked at length about how she's shifted her focus from trying to avoid the pain cave to embracing it and thriving in it.) She believes positive thoughts, even if artificially postured, help her body calm down enough so she can work on problem-solving any issues she's dealing with, but she also thinks that fabricated positivity can be a physical catalyst to keep her legs moving.
"I think the mental side of ultrarunning is as important as the physical side," she says. "We're training our legs and our feet and our bodies to run, to do this running motion for us. But our mindset and what we tell ourselves in our heads is as important as the running motion. I don't ever specifically train my brain. I sign up for crazy hard races to try to gain more experience of feeling that feeling of 'I can't go any farther' or 'I don't have one more step in me,' and then trying to switch to my brain to power myself forward."
The dialogue that is inside your head when you're hurting matters, she says, and a runner can control it by making a conscious decision to shift away from a negative mindset.
"If you're saying something positive to yourself, it will help you," she adds. "If you're starting to get negative and get stuck in some thoughts that aren't serving you, then it will hurt you. If you find yourself spiraling in a negative way or thinking about everything that hurts or that 'I can't do this' or 'The finish line is too far away, I'll never get there,' then you need to just switch the story for yourself. Force it if you have to. It won't feel like you're telling the truth to yourself. You know how you really feel. But if you can force the storyline to just switch in your head to something positive, say something positive and simple like, 'It's OK. Everything is OK. This is fine.' And so if you start thinking in an overwhelmingly loud way, then your body will follow suit and be like, 'We're OK. It's fine.'" 
RELATED: Courtney Dauwalter Sets Back-to-Back Course Records at 2023 Hardrock and Western States
6. She's adapted her routine as she's gotten older.
While she admits she seldomly does yoga (mostly watching YouTube videos at home), she has been doing more bodyweight strength work and pre-run activation exercises in recent years, including standing squats, leg lifts, a variety of stretches (with exercise bands), and various core strength exercises that focus on her trunk, from her ribcage to the top of her hips.
"I used to be a person who did nothing. I would just roll out a bed, put on shoes and go, but that caught up with me," she says. "The more we ask of our bodies, the more we should try to give back, so as I'm asking my body to do more, I know I should include some sort of stretching and strength exercises. Before a run, I'll do some activation exercises to get the hips and the glutes activated and some core work. Squats are so easy. You can be standing there at your fridge in the morning and you can bust off a couple squats. Your glutes and your hips are so important in running and if you can keep those areas happy, it will prolong, I think, the distances and the amount of time you can be out there. If those muscles can stay strong when I'm tired, then it helps prevent other injuries from happening. If you're keeping those areas as strong as possible, when you're running you don't get floppy when you get more tired, and if you can keep your form tight then I think you can run stronger for longer."
7. She doesn't get worked up about the attention.
Dauwalter has become a true superstar of ultra-distance trail running. As she finished Western States, women in the grandstands at Auburn High School were visibly in tears while cheering her accomplishment. She has 475,000 followers on Instagram and she has cameras and crowds of spectators following her at every race she runs, but she's not caught up in the hype or fascination the way fans and followers might be. Social media exposure and content creation are a necessary part of her brand relationships with Salomon, SunGod, Tailwind, Suunto, Injinji, Kodiak Cakes, and Michelob Ultra, as well as the new content and merch she and Schmidt have recently developed. But unlike the contrived social media personas of some athletes and influencers, Dauwalter's vibe is as real as she is.
"The fact that my parents in Minnesota maybe can see me because those cameras are there and more people get to learn about ultrarunning, I think that's special," she says. "But yeah, it doesn't affect me. It's just running and it's very simple to me. I'm getting to do this thing that I love for an entire day or days, and that's pretty cool. I feel lucky to be part of the sport right now. It's growing so much, and so many more people are getting out on the trails. I think it's a cool time to be in this sport, and I am trying to just embrace that as much as possible."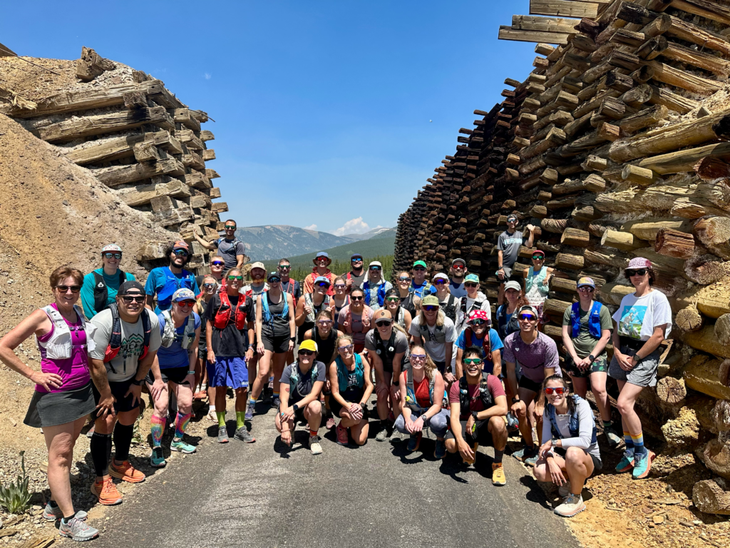 8. She's inspired by the trail running community.
In any trail race she does, Dauwalter knows that she'll share steps with runners of all abilities, and that's one of the connective aspects of the sport she appreciates the most.
"When you're at the finish line all together, it's like we shared that day," she says. "We didn't share a single moment of it, but we know what each other just went through because I did the same course as you, and I was out in the same weather. We have this shared experience that I think brings people together."
"The community's what hooked me on this sport from the very beginning because during my first 50-mile race I face-planted in this mud puddle during a terrible rainstorm," she adds. "And this guy who was running ahead of me in a garbage bag heard me squawk as I hit the ground and he turned around and he pulled me up out of the mud puddle and he's like, 'Let's go!' In what other sport does that happen?"
RELATED: Courtney Dauwalter on Mindset, Mantras, and Munching her Way to the Collegiate Peak Loop FKT
9. She's refined her fueling and hydrating strategy.
During races, Dauwalter mostly subsists on liquids—primarily a lot of water and Tailwind Endurance Fuel, a calorie- and electrolyte-rich product that comes in numerous flavors—including this summer's limited-edition "Dauwatermelon with Lime" flavor that debuted in June before Western States. She also eats some stroopwafels, gels, and chews and she's relied on pancakes when she's suffering from a bad stomach. 
"My race nutrition is very narrow in what I eat during a race, so I usually get nothing from aid stations except some water refills," she says. "My first couple years trail running and doing these races, I would go into the aid station and whoever happened to be in front of me, I would just follow whatever they were grabbing. They'd just grab pickles and chips, so I was like, 'OK, I'm trying pickles and chips' because I had no idea what worked, what tasted good or what didn't work. It was a lot of trial and error. And I think talking to people, you can get all these ideas, but you have to test it for yourself." 
RELATED: Courtney Dauwalter Sets Back-to-Back Course Records at 2023 Hardrock and Western States
10. She embraces winter training.
Dauwalter started running in middle school, but Nordic skiing was the first sport she really excelled at. She was a four-time Minnesota state high school champion and attended the University of Denver on a cross-country skiing scholarship. After earning a master's degree in teaching, she worked as an eighth-grade teacher for several years in the Denver area. She and her husband moved to Leadville full-time before the pandemic hit in 2020 and have loved living in the historic mining town ever since, even in the frigid winter months.
"In the winter I embrace all of the snow activities in Leadville. I do some cross country skiing, some downhill, and just run what I can. It's a lot more road running in the winter, but I think that's OK,"  says Dauwalter, who is also on an outdoor curling team in Leadville during the winter. "I think it's OK to have seasons change with your amount of training and to not force it or fight it so that you end up dreading it. Roll with it to keep it fun." 
It was in cross country skiing as a teenager that she first began to hone her combined physical, mental and emotional tenacity. 
"I had a cross country ski coach who was very adamant that we always had one more gear than we thought we had," she says. "So when we were physically feeling like there's nothing left, he would encourage us and try to teach us that there was one more, there's always one more level you can crank it. So then he started to instill that in me. But in ultrarunning I had to relearn it—almost like I didn't connect the dots right away—but I realized it was the same idea. Ultrarunning is different, a new sport, but it was the same thing—there's always a little bit more left in us that we can keep tapping into."
---
Boulder-based Brian Metzler has run more than 75,000 miles in his life, competing in every distance from 50 meters to 100 miles, running the Rim-to-Rim-to-Rim run across the Grand Canyon and back several times, racing pack burros on many occasions and going up Colorado's Longs Peak 20 times. In 2018, he ran the Great Wall of China, completed the Leadman series and ran a 100K in South Korea. He is the founding editor of Trail Runner and the author of "Kicksology: The Hype, Science, Culture and Cool of Running Shoes."