Maurica Powell is an "In-the-Trenches" Coach
She might be the director of track and field and cross-country at the University of Washington, but make no mistake: Powell is still personally guiding each of her athletes.
Heading out the door? Read this article on the new Outside+ app available now on iOS devices for members! Download the app.
Back in March—when such things were still possible—seven women from the University of Washington traveled with coach Maurica Powell to Albuquerque in March for the NCAA Indoor Track & Field Championships. The day before the meet began, officials canceled it to prevent the spread of the coronavirus.
In an instant, Powell's job shifted from preparing athletes for racing to booking plane tickets, navigating uncertain travel restrictions, and helping each woman cope with the shock and loss of a dream deferred.
"We went from one total extreme to the other—we were at a national championship with a really high-functioning group of girls who were super fit and ready to run well," she says. "Two days later, everybody was gone, and they had no idea what was next."
Each athlete reacted differently. Some were angry; others despondent. One—Carley Thomas—still had a chance to run in the Australian Olympic Trials. Powell worked to get her on a plane and keep her fit and ready, then managed her letdown when that meet—and then the Olympics—were postponed.
Though the circumstances may have been unprecedented, Powell did what she's always done: focused not just on workouts and competitions, but coaching whole human beings.
Throughout more than a decade and a half of coaching, with numerous national titles and accolades, Powell still prides herself on being hands-on with her runners' training and lives.
"I'm an in-the-trenches coach," she says. "The best part is learning how everybody ticks, taking that information and applying it in a way that helps each individual kid become her best self."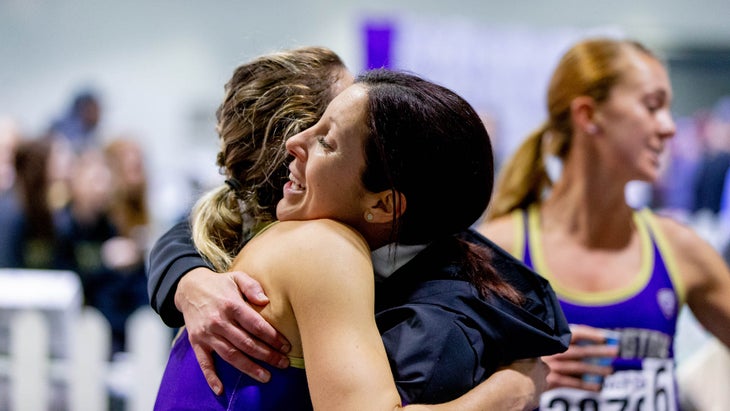 Continuous Improvement
Powell grew up in Franklin, Massachusetts, about 40 miles outside of Boston. There, she ran track and field at Franklin High School and met her husband, Andy, who ran for nearby Oliver Ames High School. Both Powells went on to run at Stanford, where Maurica excelled at middle distances.
"I was a recruited walk-on; I wasn't a scholarship athlete," she says. But the environment created by coaches Dena Evans and Vin Lananna allowed her to reach her potential. "I progressed into being a national-class 1500-meter runner over my time there. I was around a lot of good people all the time, and I got better, too."
After graduation, Andy knew he wanted to coach, but Maurica was less clear on her path. The couple moved to Manhattan, where Maurica earned her master's degree in social work and both served as graduate assistant coaches at Columbia University.
From early on, the time she spent with student athletes was her favorite part of the day. Still, she didn't know for sure which of her two passions she'd pursue. "Andy and I were pretty realistic," she says. "We didn't know there'd ever be an opportunity for us to coach at the same place at the same time."
That is, until their former coach Lananna asked them to come coach at the prestigious University of Oregon. On three days' notice, the Powells packed up and headed across the country to Eugene.
There, Maurica would employ the listening, communication, and connection skills she learned in social work school to shaping young athletes. College coaching is a special role, she says, a front-row seat to watching talented, driven kids turn into full-fledged, accomplished adults.
"You realize they need you super differently over the course of that time," she says. "The way you talk to someone when she's 17 and when she's 22 is super different, in most cases. Watching kids grow and learn and get better at a lot of different things is a really meaningful experience."
Likely—and Unlikely—Champs
The gut decision to go west marked the beginning of a hugely successful 13-year stint coaching the Ducks. From Alexi Pappas to Jordan Hasay to Jessica Hull, the list of top-level athletes whose careers Powell influenced at Oregon reads like a who's-who of track and field.
In 2012, Powell guided a team with Hasay and Pappas to claim the NCAA Cross Country Championships. Four years later, she took another team at the top of the podium—this time by a single point.
It's a victory Powell is particularly proud of because they entered the meet with no prior wins and a 12th-place ranking. Day by day, workout by workout, she watched her women improve in everything from their mile repeat times to their belief in themselves. "They stopped being afraid to fail," she says.
The team would go on to win the triple crown: national championships in indoor and outdoor track as well as cross-country. "We won everything, but that first one was the most fun because we didn't expect it," she said. "They just over-delivered."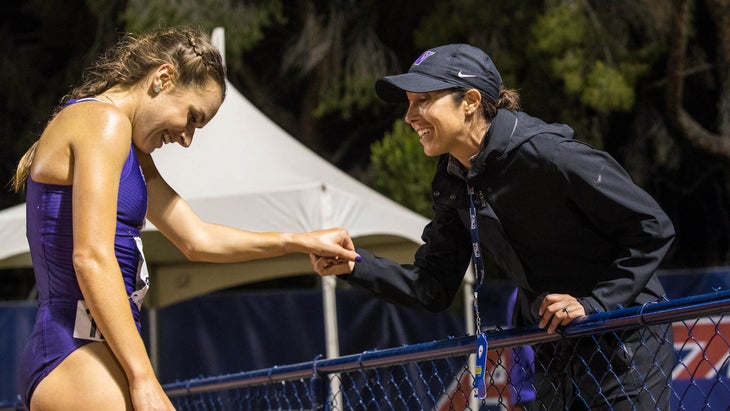 Division of Labor
Of course, coaching hasn't been all national podiums and fairytale endings for Powell. It's a job you can't turn off, and balancing it with parenting can feel nearly impossible. When her second son, Jake, was born, Powell took a year off to care for him and his brother, Owen.
She wasn't sure she'd come back—but with support from her husband and careful planning, she returned. She and Andy would sit down at the start of each season, mapping out who was traveling when and which in-law they could fly back from the East Coast to babysit when trips overlapped.
It wasn't easy, or cheap. But Powell says she's glad she can show other women it's possible to have a family and a coaching career—and also to demonstrate an equitable partnership. "Andy and I both get what the job is," she says. "I feel super supported professionally by my husband and I think he feels super supported by me."
Two years ago, after the resignation of former coach Greg Metcalf, athletic director Jen Cohen recruited the pair to the University of Washington. It wasn't a call they were expecting, Maurica says; they could have happily stayed in Eugene. Ultimately, though, they couldn't pass up the chance to lead their own program.
Now, they divide their work much as they do their household chores, equitably with an eye toward each person's strength. Andy, whose title is head coach, focuses more on budget, while Maurica handles letter-writing and similar tasks. By divvying up administration, they can stay hands-on as they create the kind of atmosphere they thrived in at Stanford—one where excellence is contagious.
Her current roster reminds her of her 2016 team, full of personality and potential. She can't wait until they can compete again (the Pac-12 has postponed all sporting events this semester, but the team is currently training together on campus).
But whatever their accomplishments on the road, course, or track, she knows she's instilled in her athletes confidence they'll take anywhere they go. "Watching the women I work with realize their potential and become the best versions of themselves is really, really rewarding," she says. "And watching them take the things they learned through running and apply them to the rest of their lives—there's nothing else like it."
---
This story is part of a series on women in coaching, where we highlight female running coaches and their individual paths to success. Find more here, and discover tips from these women to improve your own running here. Feeling inspired? Check out our in-depth look at how to become a college running coach with advice from the coaches featured in this series.