Toledo's Andrea Grove-McDonough Aims to Lift Up a New Generation of Female Coaches
The director of cross-country and track and field at the University of Toledo sees it as her role to boost others.
Heading out the door? Read this article on the new Outside+ app available now on iOS devices for members! Download the app.
Andrea Grove-McDonough remembers the moment she felt called to coach.
She was nearing the end of her 12 years of professional running, on a team called the Mountain West Track Club in Montana. She noticed her fellow athletes coming to her for advice on everything from pre-race strategy to post-workout doubts.
An athlete called her up to thank her after a well-run race. Grove-McDonough had been questioning her own future in running. Though she'd had a successful career, she'd never reached her goals of making an Olympic team or the world championships. But she realized her striving had left her with a gift for guiding others.
"That made it all of a sudden just kind of click—this was worth something, because I could put all of this somewhere," she says. "I became 100 percent convinced: I am meant to do this, and I've got to find a way to do it."
With time and effort, she secured her first collegiate position, then another. Last year, she stepped into her current role, where she leads the program—including head coach of both men's and women's cross-country and women's track and field—at a Division I school.
Now, she aims not only to take athletes toward their goals, but to transform the coaching field by both hiring and mentoring a new generation of female coaches.
"There's a saying somebody told me when I was coaching at UNC: 'Lift as you rise,'" she says. "As I gain credibility, to also pull women along and to give them their first opportunity and to help them navigate the profession—that is a really important part of what I'm doing now."
Balancing Act
Grove-McDonough grew up in Winnipeg, Canada, and started running in junior high. She came to the States to run at University of Minnesota, where she finished fifth in the 1,500 meters at the 1996 NCAA Outdoor Championship and earned All-America honors.
At the time, coaching wasn't on her radar—her degree was in human resource development. But when she looks back, she can see where the seeds were planted. In her fifth year in college, she didn't have eligibility to run cross-country in the fall, so she trained largely on her own until the spring track season. "That was my first experience with thinking through what made me feel good, what made me feel confident, what made me feel powerful," she says.
As a professional distance runner, she ranked as high as second in Canada in the 5,000 meters; in 2008, she won the Canadian Olympic Trials in the 10,000 meters. But even as she was still thriving on the track, she was looking forward to what came next.
Between 2005 and 2008, she says, she applied for dozens of college coaching jobs but got few calls back. Finally, Walt Drenth at Michigan State—and now, famously, coach to marathoner Desiree Linden—called her to talk. But, he explained, he already had someone in mind for the opening he had there.
So Grove-McDonough did some sleuthing, found the place the new hire was vacating, and lobbied for it. That's how she got her first gig, at the University of Connecticut, where she started in 2008.
The role suited her: "It was rewarding as I'd hoped it would be. It was also challenging in ways I hadn't anticipated," she says. For one thing, she hadn't expected the degree to which coaches help athletes navigate personal and family issues. "It was sometimes overwhelming. But there's definitely young women—and I would like to think a couple of young men too—who I really made a difference for, without it having anything to do with a time or place or running at all."
And then there were the dual demands of career and family. When her son Smith was born, she worried she'd be perceived differently with her Baby Bjorn and stroller. Support from her stepdad helped; he traveled with her and cared for the baby while she worked. Still, nighttime feedings were exhausting. "Looking back, I don't know how I did that," she says.
By the time her daughter was born, in 2016, she was less worried about others' perceptions and better able to ask for what she needed. "It helps to just be stubborn," she says. "I wanted to have a family and I also wanted to do this job. I was going to figure it out. But there wasn't really a road map."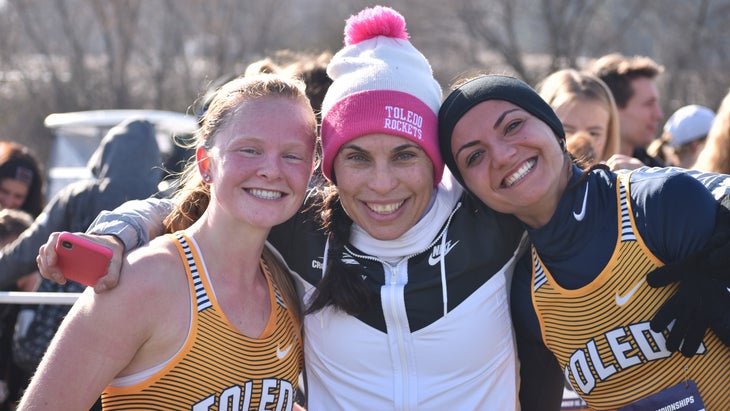 Rising Together
Grove-McDonough turned a struggling program at the University of Connecticut around. By the time she left, she'd led her women to their first-ever NCAA Cross Country Championship appearance, where they finished eighth. When she looks back, the transformation stands as one of her biggest achievements. "How far we came, the things we did—building something kind of from nothing, that's it right there," she says.
But five years in, financial considerations forced her to look elsewhere. She accepted a role at Iowa State in 2013. Leaving her first job was also harder than she'd thought, given the deep relationships she'd developed—she called each athlete individually to break the news. "It was like breaking up with 12 people in one night," she says. "There was so much emotion, you know, a lot of tears."
At Iowa State, she experienced another career highlight: taking the women's cross-country team to a second-place finish at the 2014 NCAA Women's Cross Country Championship. She stayed another five years, then moved on to UNC. There, she coached both men and women, which was something she had realized in interviews for director positions she was lacking.
After just one year, her athletic director left, and Grove-McDonough faced a choice about her future. As she plotted her next move, she weighed family concerns: Though her husband's job as a physical therapist is relatively portable, her son had already changed schools three times, and she wasn't sure she'd want to uproot him again.
And then there was her own ambition. Did she want to stay on staff at a powerhouse team? Or did she want to be the big boss at a smaller program?
Ultimately, she left the Power 5—a prestigious group of Division I athletic conferences—to take over at the University of Toledo last summer. Now, she feels, she has the chance to be successful—defined, in her mind, as getting individual track athletes and cross country teams to NCAA championships—with a bit more balance and stability.
Not that she'd change her past. As she preaches to both her athletes and younger coaches, flexibility promotes growth. "Change challenges you and it's scary, but that's part of why you need to do it," she says.
Now, though, she's hoping she can stick around, stay rooted, and build on the success she's seen. "Ultimately I think how you become the most successful in this profession is consistency, with staff and all those other things. I love the idea of being able to build that, and it'd be great if it's here."
And as she embarks on this construction project, she'll continue handing other women their own toolkits. "I'm super inspired by Muffet McGraw at Notre Dame and what she's done for female coaches," she says. "If all of us subscribe to that 'lift as you rise' philosophy to support and collaborate, I think that's going to be great for everyone, and in particular for athletes."
---
This story is part of a series on women in coaching, where we highlight female running coaches and their individual paths to success. Find more here, and discover tips from these women to improve your own running here. Feeling inspired? Check out our in-depth look at how to become a college running coach with advice from the coaches featured in this series.