Building a Professional Running Team One Stride at a Time
Coach Cory Leslie fosters a new team of distance runners at the Under Armour headquarters
Cory Leslie has always loved a starting line. For years, he fueled this passion as a professional runner—poised and ready to race. Now, as a coach, Leslie is toeing a new kind of starting line. He's spent the past two years building a new professional running team from the ground up. Meet: Mission Run Baltimore Distance. A first of its kind, the team is both sponsored by Under Armour and based at the brand's Baltimore headquarters. Leslie believes this unique feature will provide next-level support for his runners as they train to compete on the world stage. 
From Runner to Coach
Running is an individual sport; it's simple and competitive, which has always appealed to Leslie. "The work you put in is the result you get out of it," he says. "You're not relying on other people to put in the work as well—it's believing in what you do, putting the work in, and being committed." As a coach, Leslie draws on his own experience of putting in the work to reach his running goals. At every turn in professional running career, he was humbled by the sport: starting where he was, setting his sights on a goal, and moving steadily toward it, then starting the process again. "I loved getting on the starting line and testing myself," he says.
Leslie's college and professional running coach Robert Gary had a big impact on his running and coaching career. Once a professional runner himself, Gary knew how to navigate the highs and lows of elite running and could see Leslie's potential. "There are probably a lot of coaches who [would have given up] when I wasn't successful early on in my career and it took so much time," Leslie says. "It takes a coach who's been there and experienced the ups and downs of training to help an athlete navigate the lows and not just move on from them or tell them 'we need to readjust our goals.'" Leslie strives to give his runners that same unwavering support.
Becoming a Coach
Leslie never envisioned himself as a running coach, but toward the end of his professional career, he got the opportunity to work as an assistant coach for Gary at Furman University. That job was a front-row seat to the program Gary was building. "I started to become more passionate about working with athletes and their success rather than my own running," Leslie says. He loved the relationship between a runner and their coach and the impact he could have on his athletes' growth.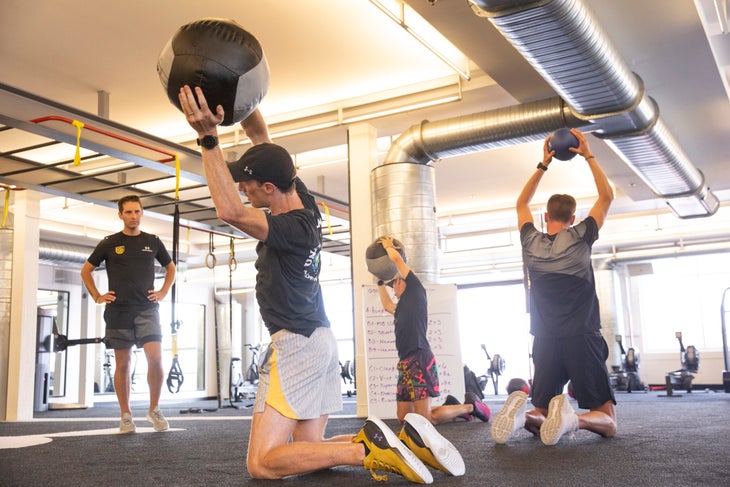 Over the next few years, Leslie helped recruit athletes to the Furman team. When runners he coached as freshmen became seniors, coaching came into focus as something Leslie could see himself doing for the rest of his life.
Connecting with Under Armour
Professional coaching is an elite world, with very few openings. And the opportunity to build a brand-sponsored professional running team from the ground up? Practically unheard of. So when the opportunity to launch Under Armour's distance running team came up, Leslie jumped at the chance. Mission Run Baltimore Distance entered the running scene in the fall of 2021. "Being able to take everything I've learned as an athlete and coach at that point and build it out and create a vision and lay the foundation—that was extremely special," Leslie says. "I feel lucky every single day to work with this team and know that whatever it grows into, we were the ones who set the tone for what this team does."
Team training takes place at the Under Armour track and gym, on-campus facilities both athletes and employees have access to. The proximity to everyday brand operations creates a unique environment for the team. "We'll see somebody from the sock department walking on the track and congratulating an athlete on a great race that weekend," Leslie says. The team also tests Under Armour gear and provides feedback to the product development team.
As for the team's relationship with Under Armour, Leslie says the brand is all about providing support and watching the team flourish. "There's no pressure of 'you need to get this done in the next two years,'" Leslie says. "It's just a commitment to being patient, building it out, and doing it with the right people." 
Growing Mission Run Baltimore Distance 
Putting the right people in the right places is key in coaching, and Leslie doesn't take this lightly. When recruiting athletes, Leslie looks beyond race times. His goal is to create an environment where athletes want to work together, care about each other, and are just as excited about their teammates' success as they are about their own. 
While the group dynamic is paramount, Leslie never forgets that a team is made up of individuals. Good coaching is about knowing when to push and when to pull back, and that threshold is different for each athlete, he says.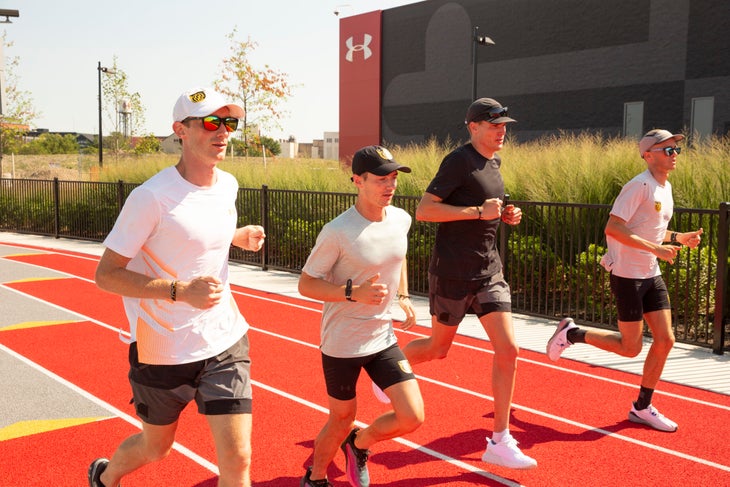 Leslie encourages his athletes to set ambitious yet realistic goals. "In running, especially at the elite level, there are certainly more lows than highs," Leslie says. He focuses on preparing his athletes to take those make-or-break moments in stride by practicing composure and training to be more fit and ready than they've ever been. "Those moments where my athletes feel like they've achieved what they've set out to achieve—that makes it all worth it for me."
---
Under Armour, Inc., headquartered in Baltimore, Maryland, is a leading inventor, marketer and distributor of branded athletic performance apparel, footwear and accessories. Designed to empower human performance, Under Armour's innovative products and experiences are engineered to make athletes better. For further information, please visit the Under Armour website.