Book Excerpt: Good For A Girl by Lauren Fleshman
Read an except from Lauren Fleshman's book Good For A Girl. Published in January 2023, Fleshman shares her insight and experiences in the pro running field.
Heading out the door? Read this article on the new Outside+ app available now on iOS devices for members! Download the app.
RELATED: Q&A with Lauren Fleshman
"You look thin," Dena said when I showed up to our run date the day before the race.
I watched her eyes scan over my body and saw the worry plain on her face.
"You look on the edge."
I heard her words, but there was a louder voice inside me now. It's working, the voice said. Don't listen to her. She doesn't understand what it takes.
"I just got to my race weight," I said, picking up the pace to make conversation harder. "I won't lose any more, don't worry."
"I'm just saying be careful. It's a big change, and I don't think you need to be that lean."
She doesn't really want what's best for you. She's just jealous.
On the night of Payton Jordan, the track glowed under the lights, and the air was brisk and still: ideal 5K conditions. Team mates lined the backstretch of the track with their homemade percussion instruments made from empty Gatorade bottles, trash can lids, and other found objects. Every lap of the race, I would feel their rhythm in my stride and in my breath when I passed them. For ten of the twelve and a half laps I was right there with the top established Olympians. Someone made a move and I went to match it. My breathing wasn't labored, but my legs couldn't go for some reason, and three competitors ran away from me. My focus turned from competing for the win to securing the Olympic standard time. Some quick math at the bell told me I just needed to run one minute and twelve seconds for the last lap, a slight acceleration, but nowhere near the speed I usually finished, yet still I couldn't manage to do it. Even as the Stanford crew pitched their bodies over the fence, yelling their encouragement with a half lap remaining, I found myself stuck in one speed, missing the Olympic standard by one second.
On the cooldown jog, I heard Dena's words in my head and wondered, Is it the weight? Did I lose my power? No, my weight was right, I concluded. My body matched those of the best in the world. I just needed to go back to Ohio and do some speed work.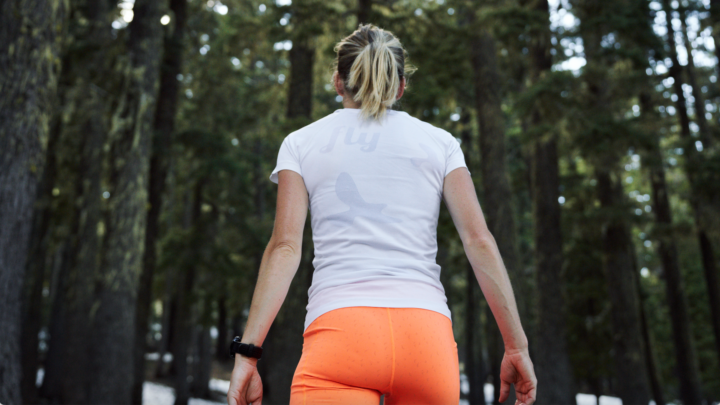 The next morning, I went to the thesis presentation event that concluded my master's program. Once passionate about my classes and determined to earn A's, I now stood beside my slapped together last minute poster presentation feeling embarrassed. My classmates were spread about the room at their own stations, animatedly discussing their work with the professors drawn to their colorful pie charts and graphs. In the short time I'd been away, I had become a cliché: the jock doing the bare minimum to float through. Feeling shame rise up, I told myself it didn't matter. Nothing mattered more than making the team.
As soon as the clock on the wall reached the formal end of the event, I took my poster and walked out the door, stuffing it into the nearest trash can. On the way to my car I ran into my team mate Katherine, her eyebrows knit with concern.
"Did you hear about Jesse?" she asked. "No, what happened?"
"He broke his neck in a bike accident yesterday. He's at Stanford Hospital getting emergency surgery."
"Who's with him?" I asked.
"His mom flew in. Give her a call; it's not good. You should go visit him."
Jesse lay supine in the hospital bed with a neck brace digging into the bottom of his chin. He turned his eyes as far as he could when he heard my voice, but he couldn't quite see me. I walked right up to the side of his bed and looked down at his face, all the Italian brown drained out of it. His blue eyes looked scared and sad. I learned about the Jefferson fracture: his C1 vertebra had broken into five pieces and had been put back together with hardware. I learned about the hangman's fracture, which occurs when the head is snapped violently forward, and how the surgeon fused his neck bones together. I heard his mom describe the way doctors had been passing through his room that morning, in disbelief that he wasn't paralyzed or worse. The recovery would be long. Prompted by the nurse, I pushed his IV tower alongside him as he took his first wobbly steps, cracking jokes to make him smile. When I said goodbye, I felt sick inside. I'd been telling myself he'd always be there, but I almost lost him. I thought life could wait, but what if it couldn't? It would have to.
On the flight back to Ohio, I felt shaken from the last twenty-four hours. Between the race, my academic embarrassment, and nearly losing Jesse, I wondered if these were indications I was losing my way. But the Olympics are full of stories of sacrifice, and I determined that my commitment was simply being tested. I ignored my hunger and called it discipline. I ignored my lost period and called it adaptation. I ignored my loneliness and called it independence.
RELATED: Book Review: Lauren Fleshman's Good For A Girl
From GOOD FOR A GIRL by Lauren Fleshman. Reprinted by arrangement with Penguin Press, a member of Penguin Group (USA) LLC, A Penguin Random House Company. Copyright © Lauren Fleshman, 2023.